BGA Newsletter 270 September 2020

FROM THE EDITOR
Contributions are always welcome, both from our members and others. We ask that they be Go-related and "newsy". The place for debate and general discussion is the BGA open mailing list Gotalk. However, an introduction to a new topic is fine in the Newsletter. A brief introduction to Gotalk, with a link for joining, is on the BGA page Go on the Internet. See also the BGA temporary Coronavirus page.
Instructions for Contributors: Please use plain text not file-attachments. Keep it fairly brief, and give web-links and contact details. It's good to include pictures. If they are on the internet, send me the URL, otherwise attach the picture files to your email. Send your contribution to newsletter@britgo.org to arrive by the first day of the month.
Jil Segerman
NEWS
The full set of recent news items, including further details of some of the items shown here, are on our News Pages, and on News Headlines.
Online Teams League: New Deadline  
The Online Teams League is still accepting entries for the new season. Deadline is extended until the end of September to allow more teams to enter. For more information or to enter your team, contact Matt Marsh: matt@crazedbytes.net  
MSO
This year the Mind Sports Olympiad was held on line, with three Go events, each on a different size board. The 9x9 and 13x13 were both won by Italians, Carlo Metta and Alessandro Pace, and after an exciting play off between Hiroki Kanno and Lucas Neirynck, it was Hiroki from Hong Kong who took the 19x19 Gold.
UK Youth Go Players Online
The "Supergo" match on KGS between twelve British youth players and a team of twelve Chinese youth players continued throughout July and into August. After the strong runs of some of our early players, the Chinese last player Li Yuze won six games in a row to set up a final against our last player, Jayden Ng (British Youth Champion). After an exciting game Jayden won by 11.5 to complete the match in our favour. Our congratulations go to all who took part and our thanks to the youngsters from the The Li Ang Go Collection Team for playing us.
Zherui Xu Wins His Second 2020 Online Event
29 players took part in the BGA's third online tournament, played one game a day over the August bank-holiday weekend, 29th - 31st August. Zherui Xu (4d Cambridge) came out as winner for the second time in these online tournaments and won a £25 Amazon voucher. Second place went to Mark Baoliang Zhang (1k Manchester) and third to Yangran Zhang (3d Manchester). Other prize winners were: Teague Johnstone (6k), Steve Andrews (14k) and David Wildgoose (10k) all from Sheffield, also Gérold Nicolasen (10k Utrecht) and Gene Wong (3k West London).
Youth Go Server
Although there are many servers catering for adults, for some time we have been concerned that there is nothing specifically aimed at children, and a fortuitous conversation with someone from the American Go Association indicated that they felt the same way. A small task force, consisting of BGA and AGA members, has therefore been established to develop a Go Server which will be specifically aimed at children aged 6 - 13. The development will be based on the OGS architecture, and will be done on a commercial basis; the Castledine-Barnes Trust will contribute 25% of the cost, with the American Go Foundation (the charitable arm of the AGA) contributing the rest. The BGA will share fulll intellectual property rights to the development with the AGF.
One of the development requirements is a simple exposition of the rules, and the task force is looking for an exposition suitable for the target age range. If you feel you can help, please contact the BGA Youth Committee (youth@britgo.org).
London Mind Sports Centre
During the past 3 years, the London Go Centre has been hosted at the Young Chelsea Bridge Club in Shepherd's Bush. A group of bridge players (mostly YCBC members) are now seeking to purchase premises in Hammersmith (close to Ravenscourt Park tube station), and to convert it into a Mind Sports Centre. Subject to final agreement of terms, the London Go Centre would be an integral part of it. The proposed building is an old Salvation Army citadel, on the market for £1.95M. The proposal is that the T Mark Hall Foundation would provide £400,000 towards the purchase price (and would hence own a share in the building), leaving about £40K for other Go-related purposes. The remaining money would come mostly from private investors in the bridge (and, hopefully, chess) communities. Although most of the building would be devoted to Mind Sports, part of it would be let on a commercial basis to provide an income.
Although the offer is due to be made in mid-September, there is of course no guarantee that it will be accepted.
Club Meetings at the London Go Centre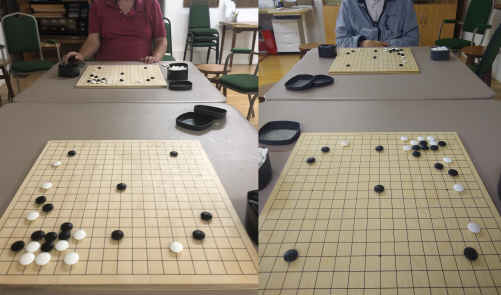 Gerry Gavigan reports on a trial meeting, with social distancing and masks etc. This was in accordance with the club's coronavirus risk assessment, available via a link on the club website. The photo shows an opening night game in progress with each player distanced and with their own equipment. Anyone wishing to attend a future meeting should first email londongocentre@gmail.com to check whether the meeting is on.
ADMIN
Online Teams League: New Deadline
The Online Teams League is still accepting entries for the new season. Deadline is extended until the end of September to allow more teams to enter. For more information or to enter your team, contact Matt Marsh: matt@crazedbytes.net
BGA Journal
Pat Ridley, new British Go Journal editor, writes: The British Go Journal would be grateful to receive articles and letters for its Autumn edition. The copy date is extended until 28th September. If you are planning an article, please let the me know by sending an email to journal@britgo.org, which is also the address for your contributions.
We thank Bob Scantlebury for being editor of the Journal for the last 22 editions.
The 2020 British Championship has been abandoned
Matt Marsh writes: "We are still unsure when it would be viable to run a sensible British Championship with face-to-face first stage. We also don't feel that there would be sufficient participation to support an online tournament instead. We therefore felt it right to cancel this year's championship altogether. All players who were eligible to play in the 2020 Championship will automatically qualify for the 2021 Championship. Any additional players who qualify this year (e.g. through online tournaments or through future face-to-face tournaments) will of course also be added to the list."
BGA Analyst
Paul Barnard, who has been our Analyst since 2014 , is standing down from the role for health reasons. The BGA is therefore looking for a dan player to take over the role. If you think you might be interested, please contact player-development-chair@britgo.org to discuss.
EVENTS COMING SOON
NOTE: Coronavirus (text below corrected after Newsletter was originally issued)
The latest UK guidance on meetings (published 9th September 2020 and effective from 14th) and HSE advice is that meetings of up to 6 people, and educational meetings of more than 6, are now possible. The BGA recognises its advice of 28th June is no longer appropriate. With a rapidly changing situation keeping any such advice up-to-date is difficult. Anyone thinking of planning a face-to-face event should think carefully about whether social distancing and related regulations can be fully met.
The face-to-face events listed below have not yet been cancelled, because they may be able to go ahead. Tournament organisers will be responsible for safety, and legal compliance.
Various Online events are being planned.
Events not cancelled at time of going to press include:
THIS MONTH
OCTOBER
UK Go Challenge Finals (online)
NOVEMBER
Online Youth
T Mark Hall Rapid Play, London
Bar-Low, London
DECEMBER
British Youth Go Championship (online)
Edinburgh Xmas
London Open
LATER
April, British Go Congress
June, Welsh Open
August, Youth Training Residential
Last updated Sat Sep 19 2020.
If you have any comments, please email the webmaster on web-master AT britgo DOT org.