BGA Newsletter 283 October 2021

FROM THE EDITOR
Contributions are always welcome, both from our members and others. We ask that they be Go-related and "newsy". The place for debate and general discussion is the BGA open mailing list Gotalk. However, an introduction to a new topic is fine in the Newsletter. A brief introduction to Gotalk, with a link for joining, is on the BGA page Go on the Internet.
Instructions for Contributors: Please use plain text not file-attachments. Keep it fairly brief, and give web-links and contact details. It's good to include pictures. If they are on the internet, send me the URL, otherwise attach the picture files to your email. Send your contribution to newsletter@britgo.org to arrive by the first day of the month.
Jil Segerman
NEWS
The full set of recent news items, including further details of some of the items shown here, are on our News Pages.
British Go Congress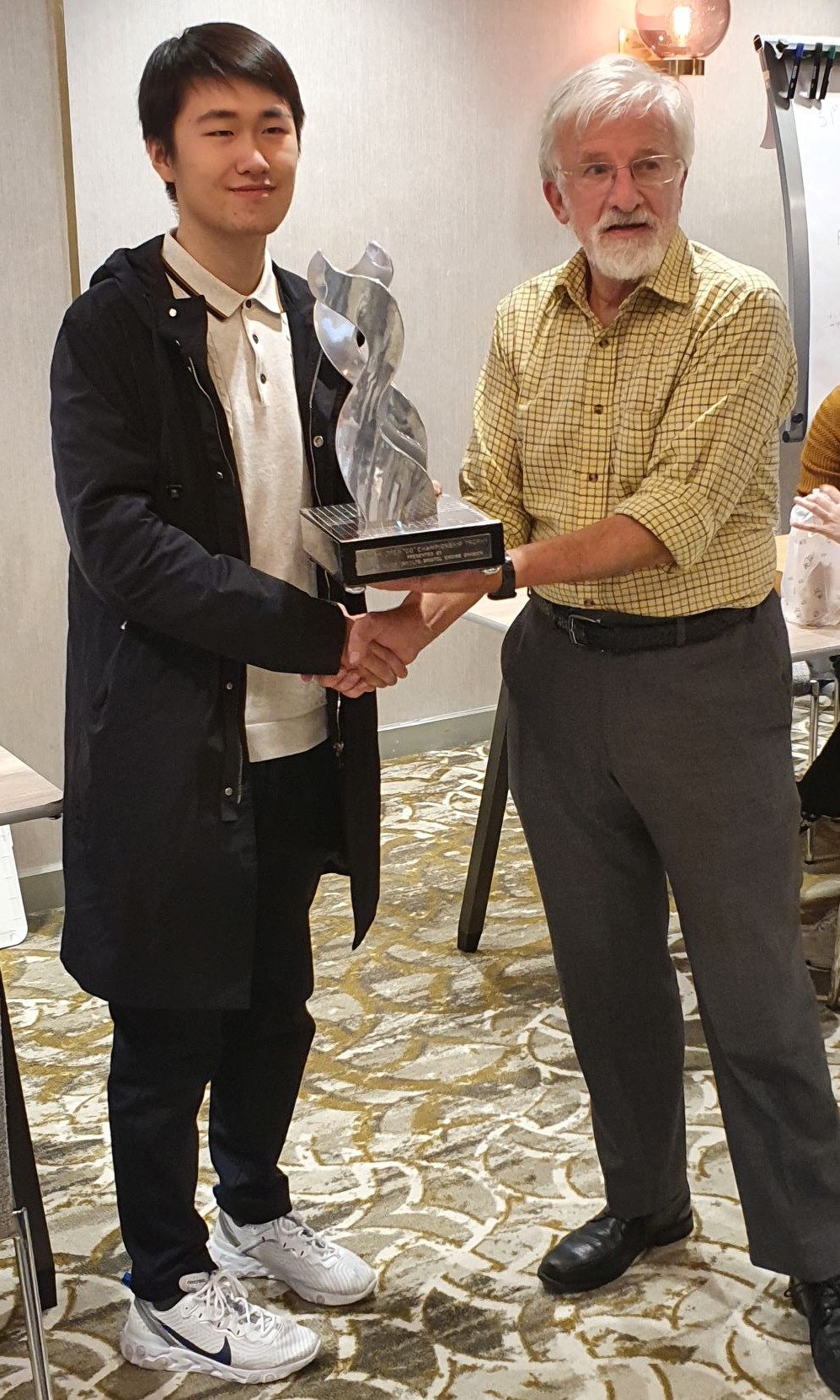 This year's British Go Congress, comprising the British Open and the British Lightning Championship, was held at the Novotel Leicester between the 1 and 3 October. This was the first face to face tournament the BGA has organised since Covid, and, despite being delayed and short notice, just over 30 players enjoyed a weekend of games. The main Open Tournament was won be Yaoling Yang (5d Bristol), and the Lightning by Gong Cheng (3d London City). The photograph shows Yaoling (L) receiving the "Minds in Conflict" trophy from our President, Toby Manning. Full report here.
British Championship
For this year only, Council has agreed that the British Championship will be based on the results of the British Open; the top two eligible players will play a match for the Title. Eligibility is based on either having British nationality, or by having 5 years residence within the UK, and having played in a qualifying tournament in 2019/2020.
These players are Daniel Hu and Bruno Poltronieri. We hope that the Title Match, which will be broadcast on the internet, will be played later this year.
South London Go Club link-up with "Last Friday"
From Richard Wheeldon: The South London Go Club is co-hosted with the monthly "Last Friday" event at Impact Brixton - a monthly social for freelancers and entrepreneurs who are looking for a fun way to connect! Halloween special on 29 October.
Euro-City League
The Euro-City League is a team competition for young players representing various European cities. Regrettably teams were only entered by ourselves, Germany and Kyrgyzstan. In the first round (played on 9 October) the British team results were a follows:
Cambridge 3Rs lost 2-4 to Mettman (Germany)
Cambridge 3 lost 2-4 to Bishkek (Kyrgyzstan)
Cambridge 2 lost 2-4 to Dusseldorf (Germany)
Cambridge 1 won 6-0 to Bishkek Attila (Kyrgyzstan)
Derby drew 3-3 with Neuss ISR (Germany)
London Red Giant lost 1-5 to Neuss 1 (Germany)
London 1 had a bye
ADMIN
A Call for Go Teachers.
BGA President Toby Manning writing in GoTalk:
I have two areas of interest with teaching youngsters.
One-to One Tuition Occasionally we get asked if we can provide someone to give one-to-one teaching to a young Go player (often, but not always, someone of oriental extraction). It is assumed that this would be on a commercial basis, payment to be negotiated between the teacher and the parent.
Caythorpe Youth Camp Each year we run a "Youth Go Camp" at Caythorpe in Lincolnshire. Tuition is on three mornings 16-18 August; the students are normally split into four groups by strength. In particular we will be looking for a strong player (well, stronger than me) to teach the top group (2 kyu - 1 dan). While this is a long time ahead, expressions of interest will be welcome to enable us to do some advance planning.
For both of these posts it will be necessary for the teacher to be registered with the Disclosure and Barring Service which will involve a Criminal Records Check.
If either of these would interest you, please let me know (president@britgo.org), indicating what strength of player you would feel comfortable with teaching.
BGA Council
Gerry Gavigan has stepped down from the Council and is thanked for his time there on.
EVENTS COMING SOON
Guidance due to the risk of infection with Covid-19 continues. Anyone thinking of planning a face-to-face event should think carefully about whether social distancing and related guidance in their part of the UK can be fully met. Tournament organisers will be responsible for safety and legal compliance with such guidance. For further details of events see https://britgo.org/tournaments.
October: Rip-Off, Dublin; Wessex, Bath
November: T Mark Hall Rapid Play Tournament, London; Bar-Low, London; Ulster, Lisburn; Youth Against Adults Match, OGS; British Youth Leicester; Coventry (provisional)
December: London Open
Later
June 2022: Cheltenham (provisional); Welsh Open
July: European Go Congress
August: Doki Doki Festival, Manchester
Last updated Wed Oct 13 2021.
If you have any comments, please email the webmaster on web-master AT britgo DOT org.