BGA Newsletter 287 February 2022

FROM THE EDITOR
Contributions are always welcome, both from our members and others. We ask that they be Go-related and "newsy". The place for debate and general discussion is the BGA open mailing list Gotalk. However, an introduction to a new topic is fine in the Newsletter. A brief introduction to Gotalk, with a link for joining, is on the BGA page Go on the Internet.
Instructions for Contributors: Please use plain text not file-attachments. Keep it fairly brief, and give web-links and contact details. It's good to include pictures. If they are on the internet, send me the URL, otherwise attach the picture files to your email. Send your contribution to newsletter@britgo.org to arrive by the first day of the month.
Jil Segerman
NEWS
The full set of recent news items, including further details of some of the items shown here, are on our News Pages.
European Youth Go Team Championship
The UK youth team won 3-2 against Romania in round 3 of the European Youth Go Team Championship in January. Details here. Player of the Match goes to Edmund Smith for stepping up at very short notice to ensure we did not default a game.
Pandanet Go European Team Championship 2021/2022


Following the abandonment of a game in the match against Switzerland in December causing the team to lose the match, the team was hoping to do better against South Africa in January. Indeed when Bruno Poltonieri played the first board on the Saturday before and beat the very strong Victor Chow, a win looked possible. On the match Tuesday, in the other games Des Cann won his game, but Jon Diamond and Alison Bexfield lost making the match drawn; the team stayed in eighth place, just above the relegation zone. Details here.
In February, Alex Kent, Jon Diamond, Des Cann and Jamie Taylor battled Italy, but the match was a four-nil loss; this meant the team stayed eighth. Details here.
Ian Marsh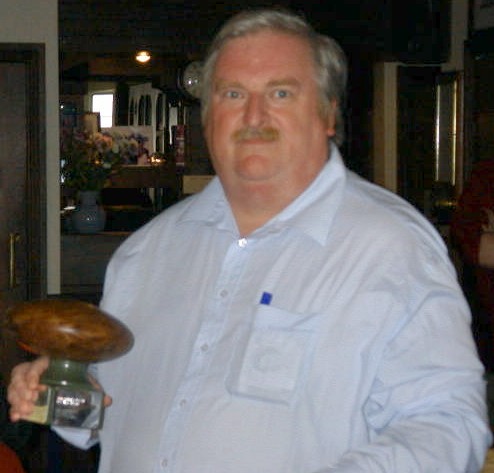 We regret to announce that Ian Marsh, long time Bracknell Club and Tournament organiser and BGJ cartoonist, died on 25th January.
The picture shows Ian after winning the Cornish Open in 2005. For details of the funeral, to be held on 16th February, please contact Toby Manning, president@britgo.org
ADMIN
BGJ 198
The Winter 2021-2022 edition of the BGJ is now available for members to read in the Members' Area, with printed copies being sent out around the middle of February. The copydate for the next edition is 1st April.
Message from the President
Proposed Conversion to a Company Limited by Guarantee.
We have already sent you this information directly: however, we believe that it is important enough to repeat it here in this newsletter, albeit in a slightly shortened form.
At the 2020 (online) AGM a motion was passed which agreed in principle to convert the BGA from an Unincorporated Association to a Company Limited by Guarantee. This motion instructed Council to consult with members before bringing forward a substantive motion to the 2022 AGM. Council has therefore put together a coherent and comprehensive set of proposals, together with a lot of background information.
In researching the proposals we identified a significant hole in our existing constitution: Council has no powers to deal with bad behaviour. While such issues are very rare, they can happen and we believe we need powers to deal with issues such as deliberate cheating, persistent abusive or illegal behaviour.
We have therefore drafted a simple 'Code of Conduct' and a procedure to deal with any alleged breaches of the Code. (We apologise that the version sent directly to you had an erroneous URL). We hope that you will find this to be a balanced way of dealing with what we expect to be a very rare occurrence.
We look forward to receiving any comments or questions that you may have; please send them to me at president@britgo.org, ideally before the end of February; we will publish them on the website unless you specifically request otherwise.
New Tournament Rules
Council has conducted an extensive review of tournament rules. Details are on the News pages. BGA Secretary Colin Williams explains the main points:
1. Eligibility Rules for British Championship and Representative Teams
The eligibility criteria for being a British Champion have been clarified, and the waiting time for foreign nationals, especially juniors, significantly reduced. The current rules can be found in here.
2.  Impact of Covid on the 2022 British Championship  
Some time ago the traditional Candidates / Challengers structure of the British Championship was changed to reduce it to just one qualifying tournament, the 'Candidates'. Sadly Covid and lockdown has meant we have not managed to use this new approach until this year.
In 2022 the Candidates tournament will as usual be open to all players who meet both the eligibility requirements and the qualification criteria. To keep our promises made in 2020 and 2021, we have amended the qualification criteria for 2022 to be any player who has finished an EGF rated tournament with a GoR of 1900 or more in the three year period April 1st 2019 to 31st March 2022.
Also during this time the EGF has updated their rating algorithm, and recalculated each player's GoR going backwards in time. The history of a players ratings under both the old and new algorithms can be seen on the EGD. For the 2022 event we will deem a player to have qualified if either rating (the new or the old) satisfies the rule above.
Please note that the pages on our website which show the list of qualifiers will not now be definitive this year. Even if you do not appear on the list it is still possible that you have met the criteria. If you are in any doubt please contact tournaments-chair at britgo.org  
3. Tournament Levy Changes
The tournament levy payments have been significantly reduced with immediate effect. The new scheme only involves Tournament Directors asking
• Are you a member (or youth member) of the BGA or any other national association?
• Is this your first tournament?
The new fee is £5 a day for players who are not members of the BGA or any other national association. There is no fee for anyone else. The existing reductions for first time tournament players and juniors still apply.
The objectives were to simplify the scheme, reduce the cost of putting on tournaments, and help promote a return to playing Go after the pandemic.
EVENTS COMING SOON
Guidance due to the risk of infection with Covid-19 continues. Anyone thinking of planning a face-to-face event should think carefully about whether social distancing and related guidance in their part of the UK can be fully met. Tournament organisers will be responsible for safety and legal compliance with such guidance. For further details of events see https://www.britgo.org/tournaments.
March: Trigantius, Cambridge; Cheshire, Frodsham
April: Rip-Off, Dublin; British Congress Lancaster; Ulster; Not the London Open
May: Sheffield (provisional); MSO Grand Prix 9x9 and 19x19 (online)
June: Candidates; Durham; Cheltenham (provisional); Welsh Open, Barmouth
July: European Go Congress, Romania
August: Mind Sports Olympiad; Doki Doki Festival, Manchester
September: Confucius Dublin
Last updated Thu Feb 10 2022.
If you have any comments, please email the webmaster on web-master AT britgo DOT org.