BGA Newsletter 290 May 2022

FROM THE EDITOR
Contributions are always welcome, both from our members and others. We ask that they be Go-related and "newsy". The place for debate and general discussion is the BGA open mailing list Gotalk. However, an introduction to a new topic is fine in the Newsletter. A brief introduction to Gotalk, with a link for joining, is on the BGA page Go on the Internet.
Instructions for Contributors: Please use plain text not file-attachments. Keep it fairly brief, and give web-links and contact details. It's good to include pictures. If they are on the internet, send me the URL, otherwise attach the picture files to your email. Send your contribution to newsletter@britgo.org to arrive by the first day of the month.
Jil Segerman
NEWS
The full set of recent news items, including further details of some of the items shown here, are on our News Pages.
British Open Congress
The British Go Congress was held the weekend before Easter in the Welcome Centre on the campus of the University of Lancaster . The Congress was generously sponsored by SmartGo and the prizes included vouchers for SmartGo products.
The British Lightning was won by Changhao Huang (5d Liverpool), with Zherui Xu (4d Cambridge) runner-up.
The British Open was played over six rounds with 48 players, ranging from 5 dan to 37 kyu. There was fierce competition for the title, which was won with five out of six by Leshan Feng (5d Liverpool). He was followed by three players on four wins: Zherui Xu was placed second on tie-break from Tianyi Chen (5d Liverpool). Narrowly missing out was Changhao Huang in fourth.
Prizes for five wins lower down were awarded to Giles Englebert (6k Oxford), Marco Praderio (9k Lancaster) and James Zhao (27k Cheadle Hulme School). Alexandros Theodosioia (37k Cheadle Hulme School) only played one day but won all three and Scott Cobbold (1d Wanstead) won the prize for Best Junior. Prizes were also awarded for the best-placed players in three ranges: 1-10 kyu - Gokul Subramanian (1k Cambridge); 11-20 kyu - Gerry Gavigan (11k LGC); 21+ kyu - Yasmin Giles (25k Lancaster). James Zhao also received a prize for winning the most games in the informal 13x13 competition.
Not the London Open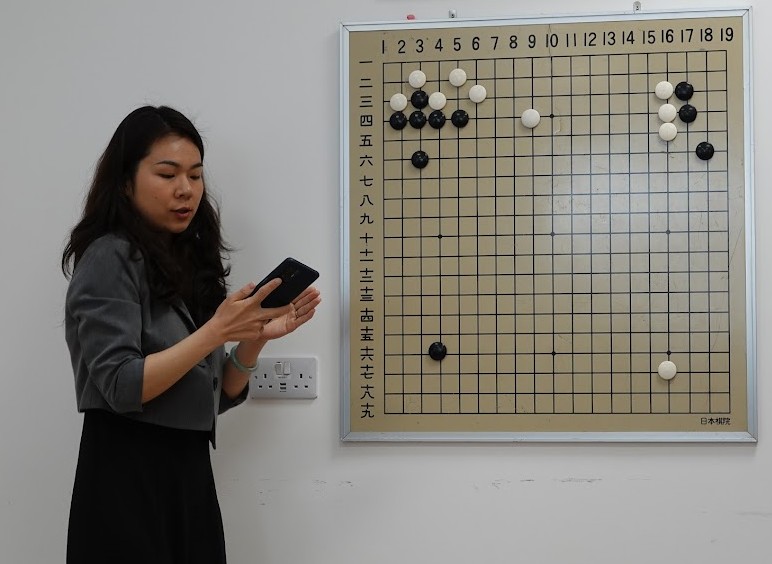 Not The London Open ran for the third time over the early May Bank Holiday weekend at the London Go Centre. The professional-in-residence shown here was Stephanie Yin from the New York Institute of Go.
57 people entered, ranging from 7 dan to 20 kyu. The winners in order were Yaoling Yang, Zeyu Qiu, Lukas Podpera. All the top board games were live streamed and game reviews are being posted on the LGC YouTube channel.
Pandanet Go European Team Championship 2021/2022

The seventh match of the season was on 12th April against Finland. Bruno Poltronieri was the only UK winner. On 3rd May the UK team lost all four games to Germany. The last match is against Croatia on 25th May. To avoid relegation to League C, the UK will need to to win this final match and hope that South Africa do not beat Italy.
ADMIN
Candidates Tournament
Details of the 2022 Candidates Tournament, including the entry criteria, are available here. Thanks to private sponsorship we can offer significant prizes: Champion £500, Runner-up £250, down to 6th place £25.
If anyone has any questions please contact tournaments-chair at britgo.org
AGM
A reminder that the BGA AGM will be held online by ZOOM at 19:30 on Thursday 26th May 2022. An invite will be created and published a week or so before the meeting.
The Agenda, and accompanying papers, can be found here in the members section of the website.
Anyone wishing to register a proxy vote may do so by contacting the Secretary (secretary @ britgo.org) by the end of Tuesday 24th May, stating their name and address, the person who will be the proxy, and confirming it is for the 2022 AGM. If you wish you may specify how the proxy appointed is to vote (or is to abstain from voting) on one or more resolutions, otherwise the proxy will have full discretion.
Nominations for Officers or Council Members must be submitted by the close of Thursday 12th May.
British Go Journal
No. 199 is now available in the members' area and shortly by post for those who receive the paper copy.
Help us to celebrate No. 200 by sending in your recollections and thoughts about the BGJ. Do you have a favourite author, article or series of articles, for example? Do you have views on how the Journal can be improved? Please send your contributions to journal@britgo.org. The copy date is 1st July.
EVENTS COMING SOON
This Month: Sheffield University; MSO Grand Prix 9x9 and 19x19 (online)
June: Candidates, Letchworth; Durham; Kyu Players Training/Bar Low Tournament, London; Junior Rapid Play (online); Durham; Pair Go, London; Welsh Open, Barmouth
July: European Go Congress, Romania
August: Youth Go Camp, Caythorpe; Mind Sports Olympiad, London; Doki Doki Festival, Manchester
September: Confucius, Dublin
October: Sheffield (provisional); Wessex
November: Three Peaks, Ingleton, Coventry (provisional)
December: London Open
More information here
Last updated Mon May 09 2022.
If you have any comments, please email the webmaster on web-master AT britgo DOT org.