BGA Newsletter 298 January 2023

FROM THE EDITOR
Contributions are always welcome, both from our members and others. We ask that they be Go-related and "newsy". The place for debate and general discussion is the BGA open mailing list Gotalk. However, an introduction to a new topic is fine in the Newsletter. A brief introduction to Gotalk, with a link for joining, is on the BGA page Go on the Internet.
Instructions for Contributors: Please use plain text not file-attachments. Keep it fairly brief, and give web-links and contact details. It's good to include pictures. If they are on the internet, send me the URL, otherwise attach the picture files to your email. Send your contribution to newsletter@britgo.org to arrive by the first day of the month.
Jil Segerman
NEWS
The full set of recent news items, including further details of some of the items shown here, are on our News Pages.
Council/Board News
Conversion to a Company Limited by Guarantee has been delayed by problems opening a new Bank Account: we were told we needed a new one but getting there has been a bureaucratic nightmare. However we believe we have now surmounted all of the hurdles and we are very nearly there.
A set of personal issues has meant that Dylan Carter has had to stand down from Council. We thank him for his contribution towards setting up the on-line league.
London Open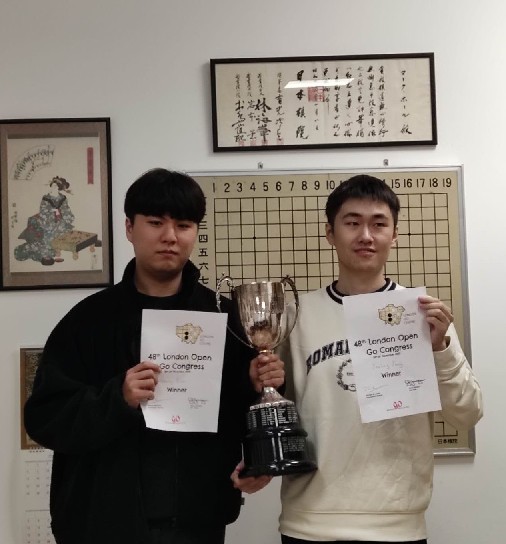 Despite evidence of a covid hangover we were pleased to get 71 participants from 12 countries (all events) with entries spanning 7 dan to 17 kyu. Of these 45 were dan level players.
At the end of the sixth round it was looking like scissors, paper, stone would be deciding which of three participants would be the eventual winner, just like the previous Not The London Open. However just like the previous NTLO one stumbled and we were left with two joint winners: Minseong Kim, 7D, Korea Republic and Yaoling Yang (retaining his hold on the trophy, albeit one handedly). The professional-in-residence was Stanisław Frejlak, 1P, much appreciated by participants. His lectures were recorded and will appear on LGC's YouTube Channel in the near future, as will his reviews of all seven of the top board games.
For those of you that missed out there is always the 4th Not The London Open 27-29 May. The professional-in-residence will be In-seong Hwang, 8D. Pre-registration is open now. Gerry Gavigan (londongocentre@gmail.com)
Gaoge Wang in The Guardian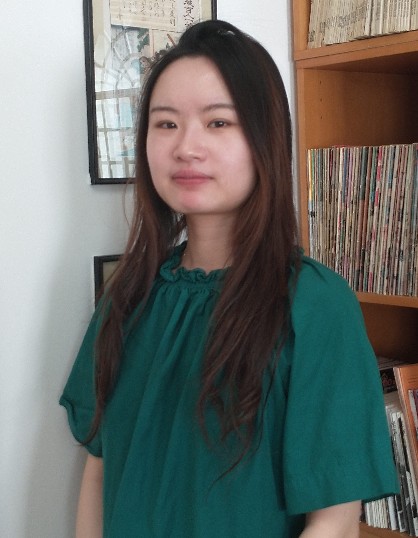 British Go Champion Gaoge Wang features as one of several top games players in a recent issue of The Guardian newspaper's supplement: "'Dig deep and think as hard as possible' – the secrets of success in Scrabble, Sudoku, Jenga and more"
Grand Prix
The Youth Grand Prix runs over a calendar year; players get points for each tournament they attend , together with more points if they do well. Cash prizes. kindly donated by Jeremy Rickard in memory of his brother John, a strong Go player from Cambridge, who died in 2002, are awarded to the top three.
In first place was Andrew Volovich of Cambridge; with 1008 points. There was a closely fought battle for second and third places. Scott Cobbold played the London Open, the last event of the year, and the points earned saw him taking second place with 748 points, just ahead of Caleb Monk with 740. Lea Wong just missed out on the top three scoring 735 points.
The Double Digit Kyu Grand Prix was won by Florien Pein (10-19k section) with 518 points and James Zhao (20k+ section) with 330 points.
ADMIN
Joint British/Irish Go Congress (provisional)
Friday 31st March to Sunday 2nd April. Belfast. More details will be provided as arrangements are made, but this will be our annual weekend congress for 2023.
KEEP THE DATES FREE!
European Go Congress 2023

July 22nd to August 5th 2023 – Markkleeberg / Leipzig, Germany. Main details are now up on the website, and more to follow, so keep checking. Scroll down to see the Early Bird cutoff date, coming soon.
EVENTS COMING SOON
This Month: British Youth Go Championships (Leicester)
February: British Small Board (Cambidge - provisional), Lancaster, MSO GP Online 19x19
March: Trigantius (Cambridge), MSO GP Online 9x9, Cheshire (Frodsham), Joint British/Irish Go Congress (Belfast)
April: Rip-Off (Dublin)
May: British Championship - Candidates' Tournament, Sheffield University, Chorleywood (Hertfordshire) provisional new tournament, Not the London Open
June: Cheltenham (Tentative), British Pair Go Championship (Frodsham), Durham, Welsh Open (Barmouth)
July: European Go Congress (Leipzig, Germany)
August: Youth Go Camp (Lincolnshire), Mind Sports Olympiad (London)
More information here
Last updated Wed Jan 11 2023.
If you have any comments, please email the webmaster on web-master AT britgo DOT org.