BGA Newsletter 305 August 2023

FROM THE EDITOR
NEW: This issue, and previous newsletters, are available in the Newsletter Archive in the Members' Area.
Contributions are always welcome, both from our members and others. We ask that they be Go-related and "newsy". The place for debate and general discussion is the BGA open mailing list Gotalk. However, an introduction to a new topic is fine in the Newsletter. A brief introduction to Gotalk, with a link for joining, is on the BGA page Go on the Internet.
Instructions for Contributors: Please use plain text not file-attachments. Keep it fairly brief, and give web-links and contact details. It's good to include pictures. If they are on the internet, send me the URL, otherwise attach the picture files to your email. Send your contribution to newsletter@britgo.org to arrive by the first day of the month.
Jil Segerman
NEWS
The full set of recent news items, including further details of some of the items shown here, are on our News Pages.
Welsh Open
On 24th and 25th June, the Welsh Open's switch back to Barmouth's Dragon Theatre proved popular with the 30 attendees who took advantage of a rare whole-weekend tournament on the BGA calendar. The theatre was the tournament's very first venue in the seaside town, back in 1993. This time there were 30 players, ranging from 18 kyu to 4 dan, and aged 8 years and up. Nobody failed to win a game!
Photos: Overall winner Alistair Wall, 2nd prize Toby Manning and 3rd Bjorn Eurenius with co-organiser Martin Harvey.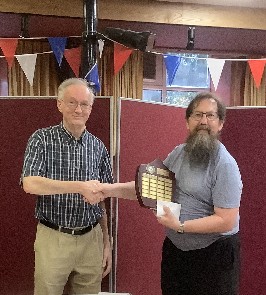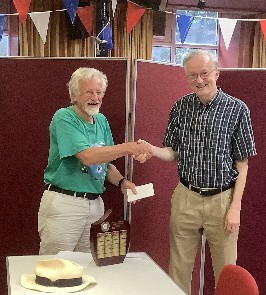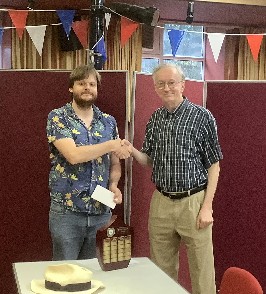 European Go Congress
The European Go Congress took place in Leipzig, Germany from 25th July to 4th August with over 650 entrants; 19 were registered as from the UK.
Congratulations to Yaoliing Yang, 7 dan, who came 4th in the European Open with 7/10, and Yicheng Xiao, 6 dan, who was 7th with 6/10, while Scott Cobbold, 3 dan, was 39th with 6/10. Ryan Zhang, 2 dan, was second in the Under 12 tournament.
The 2024 Congress will be in Toulouse, France, from 26th July to 10th August. To take advantage of the "early bird" rate, you must register by 31st August.
BGA Online Activities
The BGA is now running an online club. It runs every two weeks on Saturday at 19:00. The next date is 19th August. Normal club nights are also interspersed with teaching events and tournaments (but you can simply just play if you wish). It is held on the BGA's discord server and OGS Group 13219. If there are any problems with joining either discord or the OGS group please email daniel.l.milne@gmail.com.
Youth Camp
The Youth Go Summer Camp, the 6th, was again held at Caythorpe Court in Lincolnshire. This time 16 youngsters from 8 to 17 years and 3k to 32k took part in Go play and study, sporting activities and friendship, but not much sleeping!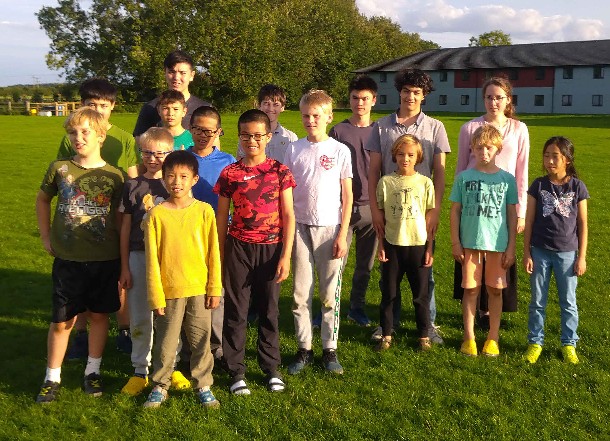 ADMIN
Japanese go books giveaway
Simon Cozens writes: "I am former BGA member and have recently been having a clear-out of my books. I have a pile of Go books (all in Japanese!) plus a few other things that I would be happy to give away for the cost of postage if anyone would like to take the lot:
Takemiya Masaki: Principles of Outer-space Style
Takemiya Masaki: Fighting from the opening to the chuban
Ishida Yoshio Go Course, lesson 1: Famous games and battles
O Rissei: Sniffing out victories
O Rissei: O Rissei's Joseki Secrets
Hikaru no Go, 19 and 20.
Go World: November 2002, December 2002, July 2003, August 2003
Please contact simon@simon-cozens.org to arrange delivery."
EVENTS COMING SOON
This Month: Mind Sports Olympiad (London), British Championship Title Match (London)
September: Edinburgh, Doki Doki (Manchester), Confucius Cup (Dublin), Youth Squad Selection Tournament (online)
October: Sheffield, UK Go Challenge Finals (online), Wessex provisional
November: Bar Low (London), T Mark Hall Rapid Play (London), Three Peaks (Ingleton), British Youth Go Championship (Leicester), Northern (Cheadle Hulme)
December: London Open
Last updated Tue Aug 15 2023.
If you have any comments, please email the webmaster on web-master AT britgo DOT org.