BGA Newsletter 306 September 2023

FROM THE EDITOR
This issue, and previous newsletters, are available in the Newsletter Archive in the Members' Area.
Contributions are always welcome, both from our members and others. We ask that they be Go-related and "newsy". The place for debate and general discussion is the BGA open mailing list Gotalk. However, an introduction to a new topic is fine in the Newsletter. A brief introduction to Gotalk, with a link for joining, is on the BGA page Go on the Internet.
Instructions for Contributors: Please use plain text not file-attachments. Keep it fairly brief, and give web-links and contact details. It's good to include pictures. If they are on the internet, send me the URL, otherwise attach the picture files to your email. Send your contribution to newsletter@britgo.org to arrive by the first day of the month.
Jil Segerman
NEWS
The full set of recent news items, including further details of some of the items shown here, are on our News Pages.
Go at 27th Mind Sports Olympiad
The 27th Mind Sports Olympiad (MSO) took place in its regular venue of the JW3 centre in London. As usual a large number of games fans from around the world, including this time a large team of Koreans, assembled to play a long and varied list of games. Some Go players played in several games including Ai Guan, Paul Smith and Caleb Monk; Natasha Regan was the Women's Pentamind champion. Details of all MSO results are on the MSO Database.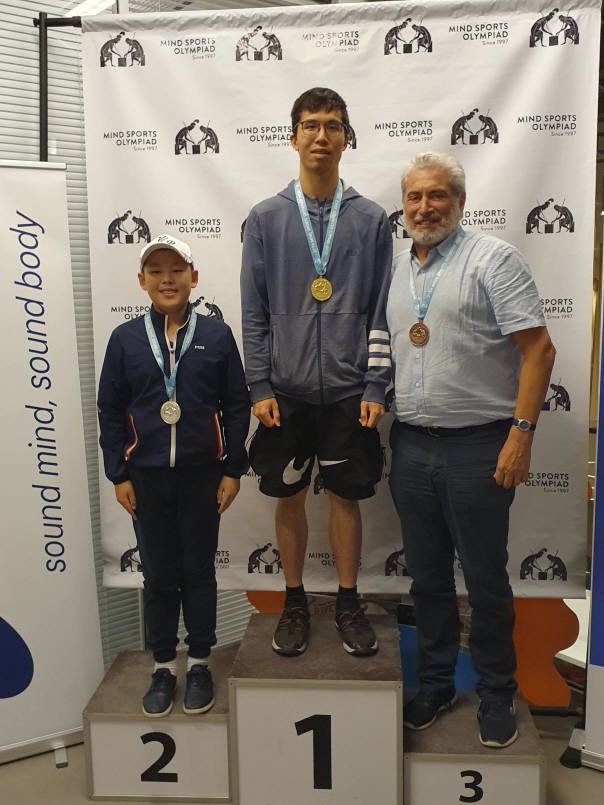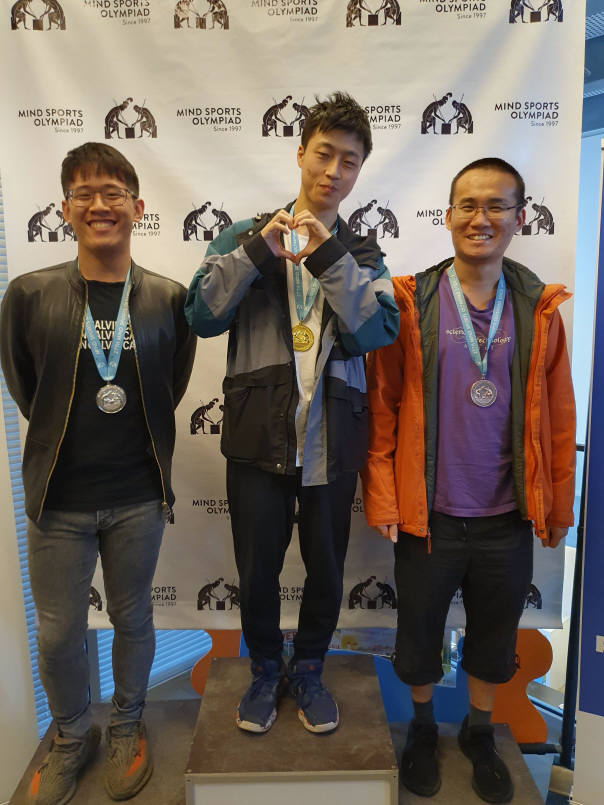 In the Go 13x13 Gold went to Tik Wai Cheung (UK), Silver to Ryan Zhang (UK) and the Bronze to Paco Garcia de la Banda (Spain). They are shown on the left. Ryan also got the Junior Gold and Caleb Monk took Silver.
In the Go Open, Gold went to Chun Fang (6d Edinburgh), Silver to Henry Lee (5d Taiwan) and the Bronze to Jun Su (4d Cambridge University). They are shown on the right. Alistair Wall (1d Wanstead) was fourth. Players lower down scoring 3/4 were Lifeng Wang (4k London Go Centre) and Colin Williams (3k Bristol). Top junior players were Scott Cobbold (4d Wanstead) and Kwun Yin Ng (1d London) with two wins, and Caleb Monk (4k Wimbledon) with three.
British Championship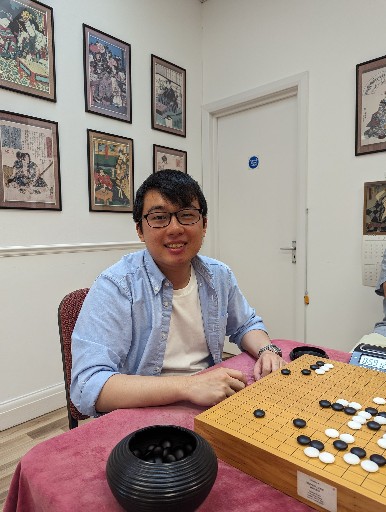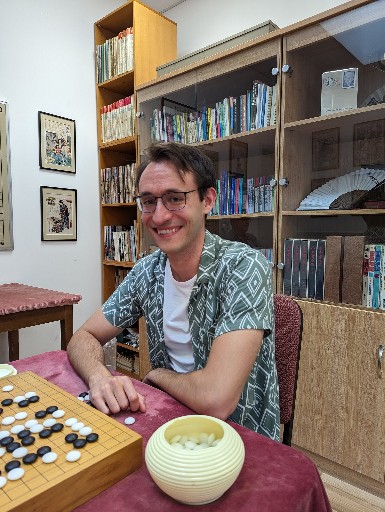 The 2023 British Championship match between Bruno Poltronieri and Ho Yeung Woo took place on the weekend of 26th / 27th / 28th August at the London Go Centre. Congratulations to the new Champion Ho Yeung (shown on the left), and to runner-up Bruno for winning the second game of the three.
SGF and YouTube records of the games are available on the British Championship page
ADMIN
British Go Journal 204
The Summer 2023 issue of the British Go Journal is now available as a pdf in the Members' Area on the BGA website. You will need to log-in as a Member here. Then go to the Members' Area and click on the journal picture. The link for sgf files, including the problems, for this edition is here.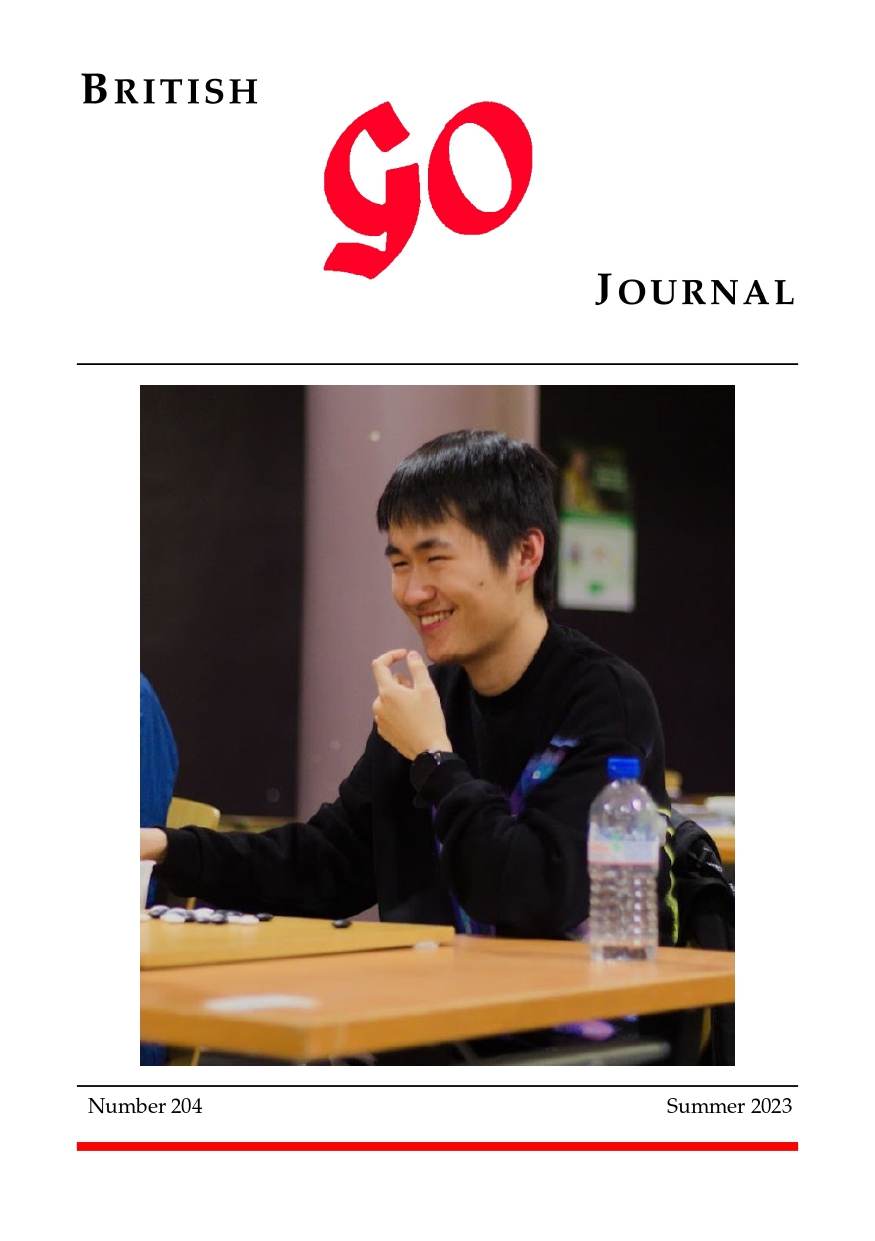 CONTENTS
EDITORIAL
LETTERS
PRESIDENT'S MESSAGE Toby Manning
ADVICE FOR DOING TSUMEGO – PART ELEVEN Richard Hunter
TOURNAMENT HISTORIES XVII: CHESHIRE Tony Atkins
BGA SECTION Toby Manning
UK NEWS Tony Atkins
EGF PRESIDENT'S REPORT, 2009
BGA PAIRS CHAMPIONSHIP FINAL Yanming Zhang and Yue Matt Xi
EGF PRESIDENT'S REPORT, 2009 – ANSWERS
YOUTH NEWS Tony Atkins
HOW TO SUPPORT YOUR TOURNAMENT DIRECTORS ColinWilliams
WORLD NEWS Tony Atkins
SOLUTIONS TO THE JOURNAL PROBLEMS
ASSOCIATION CONTACT INFORMATION
The copydate for the next edition is 1st October.
EVENTS COMING SOON
This Month: Edinburgh, Doki Doki (Manchester), Confucius Cup (Dublin), Youth Squad Selection Tournament (online)
October: Sheffield, UK Go Challenge Finals (online), Wessex (Bath), UK University Tournament (online)
November: Bar Low (London), T Mark Hall Rapid Play (London), Three Peaks (Ingleton), British Youth Go Championship (Leicester), Northern (Cheadle Hulme)
December: London Open
Last updated Tue Sep 05 2023.
If you have any comments, please email the webmaster on web-master AT britgo DOT org.