| | |
| --- | --- |
| | The World Pair Go Association was set up during 2007 and founded on 29th May 2008, to enable Pair Go to be promoted as a serious event and for it to be part of the World Mind Sports Games in Beijing in October 2008. |
International Amateur Pair Go Championships
With the aim of promoting Go among women world-wide the International Amateur Pair Go Championships (IAPGC) were started in Japan in 1990. Now representatives of 22 countries and all regions of Japan come together annually for this world championship, held each November in Tokyo. In addition there are separate handicap groups, that get in excess of 300 Japanese players.
In 1990 only Japan, China, Korea and Taiwan took part. In 1991 there were 12 countries as France, Germany, Netherlands, Russia, UK, USA, Canada and Hong Kong joined. In 1992 two more European countries were added on rotation (Czechia and Poland in 1992). For subsequent years 8 or 9 European countries took part, with the four of the big five taking part on rotation and others selected to take part with priority given to new countries and ones that had not played recently. From 2004 a points system was introduced based on the country Go playing population size and the results in the European Pair Go Championships (again with priority given to new countries). By 2006 some 35 European countries had taken part. 2009 was a special celebration as it was the 20th edition and in 2014 the 25th anniversary was celebrated.
Until 1999 Japan had won most often (six times), having the home advantage of having several teams taking part, but Korea has now won more than 10 times. China have won five times, North Korea twice and Chinese Taipei (Taiwan) once. The most famous winner is Umezawa Yukari (now Yoshihara Yukari), who is now 5 dan pro, who won in 1994.
Best Dressed
A feature of the IAPGC is always the best dressed couple prize, which helps encourage a smart turn out from the competitors. In addition on the first day of the event the international competitors are encouraged to wear national dress. This leads to some very bright and colourful costumes being seen, though of course some of the countries struggle to work out what their national dress might be! The UK's Kirsty Healey and Matthew Macfadyen won a prize in 2009 and Alison and Simon Bexfield won a prize in 2014.
Pair Go Song
As part of the celebrations of the 25th Anniversary edition, a new Pair Go pop song was introduced, a duet, lyrics in Japanese with an English transalation. It is called Pair Go, My Dream.
International Friendship Match
Also on the first day an international friendship match is played, with partners drawn at random. As well as the IAPGC competitors, various professionals and important Japanese players (such as Go journalists, trainers and sponsors) take part. So you can find yourself playing against a 9p such as Mike Redmond or partnering a lady in a beautiful Japanese kimono. This always is a pleasant and interesting time.
UK Representatives
The selection of UK representatives is based on a points system. Players earn a point for each game won in the British Pair Go Championships towards earning the right to represent the UK at the IAPGC. The best Pair are selected using the combined points from each Pair and their points are reset to zero when they take part.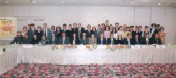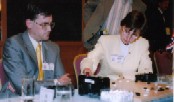 Results and Winners
2008 was held as part of the WMSG in Beijing.
Hungary have had two places in the top 7: seventh in 1997 and fourth in 2003, when father and daughter Tibor and Rita Pocsai won 4 games out of 5. Hungary was also 9th in 2011. Germany were eighth in 2005. Natalia Kovaleva and Dmitry Surin from Russia won 4 games to come 6th in 2007 and in 2013 they again won 4 to take 4th place.
From 2014 there was a event for students alongside. In 2017 the UK's Joanne Leung was part of one of the European Pairs (winning one game).
In 2022 there was alongside The World Pair Go Official Handicap Tournament, in which the UK Pair of Ingrid Jendrzejewski and Alex Selby came second in the D-Group.
Pair Go Promotion Partners
In order to encourage promotion of Pair Go around the world, the IAPGC players are afterwards encouraged to sign up as Pair Go Promotion Partners. They are given the red PGPP passport book to remind them of what the aims of Pair Go are. They are then expected to enthuse about Pair Go back in their own country, hence promoting the game.
PGPP members:
Are enthusiastic about spreading Pair Go
Understand that Pair Go is a pair game for ladies and gentlemen who greatly value etiquette
Appreciate the pleasure of playing Go, yet believe a high level of playing ability is not necessary
Pair Go Around the World
One of the biggest Pair Go championships outside Japan is played in America. In the Pair Go at the annual US Go Congress, up to 100 players take part. The US then started other local Pair Go events, such is the popularity of Pair Go.
More on US Pair Go and US Pair Go on Facebook.
Many other countries also run Pair Go events and championships.
Of course the IAPGC is the senior event of the year. You can read reports about some of the editions by following the results links above.
In March 2010 the first Pair Go World Cup was held in China with 8 pro pairs from the Orient and 8 pairs from the rest of the world; it was won by Rong Hui Saong and He Xie of China. Pair Go became part of the Asian Games from 2010 (the first event being won by Korea's Park Jeong Hwan and Lee Seu La). It was also featured in the first Chinese Mindsports Games.
Pair Go also features in the World Mind Sports Games, won in Beijing in 2008 by Fan Weijing / Hang Yizhong of China and in 2012 in Lille by Osawa / Nakasone of Japan. The top game records from 2012 are on the Pandanet website.
At the first SportAccord World Mind Games in 2011 the Pair Go was won by Li He / Piao Wenyao of China, and at the 2nd in 2012 the winners were Choi Jeong / Choi Chulhan of Korea.
A booklet, The Path of Pair Go, was published in 2009 tracing the history of Pair Go and following the 25th anniversary celebrations in 2014 a fully illustrated new book, The First 25 Years of Pair Go, was published charting the first quarter century of Pair Go.
Japanese Professionals
Every year the best Japanese women professional players are allocated a top male professional partner for the Professional Pair Go Championship, known for its first years as the RICOH Cup. The first such event was in 1994. Qualifying stages were played early in December, followed by a final early in the new year, but nowadays the event is held in February/March.
In 2010 only the event was changed to select two pairs to take part in the new Pair Go World Cup, being launched to celebrate 20 years of Pair Go.
The winners were:
2023 Suzuki Ayumi (7 dan) and Yamashita Keigo (9 dan)
2022 Okuda Aya (4 dan) and Sada Atsushi (7 dan)
2021 Chinen Kaori (6 dan) and Ichiriki Ryo (9 dan)
2020 Okuda Aya (4 dan) and Murakawa Daisuke (9 dan)
2019 Fujisawa Rina (4 dan) and Ichiriki Ryo (8 dan)
2018 Kato Keiko (6 dan) and Iyama Yuta (9 dan)
2017 Fujisawa Rina (3 dan) and Hane Naoki (9 dan)
2016 Wang Jing Yi (2 dan) and Murakawa Daisuke (8 dan)
2015 Koyama Terumi (6 dan) and Hane Naoki (9 dan)
2014 Yoshiro Kumiko (6 dan) and Iyama Yuta (9 dan)
2013 Xie Yimin (6 dan) and Kabayashi Satoru (9 dan)
2012 Xie Yimin (5 dan) and O Meien (9 dan)
2011 Xie Yimin (5 dan) and O Meien (9 dan)
2010 Ishii Akane/Sakai Hideyuki and Umezawa Yukari/Takao Shinji
2009 Kato Keiko (5 dan) and Hane Naoki (9 dan)
2008 Osawa Narumi (3 dan) and Cho Chikun (9 dan)
2007 Okada Yumiko (6 dan) and Yamada Kimio (9 dan)
2006 Suzuki Ayumi (3 dan) and Cho U (9 dan)
2005 Aoki Kikuyo (8 dan) and Mimura Tomoyasu (9 dan)
2004 Kobayashi Izumi (5 dan) and Yamashita Keigo (9 dan)
2003 Inori Yoko (5 dan) and Cho Chikun (9 dan)
2002 Inori Yoko (5 dan) and Cho Chikun (9 dan)
2001 Kusunoki Teruko (7 dan) and Yoda Norimoto (9 dan)
2000 Yoshida Mika (6 dan) and Tono Hiroaki (9 dan)
1999 Aoki Kikuyo (7 dan) and Honda Kunihisa (9 dan)
1998 Aoki Kikuyo (7 dan) and Honda Kunihisa (9 dan)
1996 Chinen Kaori (2 dan) and Yuki Satoshi (8 dan)
1995 Kobayashi Izumi (1 dan) and Kobayashi Koichi (9 dan)
1994 Konishi Kazuko (4 dan) and Hashimoto Shoji (9 dan)
Competitions are also now held for professionals in China and Korea. In April/May 2013 a Tri-Nation Pair Go Championship for professionals was held in Heifei in China. The winners were Chenxing Wang 5p and Chang Hao 9p of China, ahead of Korea and Japan. There are several international events for professionals now; 2019 saw the 7th China-Korea-Japan Professional Pair Go Championship, IMSA World Masters Championship and the Pair Go World Championship.
Last updated Fri Aug 25 2023.
If you have any comments, please email the webmaster on web-master AT britgo DOT org.