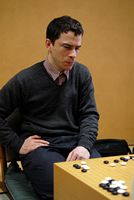 Michael Redmond was born in 1963 in Santa Barbara, California, and began playing Go at age 11. At the age of 14, he became an insei (student professional) at the Nihon Ki-in. He was promoted to professional 1 dan at age 18, and 2 dan in the same year. He was promoted to 5 dan in 1985; 8 dan in 1996; and 9 dan in 2000, becoming the first western Go professional to reach 9 dan.
Michael has not won any titles but has come close. He was runner-up in the Shinjin-O, Kisei 7 dan section, and NEC Shun-Ei competitions in the early 1990s. He was also a semi-finalist in the Fujitsu Cup and Tong Yang Cup. Currently he is a celebrated commentator for the NHK channel. In 2005, he was voted "Best Commentator" for the NHK channel, over Ishida Yoshio.
He is married to Xian-Xian Niu, a Chinese 5 dan professional. They have two daughters, Yumi and Emi. Michael and his family are sponsors of many Go activities for children in America, such as the Redmond Cup and the Redmond Handicap Tournament.
(Acknowledgement - Wikipedia)
The photographs on this page are thumbnails. Please click on photograph to see a high quality image. These photographs may be used freely without attribution.
Two of Michael Redmond playing Yoda.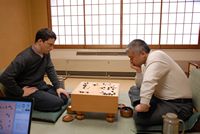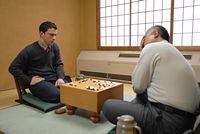 Michael Redmond playing Pair Go and two of him analysing games.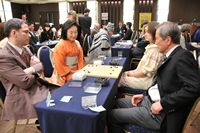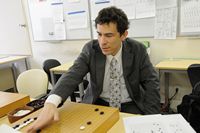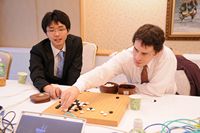 Last updated Sun Jan 24 2021.
If you have any comments, please email the webmaster on web-master AT britgo DOT org.