The BGA Takeaway Go Set is particularly suitable for sale at exhibitions as it has printed, on the edge boards, rules and further links for the benefit of new players who are not yet in contact with a Go club. It is dual-sided 9x9 and 13 x 13 and is sold with sufficient plastic stones in plastic bags. The board is thick paper, laminated. Cost for board and stones is just £6.
A sturdier 'encapsulated' version of the board can be made available.
Get two sets of stones and you have enough for a full-size (19x19 board).
The design is freely available and can be printed by anyone with an A3 printer. You can contact any member of council to obtain the Takeaway Sets, including both board and stones.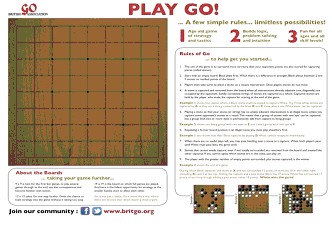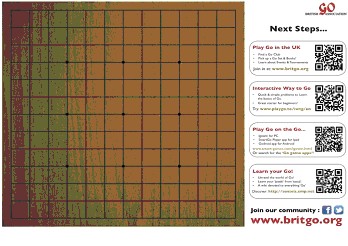 Last updated Thu Nov 29 2018.
If you have any comments, please email the webmaster on web-master AT britgo DOT org.