British Go Congress: 2013
5 - 7 April 2013
Clarion Collection Cromwell Stevenage Hotel
Organised by the Letchworth Go & Puzzle Club in collaboration with the British Go Association
Michael Redmond, 9 dan professional from the Nihon Ki-in, will be attending the Congress. The Congress this year will start at 14:00 on the Friday with a lecture/demonstration and simultaneous games with Michael Redmond, followed by the traditional Lightning Tournament on Friday evening. During the Congress Michael will be offering game commentaries.
This year the venue is self-contained, enabling attendees to stay on site and participate in group evening meals and enjoy convivial evening go after the scheduled events have concluded. Please book early if you wish to stay at the hotel itself to avoid disappointment.
VENUE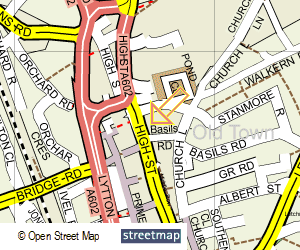 The Congress is being held at the Clarion Collection Cromwell Stevenage Hotel The Hotel building was once a farm house and home to John Thurloe, secretary to Oliver Cromwell, although you will be pleased to know that it has been modernised and updated since it was built.
It is located on the High Street in the old town of Stevenage, SG1 3AZ telephone: 01438 779954 The hotel itself is a 3 star hotel offering good function rooms (we will be in the Cromwell suite), a restaurant and a bar / lounge area for hotel guests. The High Street offers a variety of other eating options and there is a Tesco Express directly opposite the hotel.
For any non-playing guests accompanying go players there are various places of interest within a short drive of Stevenage:
Knebworth House and Park – 2 miles
Hatfield House – 4 miles
Woburn Safari Park – 18 miles
Duxford Air Museum – 18 miles
Whipsnade Zoo – 18 miles
It is also a 20 minute ride by train into London for the London attractions.
TRAVEL
Stevenage is conveniently located just off junction 8 of the A1(M). There is also a central mainline station serving the main North – South train route into Kings Cross.
By road:
Exit the A1(M) at junction 8 and follow signs towards Town Centre. Head over two roundabouts and continue until you join the one way system. Pass first exit for Gravely and turn off at next sign posted 'Old Town', the hotel is on your left just after the mini roundabout. The hotel has a private car park situated at the rear of the hotel.
By rail:
Stevenage rail station is 1 mile from the hotel. There is a taxi rank outside the station. On foot you head towards the town centre through the shopping centre and towards the Old Town high street.
By air:
London Luton airport is 14 miles away. There are buses from the airport to Stevenage.
SCHEDULE
Friday 5 April
12:00 – 14:00
Registration open
14:00 – 18:00
Professionals teaching session (with break during session)
18:00 – 19:30
Buffet meal option
Registration for lightning tournament
19.30 – 22:00
British Lightning Tournament
22:00
Social games and drinks
Saturday 6 April
09:00 -10:00
Registration
10:15 – 12:45
Round 1
13:30 – 16:00
Round 2
16:15 – 18:45
Round 3
19:00 – 20:00
AGM of British Go Association
20:00 – 21:00
Congress group meal option
21:00
Social games and drinks
Sunday 7 April
09:00 - 11:30
Round 4
12:30 – 15:00
Round 5
15:00 – 17:30
Round 6
17:30
Prize ceremony – will start as soon as all games are over.
RULES
The British Open Congress will be using official BGA Rules. Players are expected to enter at their strength as shown on the BGA rating list, without a compelling reason why it should be different.
The Congress rules are: Still subject to possible changes
Playing time
60 minutes each
Canadian overtime
20 moves in 5 minutes (three times) and then 50 moves in 5 minutes (until the game ends)
Komi
7 points
Handicap
McMahon difference -1 (where required)
We will be scheduling the 6 rounds tightly, to finish in time for travelling on Sunday and allow this to be an EGF Class A event, and not Class B as in previous years.
SPONSORSHIP AND PRIZES
The top three places will receive money prizes – with the overall winner receiving £100. The overall winner will also receive the British Open trophy to hold for one year.
There will be divisional prizes available for the top finishers in the following entry grade categories:
1 dan – 3 dan
1 kyu – 4 kyu
5 kyu – 8 kyu
9 kyu – 12 kyu
13 kyu upwards
There will be prizes also for the British Lightning Tournament. The overall winner will also receive the British Lightning trophy to hold for one year.
The Nippon Club Trophy is awarded to the Club team with the best percentage in the British Open.
We acknowledge with thanks the support of the British Go Association in providing for the attendance of the teaching professionals.
CONGRESS FEES
The fees for the Congress are set out below. We encourage people to enter early. Not only does this assist the organisers (and the hotel) but it also can encourage other hesitant players to commit as they can see the grade range likely to be attending. The fee structure rewards early entries.
We expect you to pay in pounds sterling at registration but we also welcome cheques in advance (provided that these are received by 31 March 2013) made payable to Letchworth Go Club. (Advance payment helps us cover venue booking fees which are payable prior the event.) Advance fees should be sent to A Bexfield at 130 Wilbury Road, Letchworth, SG6 4JG.
Young players are reminded that financial assistance may be available from the Castledine-Barnes Trust. (www.castledinebarnestrust.org.uk/)
Fees
Full
Concession
Junior (U18)
Early bird rates
(apply to entries received before 31 January 2013)
British Congress
£20
£12
£8
Lightning
£2
£1
£1
Professional teaching (Friday)
£8
£5
£1
Standard rates
(apply to entries received between 1 February and 31 March 2013)
British Congress
£25
£16
£10
Lightning
£2
£1
£1
Professional teaching (Friday)
£8
£5
£1
Late entry rates
(apply to entries received after 31 March 2013)
British Congress
£30
£20
£12
Lightning
£3
£2
£2
Professional teaching (Friday)
£10
£7
£1
Surcharge
£6 if you are not a member of the BGA or your national Go Association
Discount
£5 (Full) or £4 (Concession) if entering your first tournament.
Concessionary rates apply to UK residents who are:
Under-26 and studying full time at a UK approved educational establishment
Receiving an unemployment, disability or Pension Credit benefit
Junior rates apply to those who are under 18 on 31 August 2013.
ACCOMMODATION
The hotel provides a mixture of rooms including single, twin, double and family rooms. The hotel has reserved a number of twin rooms for Congress attendees as a guaranteed rate of £60 per room per night (including breakfast and VAT). Note that this is priced on a per room basis and so two people sharing would pay £30 each per night.
You should book your accommodation direct with the hotel and quote code 46322. (Hotel telephone number: 01438 779954)
We will maintain a list of people looking for a sharing partner which we will email out to people on request. If you wish to be added to this list let us know. There are also other accommodation options available in Stevenage to suit other budgets. However we are encouraging people to use the hotel as we believe that staying on site will contribute to a better tournament experience.
GROUP MEALS
Saturday evening We are offering a group meal on the Saturday. This is a two course hot meal laid out for us in the tournament playing suite to be served immediately after the AGM. Price is £20 a head, with drinks available separately priced from the bar. The menu is a choice of two courses from the options below:
Main course: Ginger & Chilli marinated chicken on stir fried vegetables, with rice teriyaki sauce Poached salmon on steamed green vegetables & hollandaise sauce Grilled gammon steak, meted stilton topping & spicy wedges Savoury crepes filled with roasted vegetables ragu with a grilled goat's cheese topping (vegetarian) Asparagus & mushroom risotto with parmesan shavings (dairy free) Desert: Cinnamon & apple crumble with vanilla custard Baked vanilla cheesecake & fruit Coulis Profiteroles & warm chocolate sauce Sorbet (dairy free)
Friday evening We are also offering a cold buffet option on the Friday night at £14 a head to be served in the playing suite between the end of the professional teaching and the start of the Lightning Tournament. (We have kept this a cold option so it can be flexible in timing with the professional teaching and the lightning).
The menu will include: Hand cut sandwiches & a selection of wraps Crudités, dips & corn chip platter Red pepper, spinach & feta Spanish tortilla Sausage rolls Mini vegetable spring rolls Oven baked potato wedges Assortment of cakes Fresh fruit bites
Please indicate on your registration form if you wish to participate in either of the group meals. We will need to finalise numbers in advance for the meals. Please email Alison with your menu option for your choices for the Saturday meal. (Early registrants will be contacted by email for this).
ENTRY
The preferred method of entry is via the Online Entry Form. Every entry will receive an email response. This is manually created so it can take a few days. (If you do not receive this please contact us by email.) You will need to supply your email address in the entry form. This enables us to confirm your entry and also to contact you should we have any queries with your entry.
You may also enter via:
Email: britishopen@bexfield.com
Post: 130 Wilbury Road, Letchworth Garden City, SG6 4JG (address for advance payment by cheque).
If you have any problems during the Congress days please contact Alison Bexfield on 07740 818575.
If you are not entering online, please print out the entry form and supply all the required detail.
McMAHON SCORE
By default, your initial McMahon score (MMS) will be set from your BGA rating list rating (GoR) after your last pre-Congress tournament. This is to even out discrepancies and so avoid very uneven games. Your initial McMahon score determines who you will play in the first round.
If you have never played in a tournament before, we will use the grade you give us when registering to estimate your GoR.
If you do not think your GoR is accurate – if, for example, you are a quickly improving kyu player who hasn't played in any recent tournaments – please state this in the Notes box on your entry form, or contact Alison Bexfield.
If you wish your name and grade NOT to appear on the online list of players please indicate this in the online entry form. The default is that your name is on the list unless you explicitly ask for it not to appear. If you wish your name to be removed or added after submitting your entry, then please just email us.
Last updated Mon Feb 23 2015. If you have any comments, please email the webmaster on web-master AT britgo DOT org.