Yuanbo Zhang wins London Open
Tue, 31/12/2013 - 19:06

—

Tony Atkins
London Open
ISH, London
Sat, 28 - Tue, 31 Dec 2013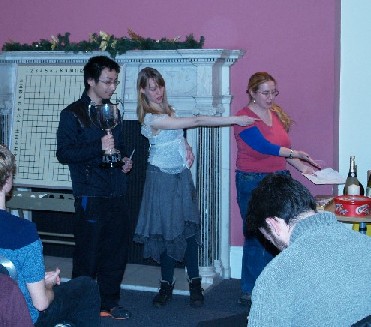 The 4d from Nottingham, Yuanbo Zhang, came out top of the list of 109 players at the 40th London Open. His only loss was in round 6 to Benjamin Drean-Guenaizia, 5d, from France. Benjamin had already lost in round 1 to Andre Stadtler, 3d Germany, but lost on SOS tie-break to Yuanbo. Pierre Paga, 4d France, won 5 games to come third on tie-break from the UK's Andrew Simons, 4d.
A new UK player called Tethys, 17k, won 6 games out of six and all on 5 wins won prizes too: Doerte Rueten-Budde, 8k Germany, Patrick Pitters, 1k Germany, Francisco Divers, 1k London, and Stephan Kunne, 1d Germany. All on 4 wins received a certificate. Results
Also getting prizes were the Finnish winner and runner up in the Lightning: Mikko Siukola, 4d, and Janne Nikula, 1d.
Winning the Pair Go was one of the male pairs let in to balance the numbers: Boris Mitrovic / Fynn Bachmann. Second were Andre Stadtler / Chris Volk and third were Andrew Russell / Jonathan Green. 14 pairs took part. Pair Go Photos and Results
Also held was the 1st WBaduk Varsity Match which Oxford and Cambridge tied 2-2.
Finally there was a Rengo competition before a New Year's eve meal.
Last updated Thu Jan 21 2021. If you have any comments, please email the webmaster on web-master AT britgo DOT org.