Youth Go News 27 - February 2023

Editor, Toby Manning.
You are receiving this Newsletter as we believe you have an interest in Youth Go. If you do not wish to receive future Newsletters, or if you receive multiple copies, please let us know at ynews AT britgo.org
If you have any suggestions for inclusion in future newsletters, please email them to: ynews AT britgo.org
NEWS
British Youth Go Championships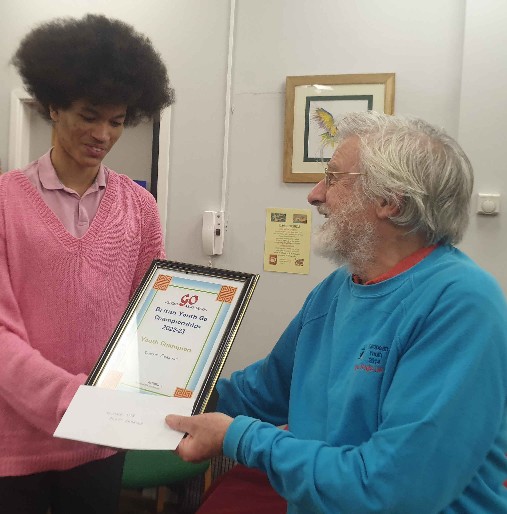 Scott Cobbold retained the British Youth Go Champion title by winning all his games at the championships held on Saturday 21st January. The event, covering the school year 2022 to 2023, was held, as was the 2021 British Youth Go Championships, at the Leicester County Bridge Club. 48 youngsters from 5 to 18 years old battled for the age group titles and awards were also given for best player below the 5k bar and for the best Novice. Noteworthy results were by Hanna Kudla who won all five below the bar (taking the Under-16 title) and Charlie Field (son of former Furze Platt player Simon Field) who won his first four in the Novice Section. Best school was plainly James Gillespie's High School from Edinburgh, but a mistake on the entry form meant the Castledine Trophy was not competed as advertised. As well as prize money and sweets for the winners, all players went away with a goody bag from the Youth Go Trust who supported the event and launched the new trust at lunch time.
Gallery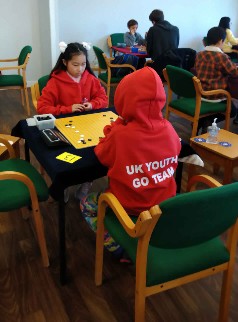 Section Winners (runners-up)
U18: Scott Cobbold (Daniel Wang)
U16: Hanna Kudla (Hanga Eory)
U14: Alvina Kwok (Gene Wong)
U12: Andrew Volovich (Samuel Wu)
U10: Ryan Zhang (Mark Kirillin)
U8: Aiden Fung (Ryan Xing)

Youth Champion: Scott Cobbold
Top Girl: Alvina Kwok
Handicap Winner: Hanna Kudla
Novices Winner: Charlie Field (Daisy Turner)
European Youth Go Team Championships: Second Place.
Alison Bexfield writes:
The UK youth go team played Turkey in round 3 of the 4 round European Youth Team championship on 19th January. On paper it looked to be a close match with two boards looking in favour of Turkey and two in favour of UK and one even in terms of stated grades. However, grades can be unreliable as some young people can improve very fast through the tournament duration or have not played sufficient tournament games to have their grade keep up with their playing strength.
Claire Chen played a solid game on board 1 for the UK, picking up a good win by resignation. Gene Wong on board 2 also showed how much he has improved over the past few months with another very solid game again won by resignation.
Boards 4 and 5 were exciting to watch with both games exhibiting a variety of large groups coming under severe attack on both sides with varying results in terms of groups living and dying. Lukasz Kudla on board 5 managed to turn his game into a win by resignation. Andrew Volovich on board 4 kept his cool in a game that swung back and forth to clinch victory against his stronger rated opponent by 4.5 points, giving the UK an unassailable lead. Our final board was played the following day when Isabella made her debut for the team. An unfortunate absence of two eyes in a large group gave victory to her opponent. This left the UK with a 4-1 win over Turkey and moved the UK up into third place out of the sixteen teams with one round to go.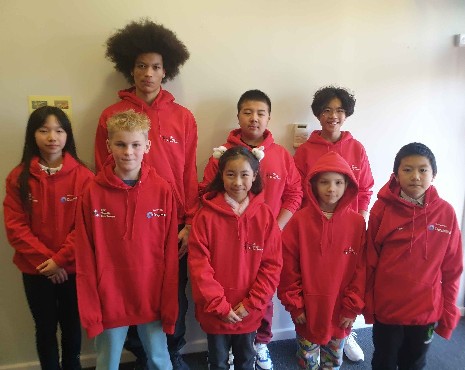 Then in the last round on 11th February the team was drawn against Czechia and we knew that if we could win the match, and France could win against Romania, then we should finish in the medals. The same was true for our opponents. Both team managers tried to ensure we had a full team for the official match time so that it would be an exciting match. The date did coincide with the start of half term in the UK and so not all the UK team were available, however it gave us a chance to field more of our U12s instead.
Emily Gan finished first on board 5, taking a slightly surprising loss by 2.5 points despite having taken a good position early in the game. On board 4, where we were out graded on paper, we were helped by the Czechia player failing to turn up within the allotted time and so Samuel Wu won by default. On our top 3 boards Scott Cobbold delivered an easy win as expected from the grade difference. Boards 2 and 3 were even on paper, but both our players have shown in recent months that they are on top form and this proved to be the case. Gene Wong on board 2 and Yanyi Xiong (playing up an age group) on board 3 cruised to relatively easy wins by resignation, giving the UK a 4-1 win overall.
The official results show that this places the UK second overall (just ahead of Ukraine on board count). This is the third year in a row the UK has finished in the medals and reflects the consistent strength we have across the team.
Cambridge Club Tournament
Paul Smith writes: In December the Cambridge Chess and Go Club held its 38th local club Go competition. 26 players took part (more than in our club chess competition the previous week). There were some strong players and quite a few beginners, with lots of interesting games. The overall winner was Andrew Volovich, and in the younger age group (year 4 and below) the joint winners were twin brothers Bowang and Bowen Li.
TOURNAMENTS
European Youth Go Championships
The European Youth Go Championships will be held in Ankara, Turkey between March 22 and March 26.
To get there you will probably have to fly Turkish Airlines via Frankfurt or Istanbul. Accommodation is relatively cheap (€25/night is quoted on the website). If you are intending to go, please also let Toby Manning (youth-chair AT britgo.org) know. Already we have one or two families interested in going. We can provide a letter asking for permission to leave school if needed.
TEACHING/TRAINING
OGS Go Club
The "Go Club" on OGS will normally meet on the first Sunday each month. Next is 5 March, starting at 16:00 in the BGA Youth group. However only a couple of players have been turning up and unless more of you come along to play will may have to stop meeting - please support - all levels welcome (not just dan players)!
DDK Training
We had 7 players at the training event on 5 February. The next "DDK training" (for those who are 10 kyu or weaker) will be on Sunday 26 March at 14:30. Please email ynews AT britgo.org if you want to take part.
DIARY SUMMARY
March
Sun 5 - OGS Youth Club 16:00-18:00
Sun 12th - MSO GP 9x9 on OGS (open to all ages). Get GP entry ticket then enter the event (both free) - sign up available soon. Get GP Entry Ticket Tournament Info/Sign-Up
April
Sun 23 - Inter-school team tournament
August
Wed 9 - Sat 12: Go Camp at Caythorpe
USEFUL RESOURCES
Here are some useful resources/links:
BGA Youth Go Twitter account (kept fairly active, 216 followers)
BGA Youth Go OGS (closed group, 205 members including adult organisers). If you are a new member, please complete this form.
BGA Youth Go Discord Channel
BGA Website: Junior Pages
PROBLEMS
Black to play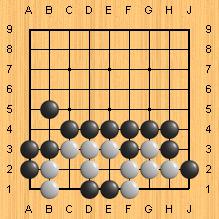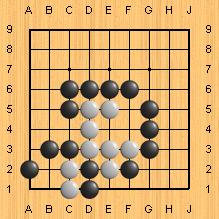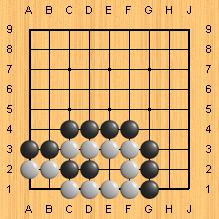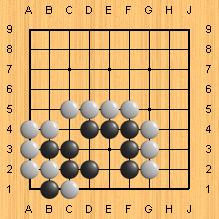 Last updated Tue Mar 21 2023. If you have any comments, please email the webmaster on web-master AT britgo DOT org.