Youth Go News 20 - January 2022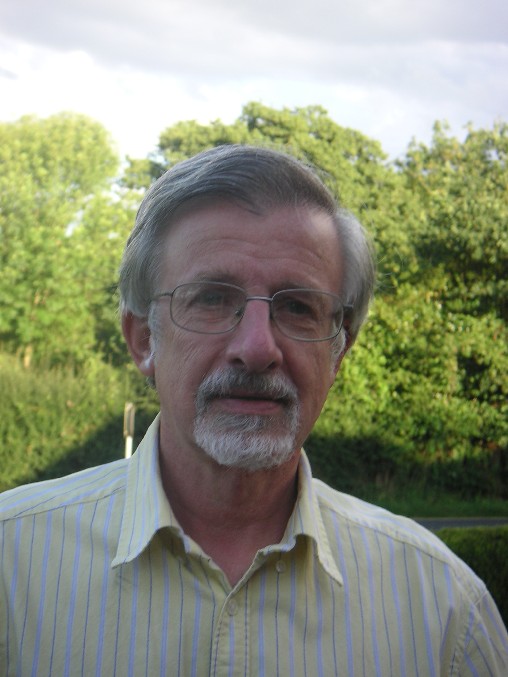 Editor, Toby Manning.
You are receiving this Newsletter as we believe you have an interest in Youth Go. If you do not wish to receive future Newsletters, or if you receive multiple copies, please let us know at ynews at britgo.org
If you have any suggestions for inclusion in future newsletters, please email them to: ynews at britgo.org
NEWS
New British Youth Go Champion
Congratuations to Scott Cobbold, 1 kyu from Wanstead Go Club, who is our new British Youth Go Champion after winning all his games at the British Youth (see story below).
Scott also recently won the Bar-Low Tournment held in London on 7 November, defeating two other 1 kyu's, and as a result had played 15 tournament games without defeat. His winning streak extended to 18 games until he lost to a 5 dan at the London Open (where he achieved 5 out of 7).
British Youth Go Championships Results
The British Youth Go Championships took place as an over-the-board tournament in Leicester on 20 November, at the well appointed County Bridge Club Premises, a very pleasant building that was until recently a children's nursery.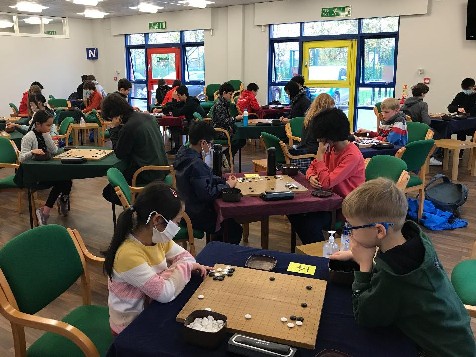 The midlands location attracted players from all corners: Edinburgh, Cambridge and London, Cornwall and Manchester. Access to the site was easy by car and lifts were provided from and to the railway station by Peter Fisher, Joe Monk and Toby Manning.
40 youngsters turned up with grades from beginner through to 1kyu, though at least one player had a Hong Kong dan grade. This number included a good number of players for whom this was their first UK event, including Mark Kirillin (7k), who has just moved to Cambridge from Russia, and others arrived from Hong Kong and China. Some of the youngsters can be seen in this view of the main playing room (picture from Irene Yeung).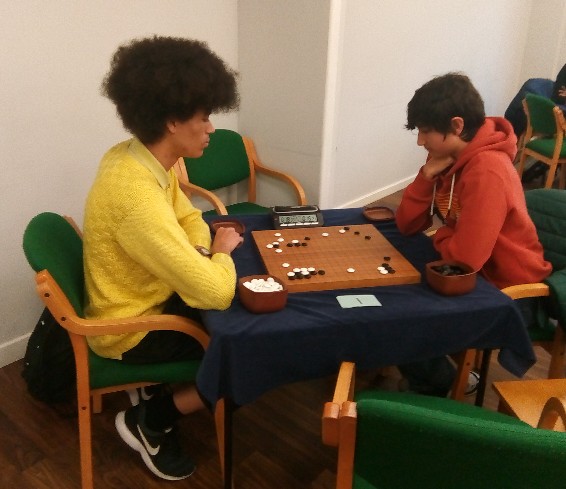 The players battled over five rounds to try to win one of the six age groups as well as the overall title. Clear winner turned out to be Scott Cobbold from London, who won all five games including beating London's Gene Wong in the final. He is shown here (left) playing Sam Barnett (picture by Toby Manning). Alvina Kwok, one of the new players, was the Top Girl.
Section Winners (runners-up)
U18: Robbie James (-)
U16: Scott Cobbold (Sam Barnett)
U14: Alvina Kwok (Lea Wong)
U12: Gene Wong (Daniel Yang)
U10: Lukasz Kudla (Emily Gan)
U8: Rachel Chik (Yiliang Liu)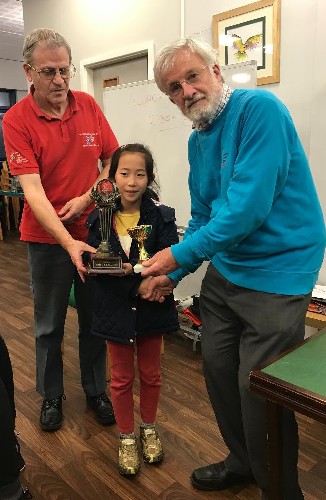 All section winners won a small cup to keep - Rachel Chik of Cambridge is shown here receiving her trophies from Tony and Toby (picture from Irene Yeung). Prizes also went to the winners of four games: Ehsen Shah, Jan Kudla, Zhaoqi Guo, Megan Upton and Mark Kirillin (Open U8 Champion) and to the best entrants in the Go puzzle competition (Mark Kirillin, Oliver Bardsley, Emily Gan and Emily Li) and the UK Go Challenge caption competition (Taher Anjari and Daniel Yang).
The Castledine Trophy was shared by Cheadle Hulme School, Manchester and James Gillespie School, Edinburgh.
Our thanks to Tony Atkins and Toby Manning for organising the event, and to Joe Monk and Peter Fisher for providing lifts to and from the railway station.
European Team Match
This youth team tournament is played over four rounds with five boards in each match of which one must be U20, two U16 and two U12. When selecting a team for each match from the squad, we usually try to estimate what strength our opponents are likely to field and then try to match our team so that we have the best chance of winning the match whilst also not setting very uneven games; the strength of the teams varies greatly as can be see on the EGF team page. We also try to give as many players in the team a chance to play as possible, although how much this is possible will depend on how well we do in the early rounds. Full Details
The first match of the season was against a strong team from France on 13 November. Sam Barnett played a week earlier as our board 3 in what proved to be an exciting game. Sam had the best of it against the French 2 dan for the first half of the game, but his opponent fought back to claim the win. Jacob Zhang, and new team members Isabella Qiu and Derek Duan also lost their games leaving George Han to be our star of the match as he won against a 1 kyu player. Overall result was 1-4 to France.
In round two on 11 December the team was drawn against Hungary. Our team had three of the five players making their debut appearance: Claire Chen, Spike Shamoon and Lukasz Kudla. Daniel Chun, one of longer standing players, played a day ahead of the other games and took an easy win setting us up well for the remaining boards. Lukasz's game was a bit of a rollercoaster to watch on board 5, with a large group lacking the required number of eyes for some time. Lukasz held his nerve and capitalised on his opponent's error to save his group. After this he romped home to an easy win. Spike quickly followed with a strong game where he was never in any difficulty. George Han, on board 4, had the toughest game. His opponent although a 7 kyu on paper was playing much stronger than this level. George kept it close to 7 points but could not quite take the win. Claire, debuting on board 1, then finished with another straight forward win to give the UK team a 4-1 victory.
Our next match is against Romania on Sunday 16 January
Euro City Youth League
Semi-finals were on 6 November and finals on 13 November. In the semi-finals London 1 won against Neuss 1 (3-3 - board 3 not played) and Wuppertal beat Bishtek 1 (3-3). Unfortunately Cambridge 1 had had to withdraw because of a date clash. In the final London 1 beat Wuppertal on even game wins tie-break after the match ended 3-3. Well done to Gene, Isabella, George and reserve Caleb! Full Details
Grand Prix
2021 BGA Youth Grand Prix: Final position Congratulations to Andrew Volovich (Cambridge) for winning the Youth Grand Prix (based on all tournaments played during the year). Second was Caleb Monk (London), and third Scott Cobbold(London).
London Open
There were some very good results from the 12 youngsters at the London Open, 28 - 31 December. Caleb Monk was the only kyu player to win all seven games. Alain Cheung (5d) was top placed junior and was awarded the David Ward Trophy for being the top British player. Alvina Kwok and Scott Cobbold, both 1k, won five games to take the first and second below-the-bar prizes (with Alvina having to play the tournament winner in the last round). Claire Chen (2d Oxford) was awarded the prize for top under-18 and Andrew Volovich (8k Cambridge) the top under-12, both prizes sponsored by Oxford City Go Club.
FUTURE EVENTS (ONLINE/OVER-THE-BOARD)
See also details of all British Go Tournaments.
February Tournament
On 20 February we will hold a 3 round MacMahon Tournament , starting at 14:00.
European Youth Go Championships
This will be played as an "over-the-board" tournament in Prague between 10 - 12 March. According to the UK Government's Travel advice), at the moment adults who have received a booster may enter Czechia freely; children aged 12 – 18 need a proof of vaccination or a pre-departure PCR test, but you should check the website for the latest information. If you are interested in going please let me know (ynews AT britgo DOT org) as soon as possible (without obligation) so that we can arrange to send one or two coaches to accompany the team as in previous years.
There is more information at the EYGC web-site.
OGS Go Club
The "Go Club" on OGS will meet on 6 February and 6 March, starting at 16:00.
British Schools Team Championship
On 3 April we will hold an inter-schools team championship. Teams of three - all from the same school or other youth Go club - will play even games.
Match against Hong Kong
Last year we had a match against a youth team from Hong Kong on the "SuperGo" principle . Each week (normally on Saturday morning) one person from each team will play. If you win, you will continue, playing for the UK the following week and continuing until you are defeated. If you lose then the next team member on the list will play for the following week.
We will try to match players so that games are reasonably even.
We currently have 5 players inteerested, but we need a few more, so If you are interested in playing in the UK team, please email the UK Organiser Chiu Wong at chiu000 AT gmail DOT com as soon as possible, and in any event before 25 January.
UK Go Challenge
The UK Go Challenge is back again for 2022. Check out the details of how your club can run its own heat. Again we are not charging to take part in this fun event.
TEACHING/TRAINING
For Weaker Players
On 9 January we had the first teaching session for DDK's (double-digit kyu players: those of 10 kyu or weaker), with 10 people attending. The students played a game between themselves, then these 5 games were then reviewed by Toby Manning, 1 dan. As might be expected from a first go, there were a few minor technical hitches which we will seek to overcome for the future.
We will run another DDK Teaching session on Sunday 6 March, starting at 14:30; if you wish to attend please email ynews AT britgo DOT org.
DIARY SUMMARY
February
6 Feb OGS Go Club (16:00)
20 Feb Youth MacMahon Tournament (14:00)
March
6 March DDK Teaching session (14:30 - 16:00)
6 March OGS Go Club (16:00)
6 - 9 March Go "Training Camp", Prague
10 - 12 March European Youth Go Congress, Prague
April
3 April Inter-Schools Team Championship
USEFUL RESOURCES
Here are some useful resources/links:
BGA Youth Go Twitter account (kept fairly active, 126 followers)
BGA Youth Go OGS (closed group, 167 members including adult organisers)
BGA Youth Go Discord Channel
BGA Website: Youth Pages
PROBLEMS
Black to play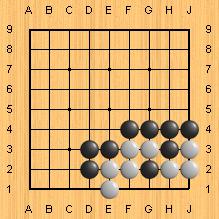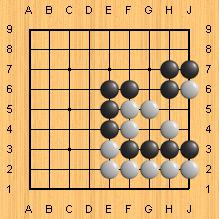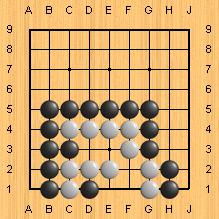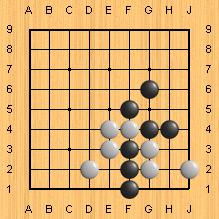 Last updated Fri Jan 14 2022. If you have any comments, please email the webmaster on web-master AT britgo DOT org.