Youth Go News 18 - September 2021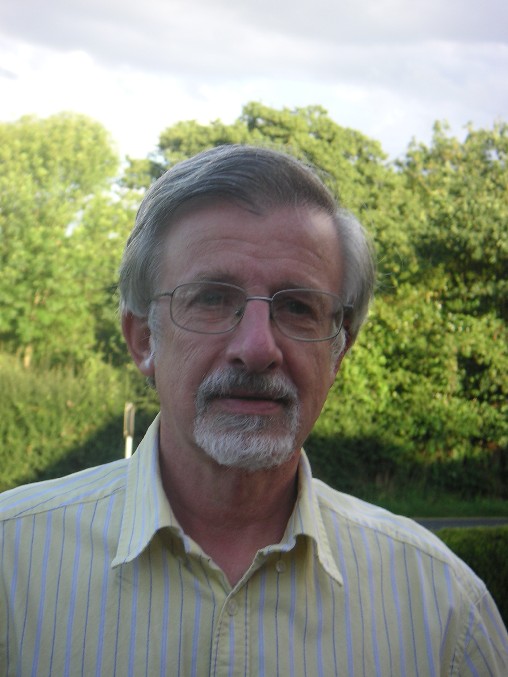 Editor, Toby Manning.
You are receiving this Newsletter as we believe you have an interest in Youth Go. If you do not wish to receive future Newsletters, or if you receive multiple copies, please let us know at ynews at britgo.org
If you have any suggestions for inclusion in future newsletters, please email them to: ynews at britgo.org
NEWS
European Women's Go Championship
This event was originally scheduled to be held in London, but due to the Coronavirus was played online over the weekend of September 4/5. Congratulations to Julia Volovich (10 kyu, Cambridge) who won all of her 6 games, while Lea Wong (4 kyu, Central London) had 3 wins.
Mind Sports Olympiad
This was again played online during August. In the Go 19x19 there were 11 juniors in the event and two of the them won all four games below the 5k McMahon bar: Andrew Volovich (10k) and August Cai (14k) . The gold junior medal went to Sam Barnett and silver to Lea Wong (4k). In the 9x9 Webber Tse, one of Hong Kong's top juniors, earned junior gold and junior silver went to Oliver Bardsley, who won three games. In the 13x13 again Webber got junior gold and this time Andrew Volovich got the junior silver, also with three wins.
Youth Go Camp
The fourth residential Youth Camp took place at Caythorpe Court in Lincolnshire from 16th to 19th August, after a year gap. There were 22 young participants from age 10 to 18 and 25k to 2k. The format included Go competition each evening with a four-round tournament, with even games as far as possible, won by Scott Cobbold, 2k from London, and a Pair Go tournament. Every morning was tuition led by resident teachers Alison Bexfield, Tony Atkins, Helen and Martin Harvey, with visiting teachers Toby Manning and Huw Mort. The title for the teaching was "It will be alright in the end". This time the afternoon activities were giant swing, air rifle shooting, canoeing, vertical challenge and archery. You can see what went on in the Gallery.
FUTURE EVENTS (ONLINE/OVER-THE-BOARD)
Selection Tournament for European Youth Go Team Championship Squad
Last year the UK team came second in the European Youth Team Championships.
For the 2021/22 event we need to select a squad of 12 players from whom the team for each match will be selected; the team will consist of 1 player under 20, 2 under 16 and 2 under 12.
In order to give everyone an opportunity to qualify for the squad we are holding a "Team Selection Competition" on Sunday October 10.
Squad selection, which will be done by Alison Bexfield, Team Captain, will be based on the results of this tournament together with other information about players' ability.
This tournament is open to all, but only those who meet the European Go Federation's nationality criteria will be considered for the squad. These criteria are that "All players must be citizens of the country they represent or be resident in this country for at least two years".
European Youth Go Tournament
The European Youth Go Championship, originally scheduled for March, was cancelled due to the Coronavirus outbreak. However, the event is now to be an online event, played on OGS, from Friday October 15 - Sunday October 17. It will be a 6-round McMahon, in three divisions (Under 12/Under16/Under 20) with time limits of 1 hour + 3x30 seconds byoyomi.
The games will take place at 08:00 and 14:00 on each day. There are a number of technical requirements associated with playing online. These, and additional information, are available here.
The entry fee is 20 Euros (£15). The BGA has agreed to collate entries and pass them over in a single transaction, so if you wish to enter please contact us (youth AT britgo DOT org). Closing date for entries is October 1.
Match "Kids versus Adults"
On November 7 we will be organising an online "Youth versus Adults" match.
Informal Club Meeting on OGS
Once a month we arrange an informal "club meeting" on OGS where you can play casual games under adult supervision. These meetings will take place on Sundays 16:00-18:00 as follows:
September 19
October 24
November 14
Euro City League
In 2021 we took part in an Anglo-German intercity league, when London lost to Frankfurt in the final.
For this coming winter the concept is to be expanded to all of Europe, the Euro City Youth League. Teams consist of 3 members, and should all be from the same city. It's meant for kids of all age groups and all playing levels. It will be played on 13x13, partially with handicap, so everybody can have fun! Games will be played on Saturdays, October 9, 23 and November 6, 13 at 17:00, online on OGS. Here is more information and registration details. Closing date for entries is September 26.
British Youth 2021
This will take place at Leicester County Bridge Club, 67 St Oswald Road, Leicester LE3 6RJ, on Saturday November 20. Youth titles at U8, U10, U12, U14, U16 and U18 will be contested, on 19x19 boards, in addition to the titles of overall British Youth Champion and British Schools Team Champions. Modified McMahon system will be used. Beginners and those new to the game will be made particularly welcome, and can select to play most of their games on 13x13 boards. Non-British residents also welcome, but some may not be eligible for titles. Contact details: bygc AT britgo DOT org.
DIARY SUMMARY
There is a lot going on this Autumn, so we have summarised the events here:
Sunday September 19: Informal meeting on OGS 16:00 - 18:00
Sunday September 26: Closing Date for Euro Inter-city League
Friday October 1: Closing Date for European Youth Go Championship (online)
Saturday October 9: Euro-city League Round 1
Sunday October 10: Selection Tournament for European Youth Go Team Championships Squad from 14:30
Friday - Sunday October 15 - 17: European Youth Go Championship
Saturday October 23: Euro-city League Round 2
Sunday October 24: Informal meeting on OGS16:00 - 18:00
Saturday November 6: Euro-city League Round 3
Sunday November 7: Match "Youth vs Adults" from 14:30
Saturday November 13: Euro-city League Round 4
Sunday November 14: Informal meeting on OGS 16:00 - 18:00
Saturday November 20: British Youth Go Championship (Leicester)
All events will take place online with the exception of the British Youth which will be held face-to-face.
TEACHING/TRAINING
USEFUL RESOURCES
Here are some useful resources:
BGA Youth Go Twitter account (kept fairly active, 55 followers)
BGA Youth Go OGS (closed group, 116 members)
BGA Youth Go Discord Channel
BGA Website: Youth Pages
2021 BGA Youth Grand Prix: Current position (68 players)
PROBLEMS
Black to play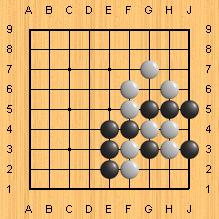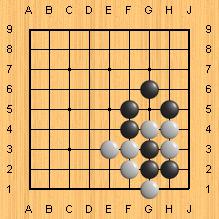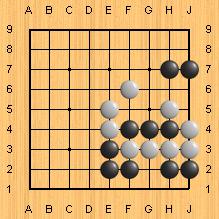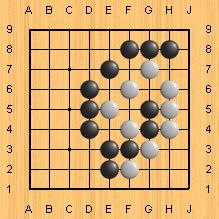 Last updated Thu Sep 16 2021. If you have any comments, please email the webmaster on web-master AT britgo DOT org.