Tue, 27/08/2019 - 07:54

—

Tony Atkins
MSO
Fri, 23 - Mon, 26 Aug 2019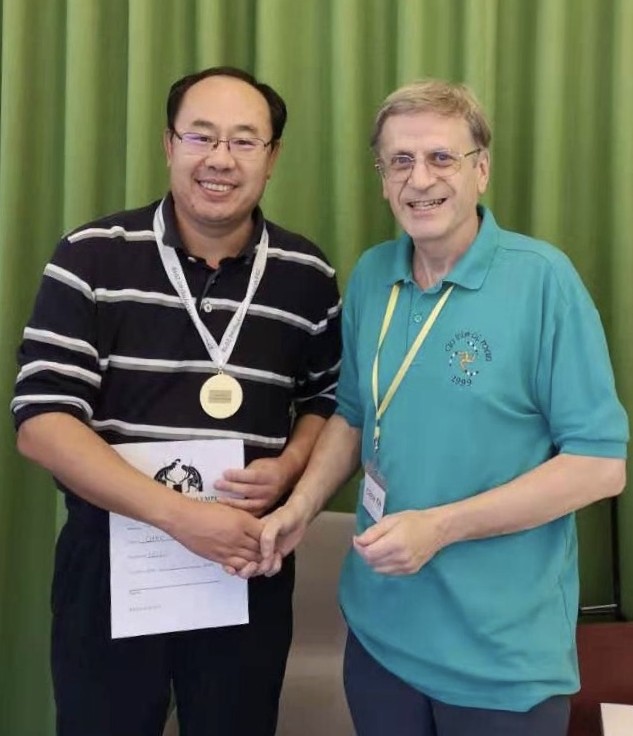 This year's Mind Sports Olympiad was held, like the previous five editions, at the JW3 community centre in London. As usual a large variety of games and mind sports, both new and traditional, was played over the eight days of the event. Several Go players and their families were seen in non-Go events, with some, like Natasha Regan, winning a Gold medal.
Unfortunately the first Go event (9x9) scheduled for the Friday morning, 23rd August, was cancelled by the organisers as they thought there was only one entry (Paco Garcia de la Banda from Spain), but it turned out there was an error in their registration system which was not passing that event over to their tournament system; some people were disappointed not to play.
That afternoon, the 13x13 event did Go ahead with 12 players from 6 dan down to beginner, including a father and son from Spain. The Gold medal and £60 first prize went to Chao Zhang, who won all four games as expected (pictured on right with Tony Atkins). Paco took the Silver and the Bronze went to Bruno Poltronieri, these on tie-break from organiser Tony Atkins and Alex Sebastian Enesco from Spain. Results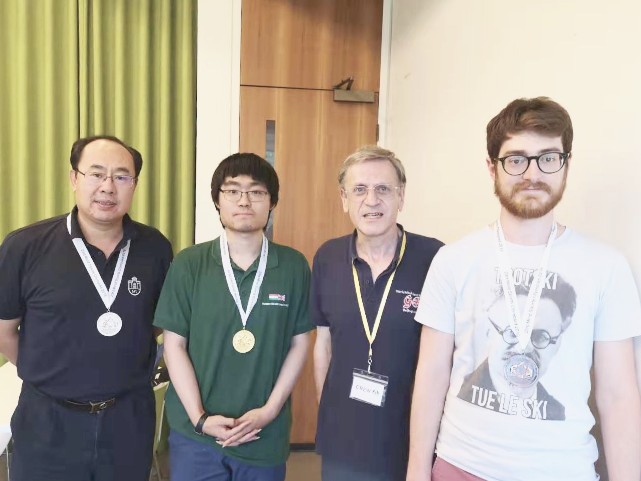 The Bank Holiday Monday was very hot and sunny and it was nice to relax or enjoy a game of table tennis by JW3's beach between games. 22 players took part in the Open, played on the McMahon system with the bar at 5 kyu. There were six junior players, some of whom did especially well. The junior medals went to Edmund Smith, Scott Cobbold and Alexander Hsieh, with Caleb Monk winning the handicap section with four wins. In the final, Chao Zhang lost a tense game against Daniel Hu, who ended unbeaten. The players on three were then separated by Median Buchholz tie-break (SOS with best and worst game deleted). So the Gold and £200 first prize went to Daniel Hu, Silver to Chang Zhao and Bronze to Quentin Rendu from France. The medal winners are shown with organiser Tony Atkins. Jesse Savo had to be content with fourth place. Results
Last updated Fri Sep 13 2019. If you have any comments, please email the webmaster on web-master AT britgo DOT org.