Scott Cobbold Wins British Youth
Tue, 23/11/2021 - 20:09

—

Tony Atkins
BYGC
Leicester
Sat, 20 Nov 2021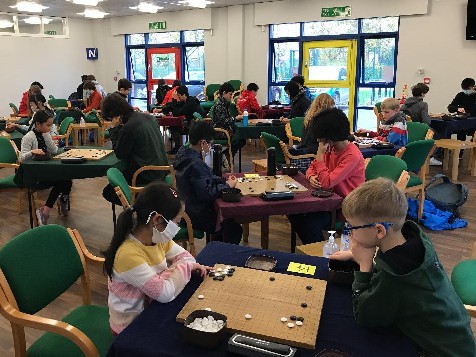 This year the British Youth Go Championship returned to be played over the board and was held in Leicester. The venue was the County Bridge Club in the New Parks district of the city, a very pleasant building that was until recently a children's nursery. The midlands location attracted players from all corners: Edinburgh, Cambridge and London, Cornwall and Manchester. Access to the site was easy by car and lifts were provided from and to the railway station by Peter Fisher, Joe Monk and Toby Manning.
40 youngsters turned up with grades from beginner through to 1kyu, though at least one player had a Hong Kong dan grade. This number included a good number of players for whom this was their first UK event, including Mark Kirillin (7k), who has just moved to Cambridge from Russia, and others arrived from Hong Kong and China. Some of the youngsters can be seen in this view of the main playing room (picture from Irene Yeung).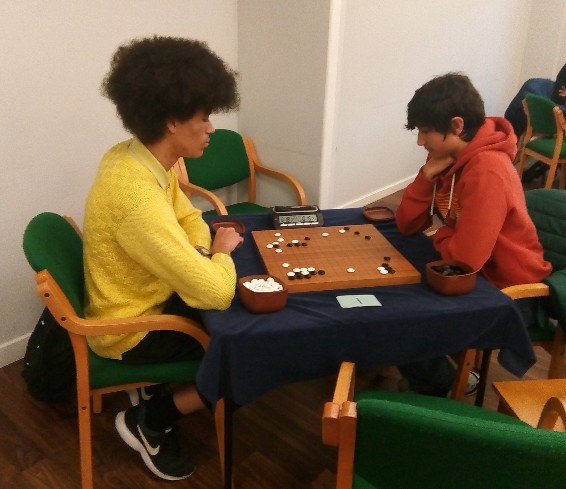 As usual the players battled over five rounds to try to win one of the six age groups as well as the overall title. Clear winner turned out to be Scott Cobbold from London, who won all five games including beating London' Gene Wong in the final. He is shown here (left) playing Sam Barnett (picture by Toby Manning). Alvina Kwok, one of the new players, was the Top Girl. Tony Atkins skilfully sorted out the age group winners, as shown below, though nearly got one winner and runner up the wrong way round (thanks to Paul Smith for spotting the error)!
Section Winners (runners-up)
U18: Robbie James (-)
U16: Scott Cobbold (Sam Barnett)
U14: Alvina Kwok (Lea Wong)
U12: Gene Wong (Daniel Yang)
U10: Lukasz Kudla (Emily Gan)
U8: Rachel Chik (Yiliang Liu)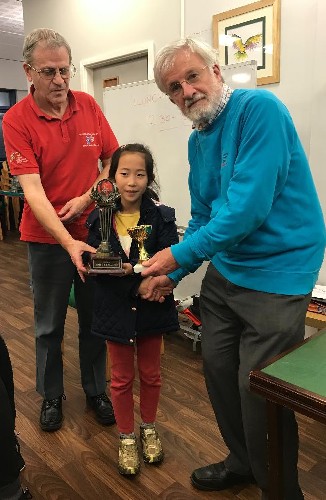 All section winners won a small cup to keep - Rachel Chik of Cambridge is shown here receiving her trophies from Tony and Toby (picture from Irene Yeung). Prizes of sweets also went to the winners of four games: Ehsen Shah, Jan Kudla, Zhaoqi Guo, Megan Upton and Mark Kirillin (Open U8 Champion) and to the best entrants in the Go puzzle competition (Mark Kirillin, Oliver Bardsley, Emily Gan and Emily Li) and the UK Go Challenge caption competition (Taher Anjari and Daniel Yang). Toby Manning also handed out the cash prizes from the online UK Go Challenge Finals and Alison Bexfield was there to give out grade badges.
The Castledine Trophy was won jointly by Cheadle Hulme School and James Gillespie High School (Edinburgh) based on McMahon scores, and top team based on percentage was Ilford.
Last updated Fri Dec 24 2021.
If you have any comments, please email the webmaster on web-master AT britgo DOT org.