BGA Newsletter 292 July 2022

FROM THE EDITOR
Contributions are always welcome, both from our members and others. We ask that they be Go-related and "newsy". The place for debate and general discussion is the BGA open mailing list Gotalk. However, an introduction to a new topic is fine in the Newsletter. A brief introduction to Gotalk, with a link for joining, is on the BGA page Go on the Internet.
Instructions for Contributors: Please use plain text not file-attachments. Keep it fairly brief, and give web-links and contact details. It's good to include pictures. If they are on the internet, send me the URL, otherwise attach the picture files to your email. Send your contribution to newsletter@britgo.org to arrive by the first day of the month.
Jil Segerman
NEWS
The full set of recent news items, including further details of some of the items shown here, are on our News Pages.
At the Liverpool Japan Day Festival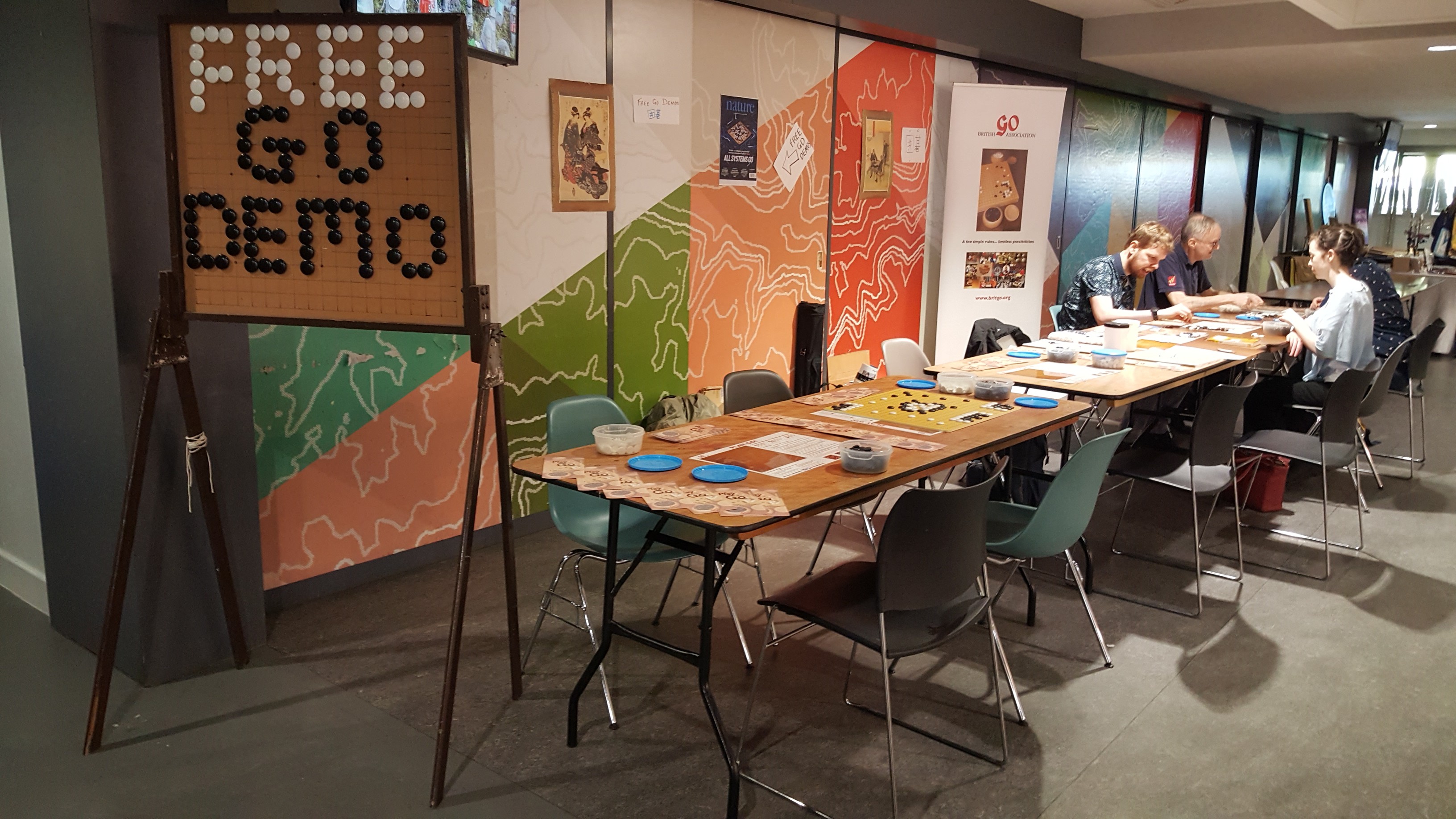 Japan Day is Japan Society North West's free all-day festival celebrating the many fascinating aspects of Japanese culture. Liverpool Go Club members Haruhi, Tom Wenink, Teddy McManus and Leo Feng were there to give demos and teaching, also Helen and Martin Harvey from Manchester. There was a never-ending stream of people wanting to learn the game. Several people bought Go sets, having played a few games. A very busy day.
Another Japan festival is coming soon, Manchester Doki Doki, on Saturday 27th - Sunday 28th August. If you could spare any time to join the BGA team - on one day or both - do please contact harveymartin939 AT gmail DOT com
28th Welsh Open Won by Peikai Xue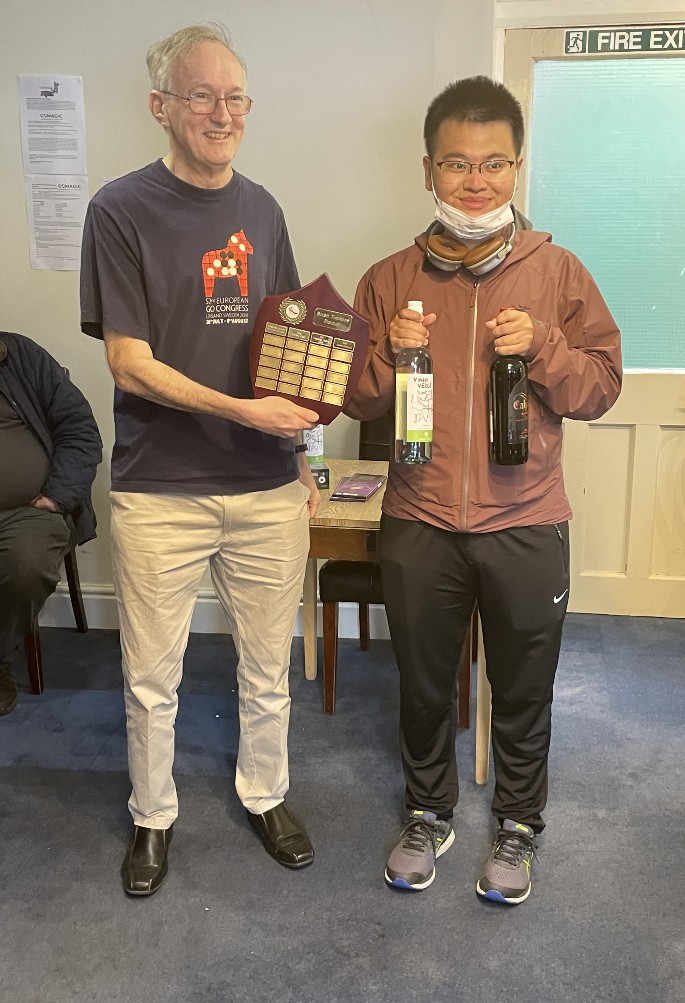 The Welsh Open returned for its 28th edition on the 25th and 26th June. The venue was once more the Min Y Mor Hotel in Barmouth, which gives the chance to stay on site, to socialise over the Saturday evening dinner or to quickly pop to the beach and enjoy the weather. A total of 22 players came to play including a number from South Wales, North West and South West England and further away. Top player this year was London's Peikai Xue (3d) who won all six games, shown here receiving prizes and the Brian Timmins Plaque from organiser Martin Harvey. Equal second were Cardiff's Dylan Carter (1d) and Leicester's Toby Manning (1d). Bjorn Eurenius (8k Lancaster) won five games and Lucas Horton (9k), Pat Ridley (11k Chester) and Kieran Moore (14k Cardiff) each won four games. In addition Louise Bremner (2k Bristol) got a prize as top kyu player.
British Pair Go Held at London Go Centre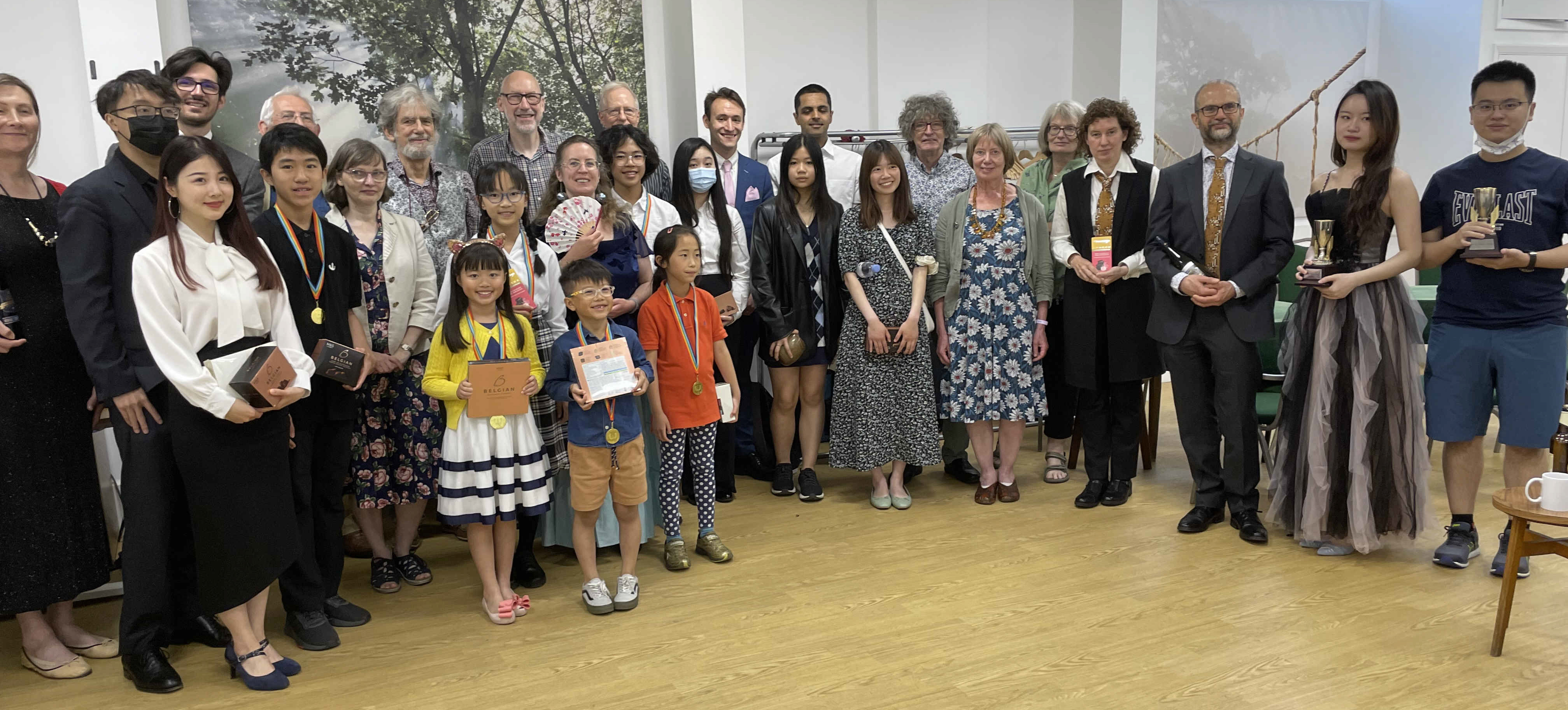 After missing two years, the British Pair Go Championships was back on Saturday 18th June. This time it was at the new venue of the London Go Centre. For the last time the main organiser was Francis Roads, who has decided to pass on the reigns after twenty years. He was, as ever, ably assisted by his Pair Go partner, Jenny Rofe-Radcliffe, who did the pairings.
Gaoge Wang and Peikai Xue were the new champions, beating Xinyuan Wu and Xinchi Gong in the final round. All players received prizes, in the spirit of Pair Go, with Alison and Simon Bexfield winning the Fighting Spirit prize.
In the handicap section Lea Wong and Gene Wong were the winners, and the Fighting Spirit prize went to youngster Rachel Chik playing with Paul Smith from Cambridge. It was also good to see another young pair of Audrey and Aiden Fung playing in their first UK event. The new organiser, Pat Ridley, judged the Best Dressed competition and awarded the prize to Xinyuan Wu and Xinchi Gong.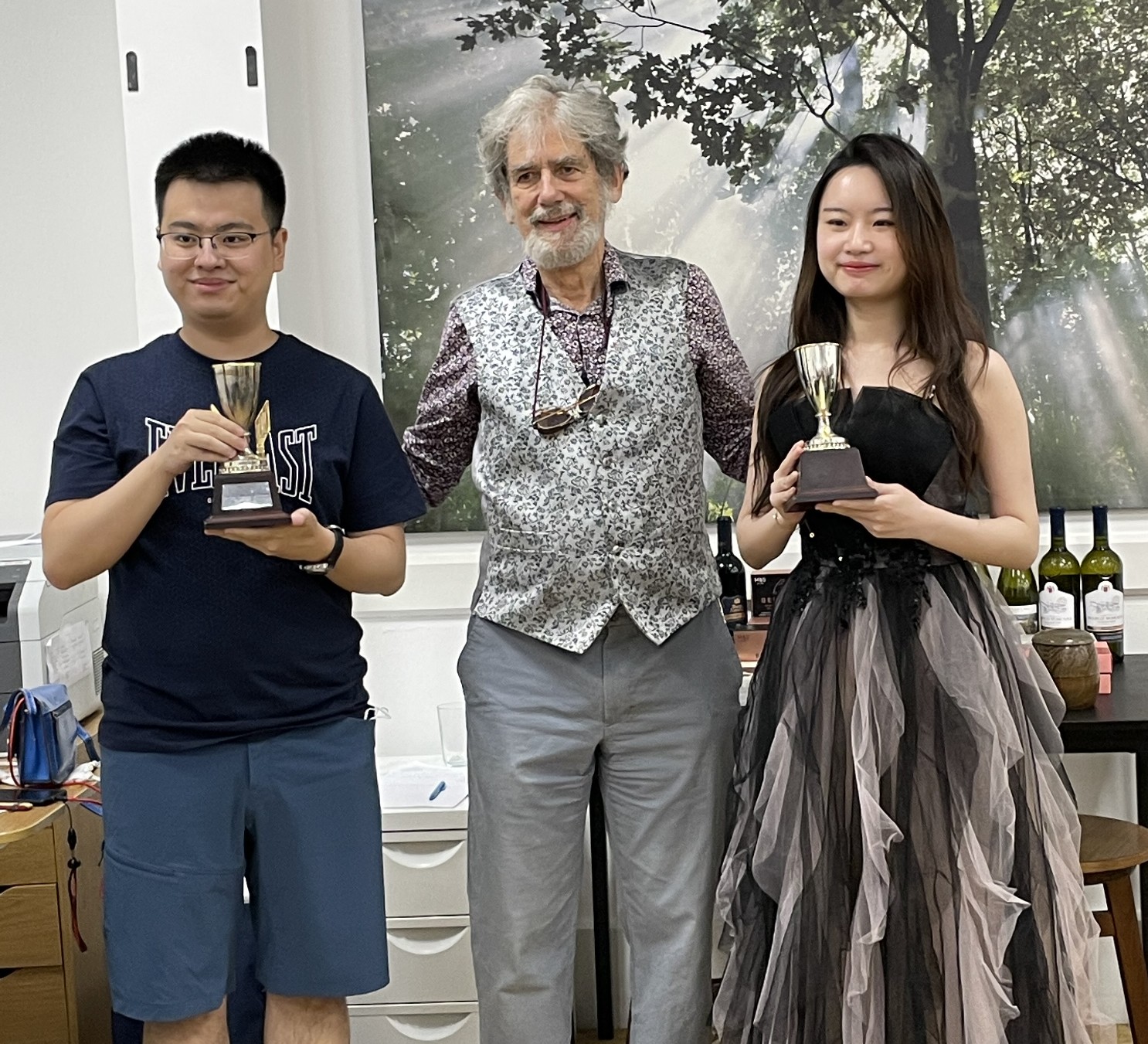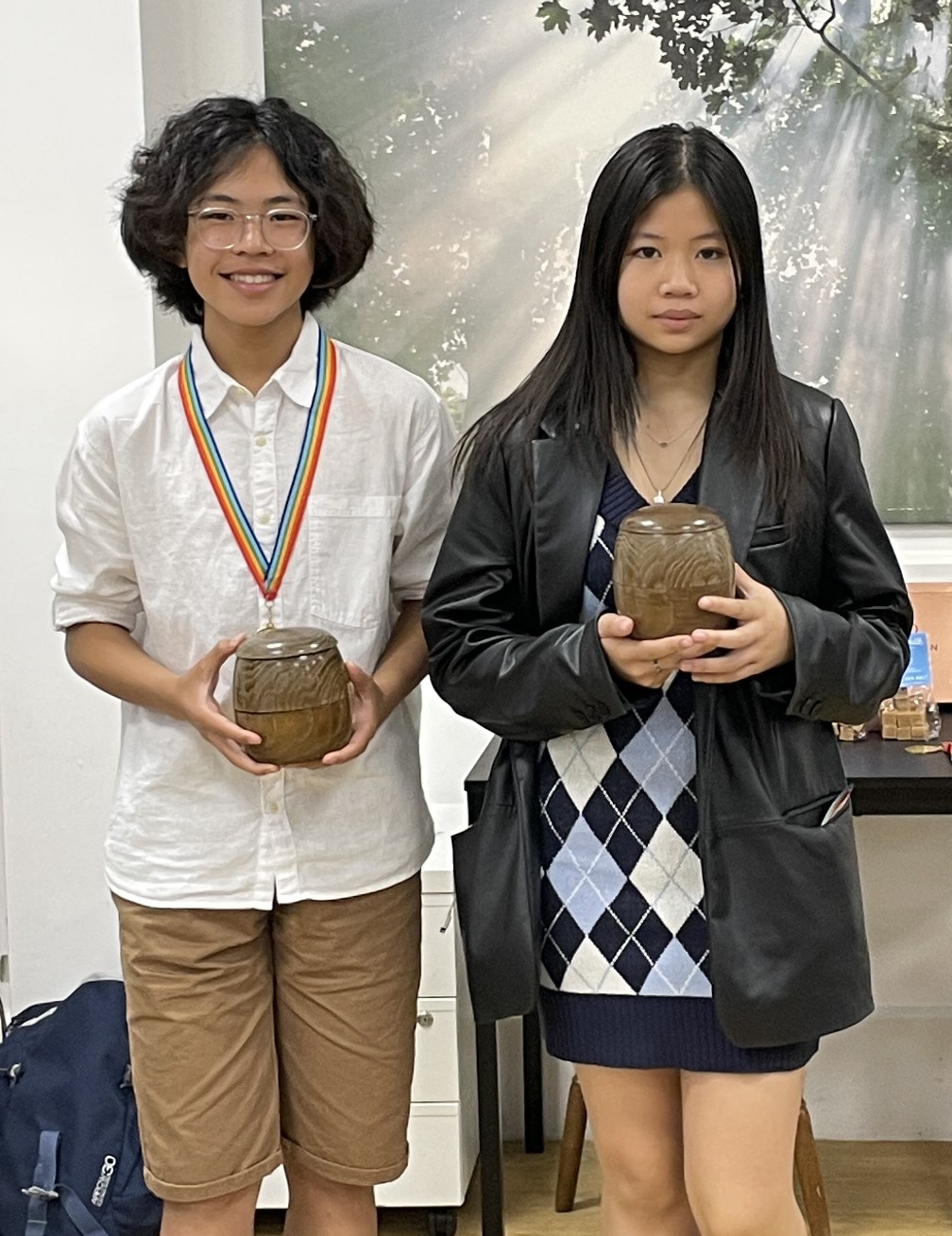 Pair Go Champions (with Organiser) and Handicap Champions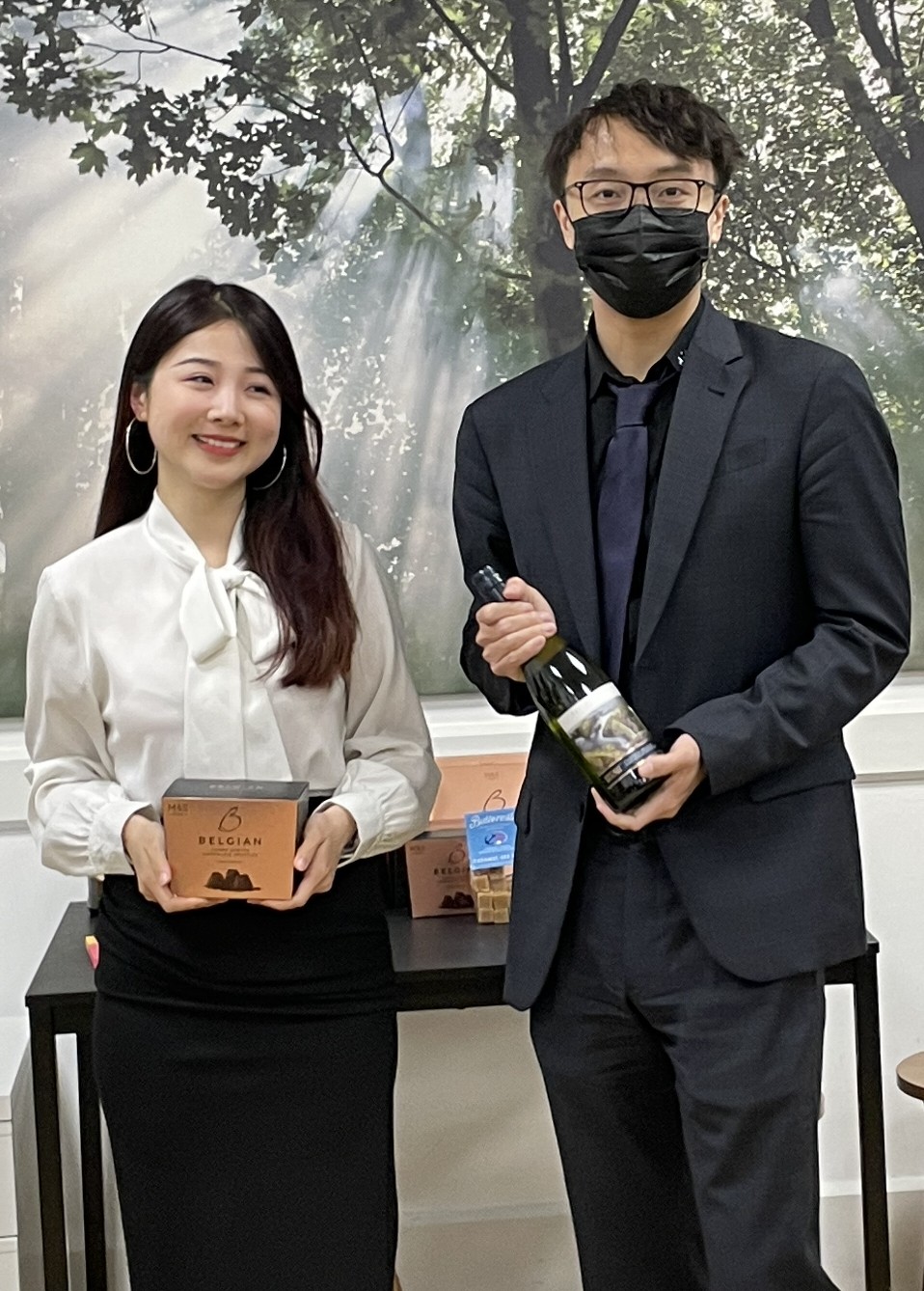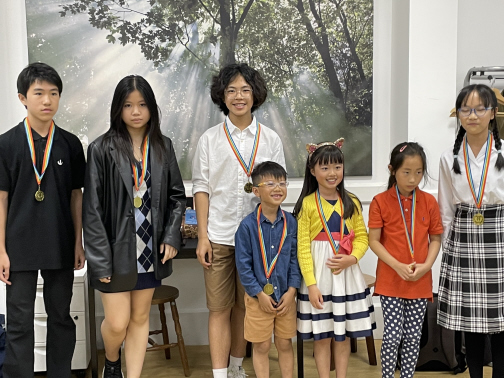 Best Dressed Pair and Youth Players
Full report here and lots more photos
Durham Tournament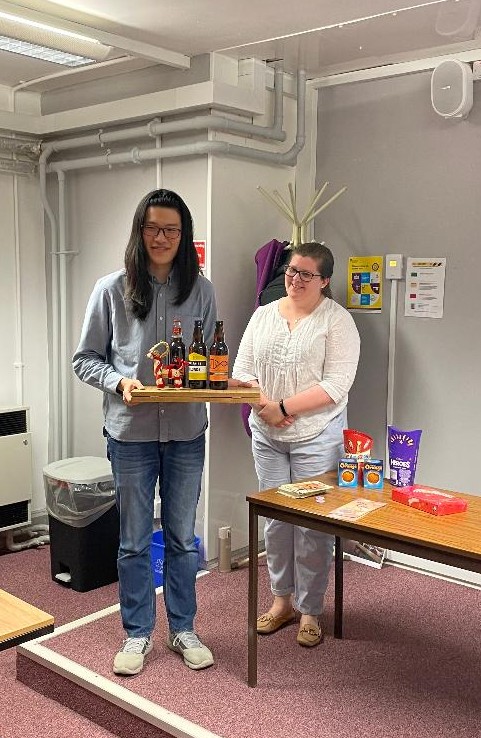 Durham held their first physical tournament since 2019 on 11-12th June. Nearly 30 people came with a whole range of ranks from some strong dan players to DDKs.
The winner of the Go tournament was Guodong Cao (4d, Oxford University Go Club) who won the coveted Goat Ornament with 5 wins out of 6, shown here receiving prizes from Alice Ambrose-Thurman. Prizes were also awarded to Zheng Wang (5d, no club), Leonardo Forchini (6k), and Nicholas Yelland (8k, Durham) who all won 5 games out of 6. Dan Milne (4k Durham) won the small board and lightning side tournaments.
On the Friday evening several players enjoyed an evening of Go and conversation in the Old Elm Tree pub in Durham city centre. About 20 people took part in the Go BBQ at Alice and Andrew's in a village just outside Durham. Andrew was isolating with Covid so had to wave sadly out the window at everyone, but plenty of sausages were delivered to him. The BBQ included several Ukrainian dishes prepared by Alice and Andrew's Ukrainian guests. Everyone enjoyed trying these dishes and meeting the Ukrainian guests, who have just started learning Go and have been enjoying playing weekly in the pub.
ADMIN
AGM Minutes
The 2022 AGM Minutes are now available here
EVENTS COMING SOON
This Month: European Go Congress, Romania
August: Youth Go Camp at Caythorpe, Mind Sports Olympiad London, Doki Doki Festival Manchester
September: Edinburgh, Youth Squad Selection online, Confucius Dublin, Swindon
October: Sheffield, Wessex
November: Three Peaks Ingleton, Northern Cheadle Hulme, Coventry (provisional)
December: London Open
More information here
Last updated Fri Jul 15 2022. If you have any comments, please email the webmaster on web-master AT britgo DOT org.