BGA Newsletter 300 March 2023

FROM THE EDITOR
Contributions are always welcome, both from our members and others. We ask that they be Go-related and "newsy". The place for debate and general discussion is the BGA open mailing list Gotalk. However, an introduction to a new topic is fine in the Newsletter. A brief introduction to Gotalk, with a link for joining, is on the BGA page Go on the Internet.
Instructions for Contributors: Please use plain text not file-attachments. Keep it fairly brief, and give web-links and contact details. It's good to include pictures. If they are on the internet, send me the URL, otherwise attach the picture files to your email. Send your contribution to newsletter@britgo.org to arrive by the first day of the month.
Jil Segerman
NEWS
The full set of recent news items, including further details of some of the items shown here, are on our News Pages.
Pandanet Go European Team Championship

The UK team was matched against Ireland, the other top C-League team, in round four. The teams agreed to play three of the games early, to avoid playing on Saint Valentine's Day. Unfortunately the Irish team won all three and this left Tim Hunt to try and salvage a single game on the day itself. He kept the crowd entertained for a couple of hours until finally the massacre was complete. This put Ireland back on top and moved UK down to second or third on tie-break.
Details here.
European Youth Go Team Championship.
The UK youth team's fourth and final match was against Czechia, and the team won 4-1 (including one match won by default). As a result we came second after France, just ahead of Ukraine on tie-break. This is the third year in a row the UK has finished in the medals and reflects the consistent strength we have across the team.
Geoffrey Gray
From Francis Roads:
"I heard from David Mitchell, the Secretary-General of the Australian Go Association, that Geoffrey Gray died in his sleep last Monday at the age of 98.
Geoffrey was active on the London Go scene in the '60s and '70s. BGA committee meetings were often held above his doctor's surgery in Chelsea. For a period he was chair of the London Go Club. In 1977 he returned to his native Australia. I saw him again during my Go-playing tour of Australia and New Zealand in 1996, when he hosted me first at his flat in Sydney, and then in his country home in Tuncurry. He claimed to have the largest collection of Go books in the Southern Hemisphere.
After his retirement to Tuncurry he continued to take an online interest in go, playing regularly until about ten years ago, and continuing to watch other games. I have contact details with his family, should anyone wish to get in touch."
Andrew Simons says: "He was well known and liked on KGS under the name aussiemate."
A new club venue in London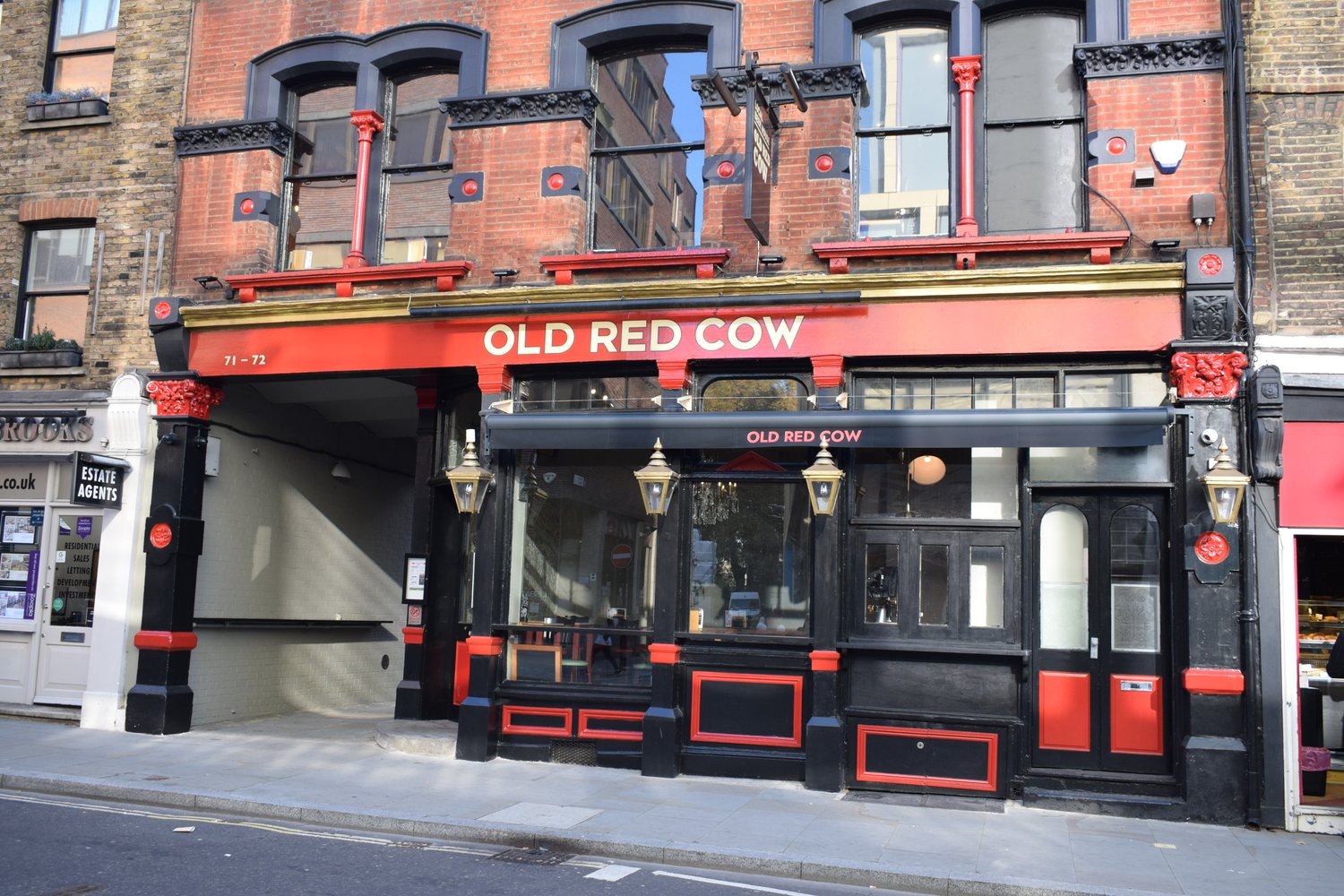 Richard Mullens writes: "Following the closure of the Inn of Court at Christmas, we have now been meeting at the Old Red Cow - 71 Long Lane, Barbican, EC1A 9EJ on Mondays at 6pm for three weeks and have had 16 or more players on each occasion. Food and drink are available and the prices are lower than at the Inn of Court. Currently we are getting players from beginner to 5 dan strength and I hope that we can retain this mix. This is a gem of a pub! " Details on the London City Go Club website.
ADMIN
2023 AGM
Reminder the 2023 AGM will be held online by ZOOM at 20:00 on Thursday 20th April 2023 and motions and nominations for elections must be sent to the BGA Secretary secretary@britgo.org on or before Thursday March 16th 2023. Further details here
Joint British/Irish Go Congress: Friday 31st March to Sunday 2nd April in Belfast.
So far we have 43 entries, including 8 double-digit kyu players. As a result we have just expanded our playing space in the hotel by booking two more rooms. This should ensure we have adequate space to play in comfort, as well as giving us room to accommodate plenty of further entrants before the Congress.
If you have not yet entered please do consider joining us for what promises to be an enjoyable event, with a good selection of opponents that you probably don't often play against.
Reminder of full information and link to entry form.
EGF Grand Prix final at the London Go Centre
In parallel with this year's London Open Go Congress the London Go Centre will be hosting the European Grand Prix final, a knock-out competition between 16 top European players.
Any video experts willing to discuss how best to capture multiple desktops into a single stream are requested to contact londongocentre@gmail.com
BGJ 202 is Now Available in the Members' Area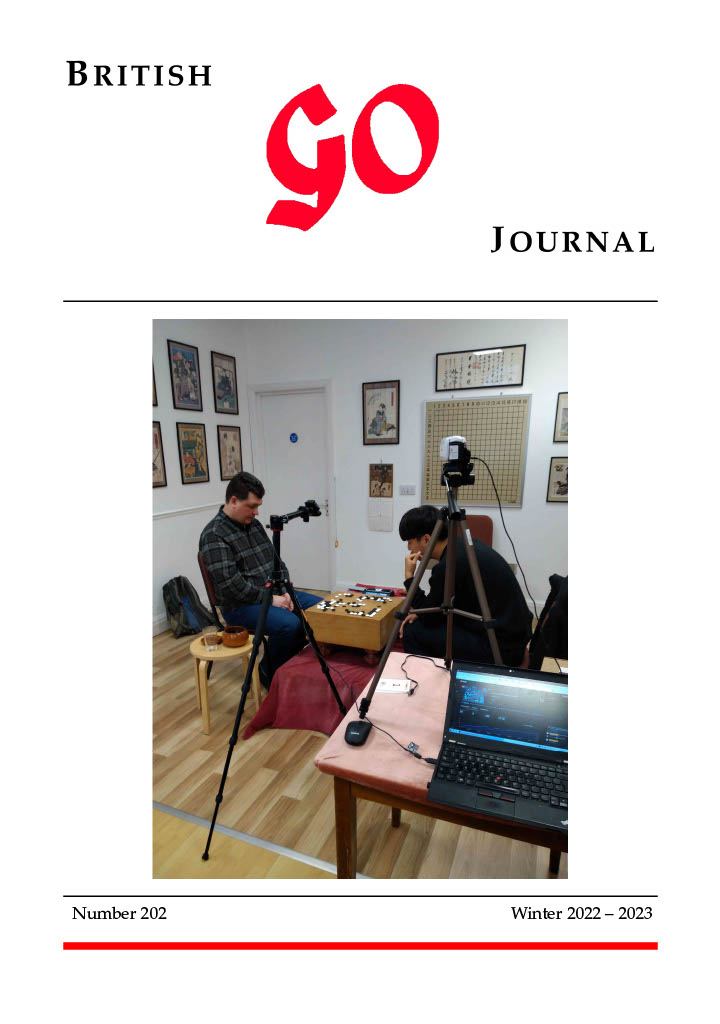 The Winter 2022-23 edition of the BGJ is now available for members to read in the Members' Area, with printed copies having being sent out to those that receive them.
CONTENTS:
PRESIDENT'S MESSAGE Toby Manning
BGA SECTION Colin Williams
WORLD NEWS Tony Atkins
BRITISH CHAMPIONSHIP 2022: GAME 2 Artem Kachanovskyi
SUPPORTING YOUNG PLAYERS – THE YOUTH GO TRUST The Trustees
ADVICE FOR DOING TSUMEGO – PART NINE Richard Hunter
YOUTH NEWS Tony Atkins
COMMEMORATING HANS PIETSCH Jochen Fassbender
GO JOTTINGS 23 – STUDYING PROFESSIONAL GAMES John Tilley
UK NEWS Tony Atkins
FESTIVAL OF THE MIND Doug Haynes
TOURNAMENT HISTORIES XV: NORTHERN Tony Atkins
SOLUTIONS TO THE JOURNAL PROBLEMS
The copydate for BGJ 203 is 1st April. Please send your contributions to journal@britgo.org.
EVENTS COMING SOON
This Month: Trigantius (Cambridge), MSO GP Online 9x9 amended date, Joint British/Irish Go Congress (Belfast)
April: UCL (London), Rip-Off (Dublin)
May: British Championship - Candidates' Tournament, Sheffield University, Not the London Open
June: Cheltenham (Tentative), British Pair Go Championship (Frodsham), Durham, Welsh Open (Barmouth)
July: Cheshire (Frodsham) new date, European Go Congress (Leipzig, Germany)
August: Youth Go Camp (Lincolnshire), Mind Sports Olympiad (London)
More information here
Last updated Wed Mar 08 2023.
If you have any comments, please email the webmaster on web-master AT britgo DOT org.