BGA Newsletter 303 June 2023

FROM THE EDITOR
Contributions are always welcome, both from our members and others. We ask that they be Go-related and "newsy". The place for debate and general discussion is the BGA open mailing list Gotalk. However, an introduction to a new topic is fine in the Newsletter. A brief introduction to Gotalk, with a link for joining, is on the BGA page Go on the Internet.
Instructions for Contributors: Please use plain text not file-attachments. Keep it fairly brief, and give web-links and contact details. It's good to include pictures. If they are on the internet, send me the URL, otherwise attach the picture files to your email. Send your contribution to newsletter@britgo.org to arrive by the first day of the month.
Jil Segerman
NEWS
The full set of recent news items, including further details of some of the items shown here, are on our News Pages.
Xiao Wins All at Not the London Open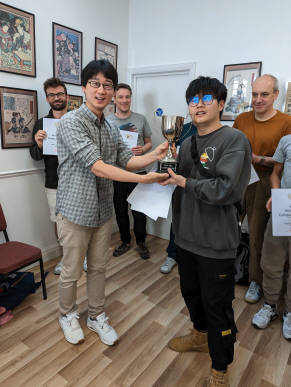 Yicheng Xiao (6d UCL) won all his games to win both the Open and the Lightning at the fourth Not the London Open. He won all six games in the 58-player Open, whilst Chun Fang (6d Edinburgh) only lost to the winner to take second and Yiyang Ding (5d) was third by tie-break. To win the Sunday evening lightning he had to beat Scott Cobbold in the final. Also notable was Rachel Chik (17k) who, as the lowest graded player, stalwartly had to fight against two strong players (Yaoling Yang and Chun Fang) with large handicaps. Yiyang Ding won the losers section.
Photo: Yicheng Xiao accepting the NTLO trophy from In-seong Hwang (8d Grenoble), the tournament's teacher, with other section winners in the background.
New: BGA Online Activities
The BGA is now running an online club. It runs every two weeks on Saturday at 19:00. The next few dates are 10th June, 24th June, 8th July, 22nd July, 5th August and 19th August. Normal club nights are also interspersed with teaching events and tournaments (but you can simply just play if you wish). It is held on the BGA's discord server and OGS Group 13219. If there are any problems with joining either discord or the OGS group please email daniel.l.milne@gmail.com.
The BGA has also decided to restart the online leagues which ran last year. The format will be broadly similar as the previous edition with four players in a group playing a double round robin (so six games each) over 12 weeks. If you would be interested in playing, please email daniel.l.milne@gmail.com with your name, OGS username and grade (BGA/EGF if available, best guess if not). The deadline for entry is the end of June 2023, with the leagues starting in mid-July.
Pandanet Go European Team Championship

The UK team's final game was against Georgia and they won three games to one. Details here. Ireland won to take first and we were second in League C, and so have to win the play-off for promotion, against Finland on 13th June.
Following an investigation, it was discovered that a member of the Bulgarian team had been cheating, using Artificial Intelligence software as an aid. This is, of course, specifically banned in the rules. The miscreant confessed, and all his games were marked down as losses; Bulgaria will now be demoted to league D next year. Although this converted our draw against Bulgaria in round 1 to a win, Ireland similarly benefited and we remained second in the group.
Club News
The South London Go Club is re-starting. Meeting Thursday evenings in Johannes Siven's place in Clapham.
Summer Go Camp in Lithuania
The Lithuanian GO Association is organising a Summer Go Camp, 6th – 9th July 2023, at the homestead "Prie Labanoro", Slabada.
This event promises to be an unforgettable experience, combining the joy of playing Go with a vibrant cultural exchange. Whether you are a seasoned player or a novice eager to learn, the camp offers a welcoming environment for all skill levels.
Details on the Go Camp website, or for further information, please contact the organizing team at info@lga.lt.
ADMIN
British Go Journal
The Spring 2022-23 edition of the BGJ is now available for members to read in the Members' Area, with printed copies having being sent out to those that receive them.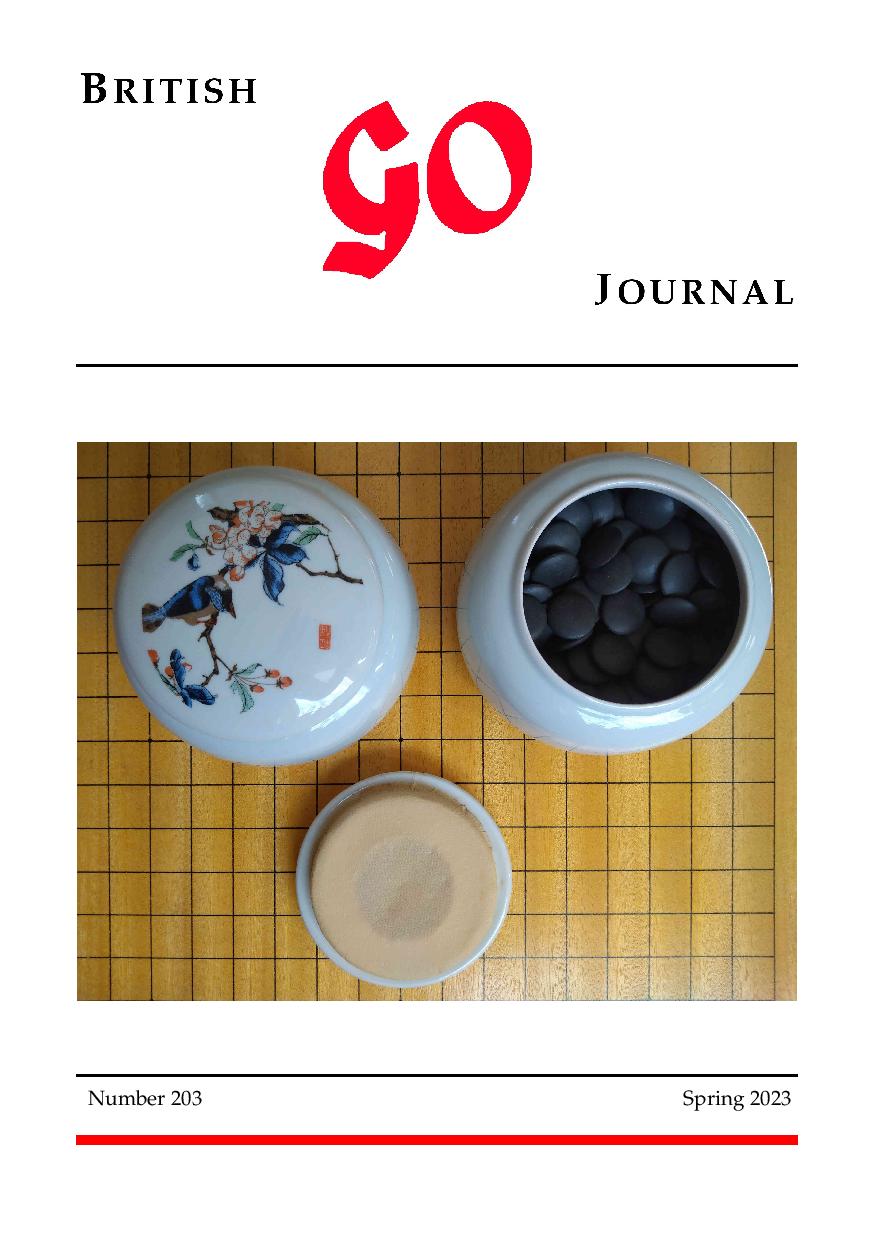 CONTENTS:
EDITORIAL
LETTERS
PRESIDENT'S MESSAGE Toby Manning
ALAN HELD Tony Atkins
BGA SECTION Colin Williams
TOURNAMENT HISTORIES XVI: TRIGANTIUS Tony Atkins
GEOFFREY GRAY Francis Roads
WORLD NEWS Tony Atkins
ADVICE FOR DOING TSUMEGO – PART TEN Richard Hunter
UK NEWS Tony Atkins
ADVICE FOR DOING TSUMEGO – CONTINUED Richard Hunter
GO SPOTTING Tony Atkins
GO JOTTINGS 24 – ADVANCING FROM THE OPENING. . . John Tilley
YOUTH NEWS Tony Atkins
SOLUTIONS TO THE JOURNAL PROBLEMS
ASSOCIATION CONTACT INFORMATION
The copydate for the next BGJ is 1st July. Please send your contributions to journal@britgo.org.
Disputes Panel
The "Disputes Panel" has been constituted to deal with the (hopefully very rare) cases when members break the BGA Code of Conduct, and the breach is so severe that some form of sanction is required. The Panel is independent of the Board.
The panel consists of 6 members. Four members were elected at the AGM (Jon Diamond, Francis Roads, Mohammed Amin and Alex Rix) but as there were no other nominations that left 2 vacancies. Following consultation with the elected Panel Members it was decided that the Board should appoint the additional Members, and as a result Gerry Gavigan and Alison Bexfield have been appointed to the panel. Byelaw 5 has been amended to reflect this. Jon Diamond has agreed to be its Chairman.
The Board hopes that the Panel will never be called upon to operate.
EVENTS COMING SOON
This Month: British Pair Go Championship (Frodsham), Durham, Welsh Open (Barmouth)
July: Cheshire (Frodsham), European Go Congress (Leipzig, Germany)
August: Youth Go Camp (Lincolnshire), Mind Sports Olympiad (London)
September: Edinburgh, Confucius Cup (Dublin), LGC Summer School (London)
29th Welsh Open, 24th - 25th June
A two-day event, held in Barmouth a picturesque "Blue Flag" resort on the Welsh coast, surrounded by the unrivalled splendour of the Snowdonia National Park.
UK Youth Go Summer Camp 9th - 12th August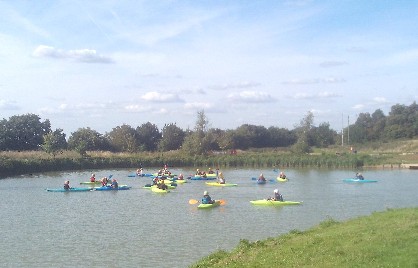 The Youth Go Summer Camp is held at Caythorpe Court, near Grantham, Lincolnshire. Go teaching mornings, outdoor activities afternoons, Go tournament/play evenings. Details and entry form here. Deadline for signing up is 1st July.
Last updated Mon Sep 04 2023.
If you have any comments, please email the webmaster on web-master AT britgo DOT org.