Youth Go News 28 - April 2023

Editor, Toby Manning.
You are receiving this Newsletter as we believe you have an interest in Youth Go. If you do not wish to receive future Newsletters, or if you receive multiple copies, please let us know at ynews AT britgo.org
If you have any suggestions for inclusion in future newsletters, please email them to: ynews AT britgo.org
NEWS
European Youth Go Championships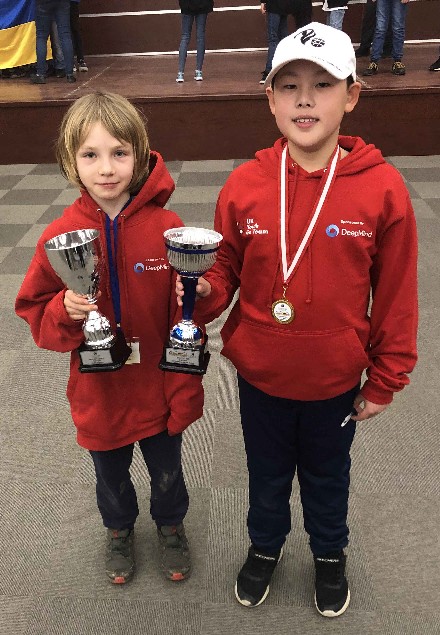 The European Youth Go Championships were held in Ankara, Turkey, between 22 March and 26 March. We had two representatives, both in the Under-12 group: Ryan Zhang got 5/6 and ended up in second place on tie-break, while Lukasz Kudla also got 5/6 and came 12th. Here Lukasz and Ryan are seen holding the Euro Teams Second Place Trophy and the EYGC U12 Second Place Trophy, respectively.
China Match
At the end of March the next match against our friends the Chinese started. This time there are two groups split by grade and within each group each British player will play all the Chinese. With about two-thirds of the games completed both groups are very close: at time of writing in Group A we are behind 13-14, while in Group B the score is 20-21. Check out our China League page for details of the teams and match results.
TOURNAMENTS
British Schools/Clubs Team Championships
On Sunday 23 April we will hold an inter-schools team championship. Teams of three - all from the same school or other youth Go club - will play even games online on OGS. It will start at 14:00 (registration from 13:30) and play 3 (plus a play-off if needed) and will end at 18:00 at the latest. Each school can send more than one team.
Please email ynews@britgo.org with the school name, the name, OGS id and approx grade of each of three team members by Friday 21 April. Reserve players can be used on the day if a player is missing.
UK Go Challenge
If you are looking for a simple tournament to hold at your junior Go club, then do not forget the UK Go Challenge. As this is played on 13x13 boards it is great for those just learning the game and as you get points for playing as well as winning nobody ends with zero. It is very flexible, you can run a game a week or play them all on the same day, play in person or online, and there are detailed instructions on how to do the pairings. Entry is free and your club will be sent a pack of the small prizes. The finals will probably be online in July. For full details see the UKGoC website.
TEACHING/TRAINING
Go Summer Camp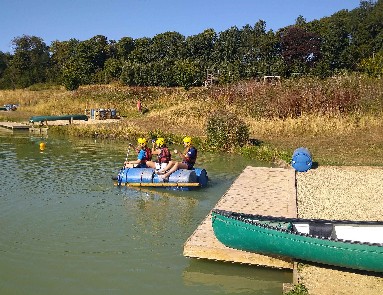 In August, from Wed 9 to Sat 12, we return to Caythorpe for our sixth Go Summer Camp. As before, in the mornings there will be a programme of Go tuition, while in the afternoons you will undertake a range of outdoor activities run by professional Caythorpe staff (such as last year's raft building shown n the photograph). The evenings will feature informal tournaments. This will be a chance to mix socially with other young Go players whilst learning more about Go. The fee for the camp is £275 - this will include three nights of accommodation and all meals. Early entry is recommended as places are limited. Entry Form
OGS Go Club
The "Go Club" on OGS normally meets on the first Sunday each month, but 7 May is the Coronation weekend so we will meet on 14 May, from 16:00 to 18:00 in the BGA Youth group. All levels welcome (not just dan players)!
DDK Training
The next "DDK training" (for those who are 10 kyu or weaker) will also be on Sunday 14 May at 14:30. Please email ynews AT britgo.org if you want to take part.
DIARY SUMMARY
April
Sun 23: British Schools/Clubs Team Champs
May
Sun 14: DDK Training 14:30-16:00
Sun 14: OGS Youth Club 16:00-18:00
August
Wed 9 - Sat 12: Go Camp at Caythorpe
November
Saturday 11: British Youth Go Congress at Leicester Bridge Club
USEFUL RESOURCES
Here are some useful resources/links:
BGA Youth Go Twitter account (kept fairly active, 216 followers)
BGA Youth Go OGS (closed group, 205 members including adult organisers). If you are a new member, please complete this form.
BGA Youth Go Discord Channel
BGA Website: Junior Pages
PROBLEMS
Black to play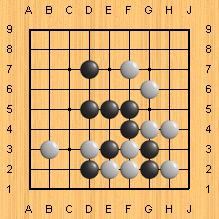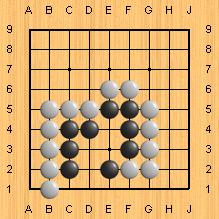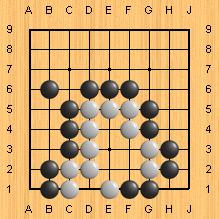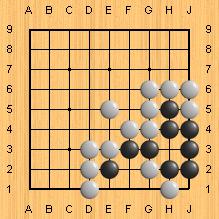 Last updated Wed Apr 19 2023.
If you have any comments, please email the webmaster on web-master AT britgo DOT org.