Youth Go News 26 - January 2023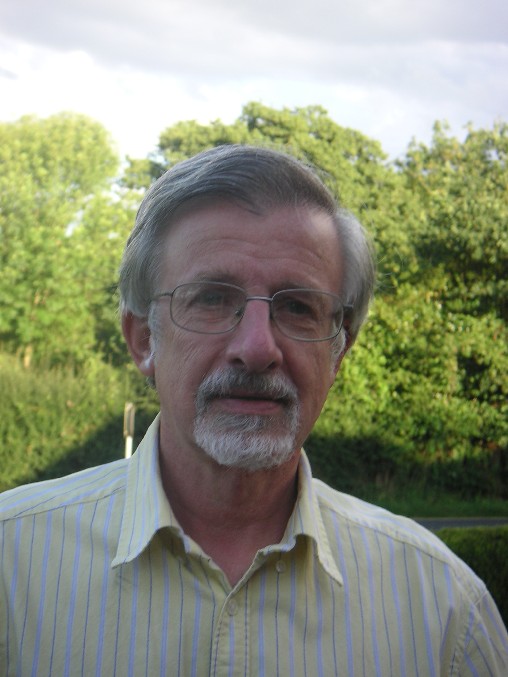 Editor, Toby Manning.
You are receiving this Newsletter as we believe you have an interest in Youth Go. If you do not wish to receive future Newsletters, or if you receive multiple copies, please let us know at ynews AT britgo.org
If you have any suggestions for inclusion in future newsletters, please email them to: ynews AT britgo.org
NEWS
Match Against Hong Kong
The "SuperGo" match ended excitingly on 6 November when Webber Tse (HK) beat Alain Cheung (UK) by just 5.5 to win the series 17-16. Webber was also the HK player who won the previous series for them by just one board too.
European Youth Go Team Championships.
The UK youth team is again playing in the European Youth Go Team Championship. This time each match is five games played on OGS (not KGS) with one player U20, two U16 and two U12. The squad has been selected by Team manager Alison Bexfield. Alison aims to rotate the players on the team, to give all a chance to play, whilst trying to match strengths of opponents and yet giving the team a chance of winning.
The first match was scheduled for Saturday, 12th November, but Germany asked for two games to be played on the preceding Friday. Paul Smith kindly agreed to monitor the games but in the end only one was played as a German player was ill. That game, against Yanyi, was finally played on the following Friday.
In the match Scott Cobbold lost to Shizhao Li by resignation, Gene Wong lost by 12.5 to Kirby Zhang, Cyrus Shek lost to Yuze Xing by resignation, Yanyi Xiong lost to Jing-Xiang Qiao by resignation and Andrew Volovich lost to Ryan Sun by 21.5. This confirmed Germany, without any Russian teams playing, as the number one seeds for this year.
In the second match, on the weekend of 10th December, the team played Hungary. Another five youngsters from our EYGTC team took part, with games spread over the two days of the weekend. The first games to be played saw Daniel Chun Yang beating Zalan Makany by resignation, but Lea Wong lost to Bence Tomesz by 29.5. Later Emily Gan beat Noemi Balogh by 108.5. On the Sunday our Lukasz Kudla beat Dávid Kis-Gadó by 63.5 and Samuel Wu beat Csaba Kis-Gadó junior by 79.5. This meant the UK won 4-1, a great result as both Samuel and Emily were new to the event and Samuel and Daniel were playing up an age group.
The next match will be on 14th January against Turkey.
WAGC
This year the Chinese organised the World Amateur Go Championship online on the Fox server. They gave players the choice of four start times for games which were set to be convenient for the Chinese game monitors. However these times were not suitable for an English school boy and our representative, Scott Cobbold, struggled to play the first three games, winning one, but then he had to withdraw leaving him unplaced. Well done to Scott for volunteering to play and for trying to fit in with the timetable.
Youth Grand Prix
The Youth Grand Prix runs over a calendar year; players get points for each tournament they attend , together with more points if they do well.
In first place was Andrew Volovich of Cambridge; with 1008 points. There was a closely fought battle for second and third places. Scott Cobbold played the London Open, the last event of the year, and the points earned saw him taking second place with 748 points, just ahead of Caleb Monk with 740. Lea Wong just missed out on the top three scoring 735 points.
Cash prizes. kindly donated by Jeremy Rickard in memory of his brother John, a strong Go player from Cambridge, who died in 2002, are awarded to the top three.
TOURNAMENTS
Only Player Wins
The online youth event on 13 November was advertised as a handicap tournament. It unfortunately broke the record for the smallest ever BGA tournament, the previous being a Rengo tournament where five players and the organiser turned up. Just one player entered, the ever keen Andrew Volovich, so he took the event unchallenged!
London Youth
This event took place at the London Go Centre in West London on 3 December. Thanks go to them for hosting and to the Youth Go Trust for sponsoring the event. The event was planned to be split into three sections, but in the end insufficient players saw the event changed to three games for all players with the novices just playing in the afternoon. As expected Scott Cobbold won all three games to win the top group, with nobody else winning more than one. Natalie Hung (4k), playing in her first UK tournament, won the Handicap section, just ahead of Caleb Monk (6k). The Novices section was won by Clarence Qin (20k) from Leamington. In all twelve youngsters took part.
British Youth Go Championships
It is not too late to enter! This is taking place at Leicester County Bridge Club, 67 St Oswald Road, Leicester LE3 6RJ, on Saturday 21 January 2023. Youth titles at U8, U10, U12, U14, U16 and U18 will be contested, on 19x19 boards, in addition to the titles of overall British Youth Champion and British Schools Team Champions. Modified McMahon system will be used. Beginners and those new to the game will be made particularly welcome, and can select to play most of their games on 13x13 boards. Non-British residents also welcome, but some may not be eligible for titles. Here are more details, including an entry form.
London Open
Several youth players did well in this year's London Open, held at the London Go Centre on the last four days of 2022. Scott Cobbold won 4 out of 7 at 3d, Ryan Zhang won 5 at 2d, Kwun Yin Ng won 4 at 1d, Isabella Qiu won 4 at 3k and Spike Shamoon won 4 out of 4 at 4k. Scott won the Lightning Tournament too - congratulations to him!
TEACHING/TRAINING
OGS Go Club
The "Go Club" on OGS will normally meet on the first Sunday each month. Next is 5 February, starting at 16:00 in the BGA Youth group.
DDK Training
The next "DDK training" (for those who are 10 kyu or weaker) will be 5 February. Please email ynews at britgo.org if you want to take part.
EGF Academy
Those players stronger than 10 kyu may be interested in joining the EGF Academy. The teachers are Catalin Taranu 5p and Alexandre Dinerchtein 3p. The participation fee is 25 Euros per Cycle (which lasts for 4 weeks), but the BGA offers a 50 percent discount.
For more details send a message to academy AT eurogofed.org requesting details.
DIARY SUMMARY
January
Sat 14 - 3rd European Youth Go Team Championships match vs. Turkey
Sat 21 - British Youth Go Championships (Leicester)
February
Sun 5 - DDK Training 14:30-16:00
Sun 5 - OGS Youth Club 16:00-18:00
Sat 11 - 4th European Youth Go Team Championships match
March
Sun 5 - OGS Youth Club 16:00-18:00
August
Wed 9 - Sat 12: Go Camp at Caythorpe
USEFUL RESOURCES
Here are some useful resources/links:
BGA Youth Go Twitter account (kept fairly active, 216 followers)
OGS (get yourself registered and send us your user id to join our group)
BGA Youth Go OGS (closed group, 187 members including adult organisers)
BGA Youth Go Discord Channel
BGA Website: Junior Pages
PROBLEMS
Black to play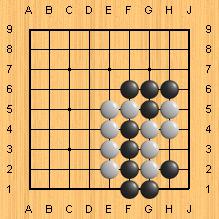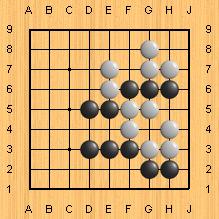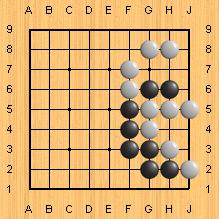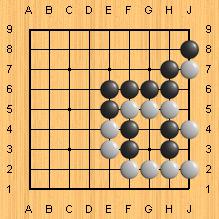 Last updated Tue Jan 17 2023. If you have any comments, please email the webmaster on web-master AT britgo DOT org.