Youth Go News 22 - May 2022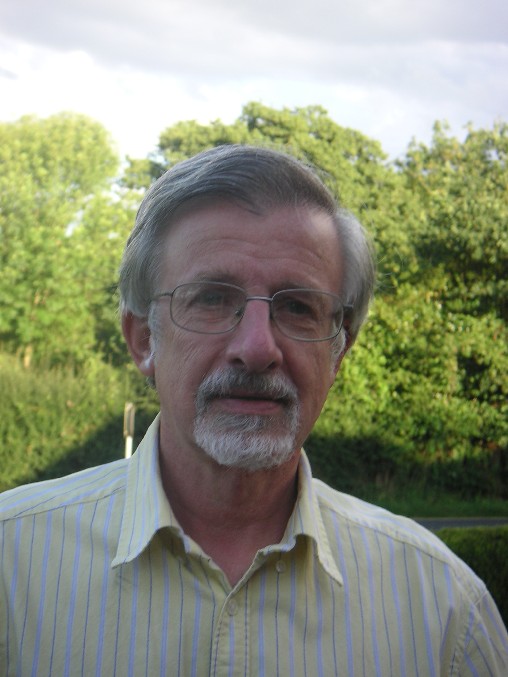 Editor, Toby Manning.
You are receiving this Newsletter as we believe you have an interest in Youth Go. If you do not wish to receive future Newsletters, or if you receive multiple copies, please let us know at ynews AT britgo.org
If you have any suggestions for inclusion in future newsletters, please email them to: ynews AT britgo.org
NEWS
British Schools Team Championship
On Sunday 3 April we held an inter-schools team championship on OGS. Six youth and school teams played over three rounds. Best School was James Gillespie High School, Edinburgh (3 wins). Best Youth Team was Cambridge WZZ (3 wins). Best Junior School was James Gillespie Primary School. Also taking part was another Cambridge team (KCC) and two teams from Radley School making their tournament debuts. Results
Youth Stars
Congrats to some of our young players who have been getting good results against adults at recent tournaments. Scott Cobbold won four games at the British Open playing at 1 dan and lower down James Zhao of Cheadle Hulme School won 5 at 27 kyu (shown below with his prizes). At the Not the London Open Tournament, Lea Wong won 5 playing at 3 kyu; Gene Wong (2k) and again Scott Cobbold both won 4. This put Scott top of the Youth Grand Prix for 2022 with 260 points, ahead of brothers Sung-Hee (230) and King-Hee Lim (220).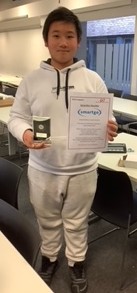 Youth Go Camp
In August, from 10th to 13th, we return to Caythorpe for our fifth "Go Camp". As before, in the mornings there will be a programme of Go tuition, while in the afternoons you will undertake a range of outdoor activities run by professional Caythorpe staff (such as last year's canoeing shown below). The evenings will feature informal tournaments. This will be a chance to mix socially with other young Go players whilst learning more about Go. The fee for the camp is £260 - this will include three nights of accommodation and all meals. Early entry is recommended as places are limited. Entry Form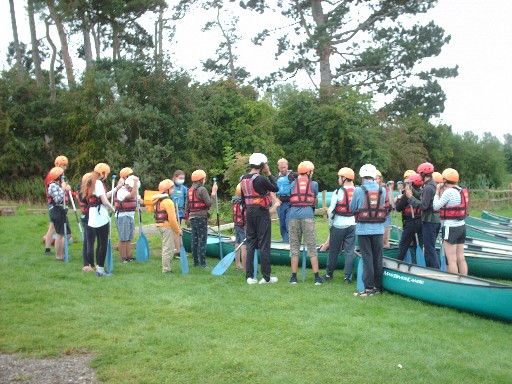 FUTURE EVENTS (ONLINE/OVER-THE-BOARD)
See also details of all British Go Tournaments.
Rapid Play Handicap Tournament
For those not playing the Bar Low at the London Go Centre, you can join in a friendly three round handicap tournament on the afternoon of 5 June. Just turn up in the BGA Youth Group (4739) on OGS between 14:00 and 14:25 to register! It should finish by 18:00.
OGS Go Club
The "Go Club" on OGS will meet on 3 July, 7 August and 4 September, starting at 16:00. (No meeting June because of the tournament on 5 June.)
UK Go Challenge
It has been decided to delay the finals of the UK Go Challenge until the autumn, giving you a chance to enjoy the summer weather rather than being stuck indoors all day. Hopefully it can be combined with the national 13x13 championship for all ages of players.
Matches Against Hong Kong and China
It is hoped to play matches against teams from both Hong Kong and China in the autumn. It was impossible to start earlier because of an internal tournament in Hong Kong and the approaching summer. Look out for details of how to join the UK teams!
TEACHING/TRAINING
Our next session for weaker players will be on 4 September at 14:00. Please email youth-chair at britgo.org if you are under 10 kyu and wish to take part. A reminder will be sent nearer the time.
DIARY SUMMARY
June
Sun 5 - Rapid Play Handicap 14:00-18:00
July
Sun 3 - OGS Youth Club 16:00-18:00
August
Sun 7 - OGS Youth Club 16:00-18:00
Wed 10 - Sat 13: Youth Go Camp, Caythorpe, Lincolnshire.
September
Sun 4 - DDK Training 14:30-16:00
Sun 4 - OGS Youth Club 16:00-18:00
USEFUL RESOURCES
Here are some useful resources/links:
BGA Youth Go Twitter account (kept fairly active, 126 followers)
BGA Youth Go OGS (closed group, 167 members including adult organisers)
BGA Youth Go Discord Channel
BGA Website: Youth Pages
PROBLEMS
Black to play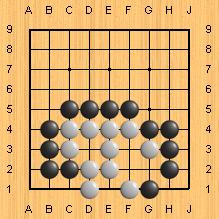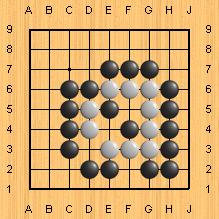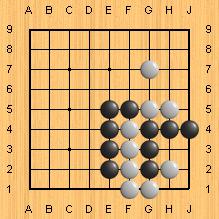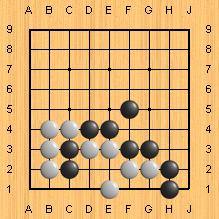 Last updated Fri May 13 2022. If you have any comments, please email the webmaster on web-master AT britgo DOT org.