Youth Go News 25 - November 2022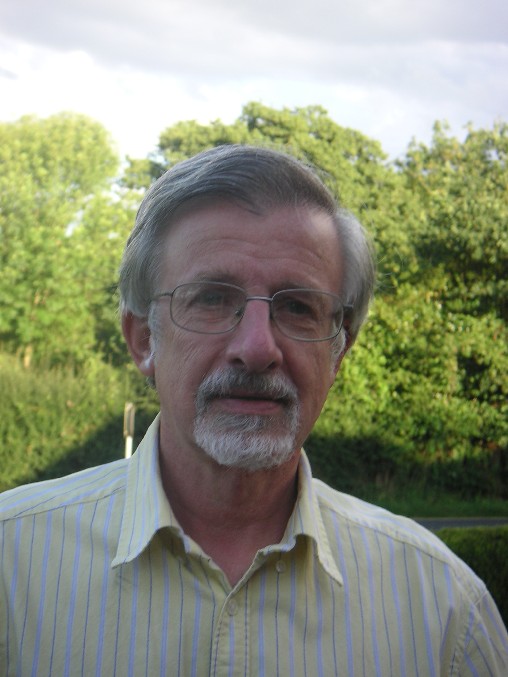 Editor, Toby Manning.
You are receiving this Newsletter as we believe you have an interest in Youth Go. If you do not wish to receive future Newsletters, or if you receive multiple copies, please let us know at ynews AT britgo.org
If you have any suggestions for inclusion in future newsletters, please email them to: ynews AT britgo.org
NEWS
Match Against Hong Kong
We are still playing the "SuperGo" match against a team from Hong Kong. We are currently tied at 16:16, with the last match being on 6 November when Webber Tse (HK) will play Alain Cheung (UK).
UK Squad Selection Tournament
This was held on OGS on 18 September. 20 players took part. Scott Cobbold was the best of the top group, beating Gene Wong in round 3 to take first place. Yiliang Liu (16k Cambridge) scored three to be the highest scoring player below the bar.
UK Squad for the European Youth Go Team Championships.
We are due to play 4 matches during the winter in the European Go Team Championships, played online. Each match needs 5 players (1 Under 20, 2 Under 16 and 2 Under 12), to be selected from a squad of up to 15 players. Our initial squad is the following 12 players (we can add an extra 3 players later): All players must either have British nationality, or have been resident in the UK for at least 2 years.
Under 20:
Scott Cobbold 3 dan (2284)
Yuji Claire Chen 2 dan (2181)
Under 16:
Gene Wong 3 kyu (1961)
Lea Wong 4 kyu (1846)
Cyrus Shek 2 kyu (1844)
Daniel Chun Yang 3 kyu (2062)
Isabella Zheyu Qiu 2 kyu (1840)
Under 12:
Yanyi Xiong 6 kyu (1505)
Andrew Volovich 6 kyu (1450)
Samuel Wu 7 kyu (1406)
Lukasz Kudla 8 kyu (1102)
Emily Gan 9 kyu (1178)
Numbers in bracket are ratings as given in the European Go Database
Our first match is on 12 November.
UK Go Challenge Finals
The UK Go Challenge Finals were played online on 16 October.
Congratulaltions to the winner, Cyrus Shek.
Age group winners were:
Boys U08 Mark Kirillin
Boys U10 Lukasz Kudla
Boys U12 Sung-Hee Lim (by SOS)
Boys U14 Cyrus Shek
Boys U16 Kwun Yin Ng (by SOSOS)
Boys U18 -
Girls U08 Rachel Chik
Girls U10 Liann Wong
Girls U12 Isabella Qiu
Girls U14 Lea Wong (3rd place)
Girls U16 Hanna Kudla
Girls U18 Claire Chen (2nd place)

Some of the games were a very uneven mismatch, and we apologise to those participants who were affected by this.
BGA and AGF Launch Children's Go Server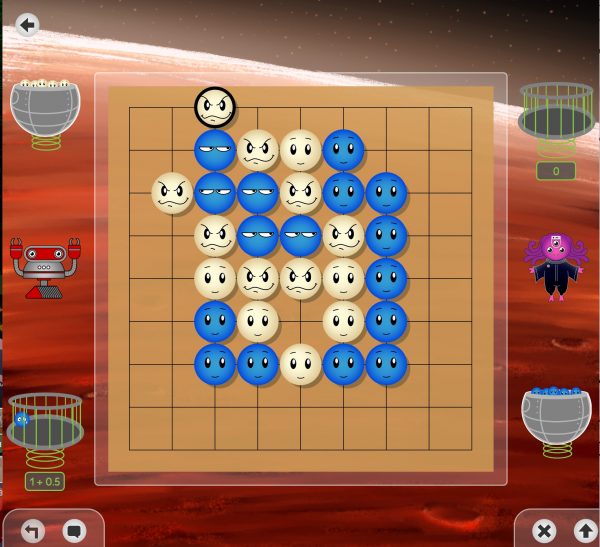 Kidsgoserver.com a new site designed specifically for kids aged 6 to 12, is now live on the web as a beta release.
We have developed this as a joint project with the American Go Foundation, with financial suppoort from the Youth Go Trust. The server is designed to be a totally safe and kid friendly environment that can be used by anyone, and in schools.
The site is accessed through a website, and requires no software, and no login. Graphics and animations help kids realize when stones are in atari. Your choice of rocket ships on the home page will take you to a lessons page or a playing page on one of several planets.
For now, the lessons are only text, but voice actors will read them in the future. More lessons, as well as go problems, will be coming as well.
Kids can play either 9×9 or 13×13 against weak AI bots, as well as against other kids. Chat is limited to preselected phrases so there are no safety concerns. Kids who wish to save their avatar can generate a login code or just pick a new avatar every time they come.
We welcome comments, particularly from those in the target age range (6 - 12). Please send them to ynews at britgo.org
TOURNAMENTS
London Youth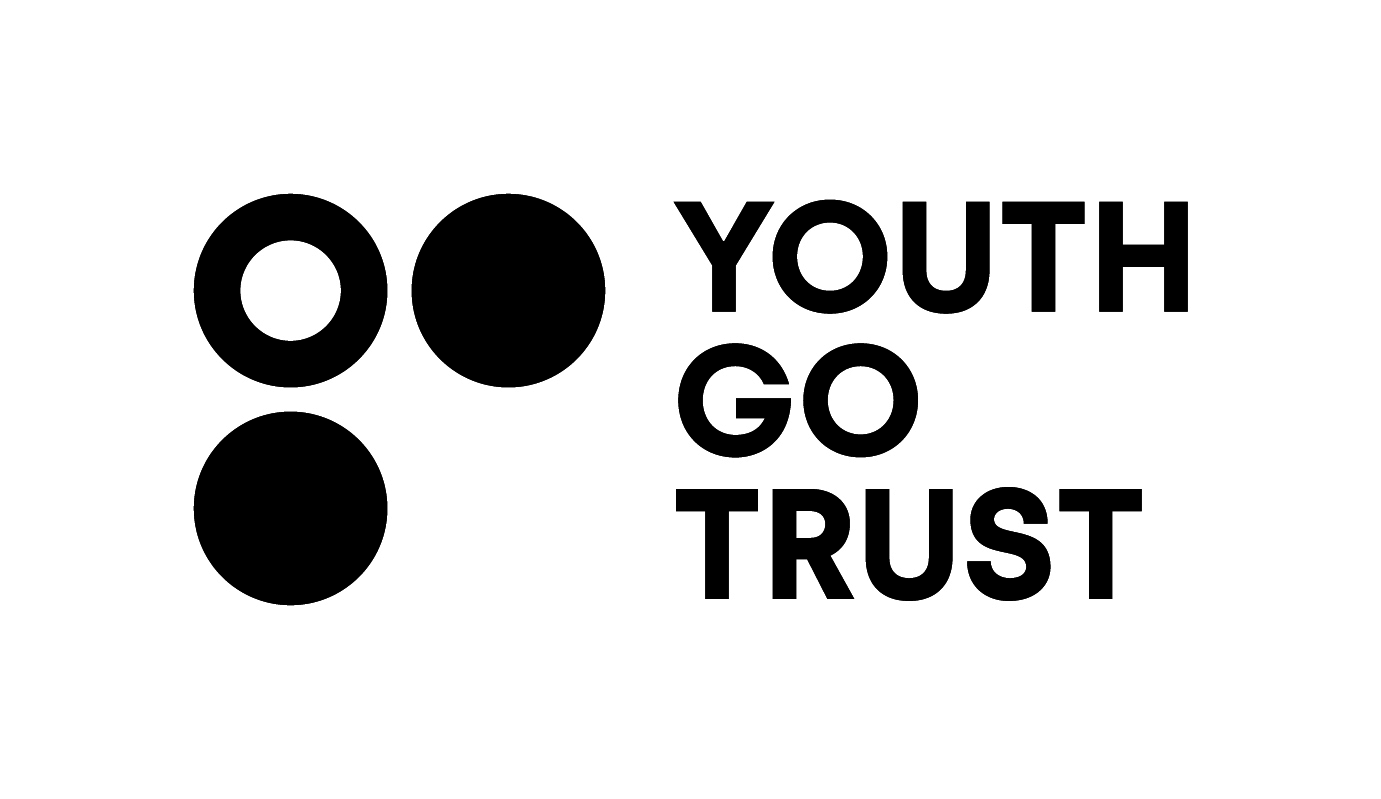 Sponsored by the Youth Go Trust
This event will take place at the London Go Centre at Ravenscourt Park, West London.
The event will be split into 3 sections:
A three round even game tournament for the strongest players
A 5 round handicap tournament for middle-ranking players
A novices tournament (played on 13x13 boards)
Registration by 10:30; we expect the event to finish by 17:00. Registration for novices before 14:00. The entry fee of £5 includes a sandwich lunch. Here are More details. To enter please send an email to londonyouth at kisekigo.com stating:
Name
Strength/Grade (if known)
email address and contact telephone number
If you are playing in the novices section
If you have any allergies or diietary retrictions.
British Youth
This will take place at Leicester County Bridge Club, 67 St Oswald Road, Leicester LE3 6RJ, on Saturday 21 January 2023. Youth titles at U8, U10, U12, U14, U16 and U18 will be contested, on 19x19 boards, in addition to the titles of overall British Youth Champion and British Schools Team Champions. Modified McMahon system will be used. Beginners and those new to the game will be made particularly welcome, and can select to play most of their games on 13x13 boards. Non-British residents also welcome, but some may not be eligible for titles. Here are more details, including an entry form.
OGS Go Club
The "Go Club" on OGS will meet on 6 November and 4 December, starting at 16:00 in the BGA Youth group.
TEACHING/TRAINING
The next "DDK training" (for those who are 10 kyu or weaker) will be 4 December. Please email ynews at britgo.org if you want to take part.
DIARY SUMMARY
November
Sun 6 - OGS Youth Club 16:00-18:00
Sat 12 - First European Youth Go Team Championships match
Sun 13 - Handicap Tournament starting at 14:00. No pre-entry necessary; please login to OGS by 13:45. Finish by 18:00.
December
Sat 3 - London Youth Go Tournament
Sun 4 - DDK Training 14:30-16:00
Sun 4 - OGS Youth Club 16:00-18:00
Sat 10 - 2nd European Youth Go Team Championships match
January 2023
Sat 14 - 3rd European Youth Go Team Championships match
Sat 21 - British Youth Go Championships (Leicester)
August 2023
Wednesday 9 - Saturday 12: Go Camp at Caythorpe
USEFUL RESOURCES
Here are some useful resources/links:
BGA Youth Go Twitter account (kept fairly active, 216 followers)
BGA Youth Go OGS (closed group, 187 members including adult organisers)
BGA Youth Go Discord Channel
BGA Website: Junior Pages
PROBLEMS
Black to play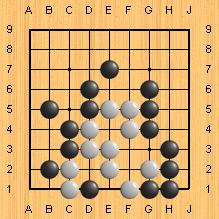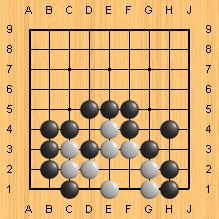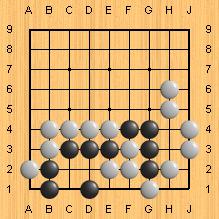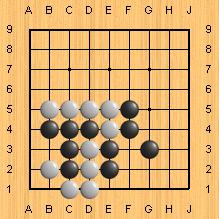 Last updated Thu Nov 03 2022. If you have any comments, please email the webmaster on web-master AT britgo DOT org.