Youth Go News 31 - October 2023

Editor, Toby Manning.
You are receiving this Newsletter as we believe you have an interest in Youth Go. If you do not wish to receive future Newsletters, or if you receive multiple copies, please let us know at ynews AT britgo.org
Your Newsletter
This is your Newsletter: We welcome contributions from our readers; if you have any news, an interesting article or suggestions for inclusion in future newsletters please send it to ynews AT britgo.org.
NEWS
Youth Go Camp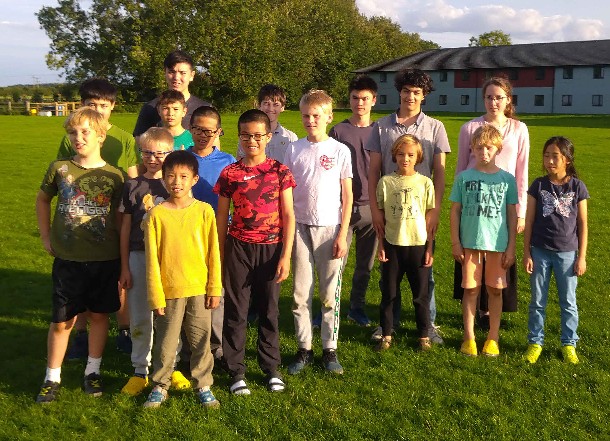 The sixth annual youth camp attracted 16 players from 32 kyu to 3 kyu and 8 years to 17 years old (the younger players allowed in specially after the event was initially undersubscribed). Again Caythorpe Court in Lincolnshire was the venue and as well as Go lessons and playing, the youngsters were able to enjoy climbing, rafting, shooting, fencing, high ropes and survival techniques. The Go-teachers this year were Helen and Martin Harvey and Tony Atkins. Activities can be seen in the gallery.
Winner of the main tournament was Mark Kirillin and second was Michael Mitcham-Harding. The middle group was won by Lukasz Kudla and the bottom group by Zoe Walters. Winners of the Pair Go (Doubles) were Rachel Chik and Michael Mitcham-Harding with Zoe Walters and Blake Shamoon second. In the 13x13 Morgan Pittaway was first with Mark Kirillin second and Michael Mitcham-Harding third.
Hong Kong Match
This is about to get under way. It will again be a last-man-standing event played on Saturday and Sunday mornings like before. Keep an eye on the Junior web pages for progres.
TOURNAMENTS
Team Selection Tournament
On Sunday 24 September we held a team selection tournament aimed at providing information to help Alison Bexfield, team manager, select a squad for the forthcoming European Youth Go Team Championship.
With 20 entrants, the selection tournament was won by Scott Cobbold (4d Under-20). Top Under-16 player was Alan Cheung (4d) and top Under-12 was Blake Shamoon (6k). Spike Shamoon (3k) and Yiliang Liu (16k) also won all three games. Here are the Full results.
UK Go Challenge Finals
The finals for UK school and junior Go clubs and all other UK juniors are on Sunday 15 October, online on OGS (BGA Youth group 4739). First round 14:00, end about 18:00. Free entry. Games played on 13x13 boards. Titles and prize money in age groups for boys and for girls. To enter contact info at ukgochallenge.com
British Youth Go Championships
This event will take place at Leicester Bridge Club on Saturday 11 November, with similar arrangements to the previous two years. Here are full details, including an entry form.
YOUTH GO SQUAD - EUROPEAN YOUTH GO TEAM CHAMPIONSHIP
Following the Selection Tournament held in September, the Team Manager, Alison Bexfield, has invited the following to be part of the UK squad. This championship, to be played online, consists of 4 matches. The team for each match will consist of 5 players who will be selected from the squad; at least 2 players must be Under 12, and a further 2 must be Under 16.
This squad is provisional (three places are yet to be confirmed).
Under 20
Scott Cobbold 4d Wanstead
Claire Chen 2d Lancaster
Under 16
Alain Cheung 4d
Alvina Kwok 1d
Gene Wong 1k London
Daniel Yang 1k Birmingham
Lea Wong 2k London
Michael Mitcham-Harding 4k York
Under 12
Ryan Zhang 2d London
Yanyi Xiong 5k Cambridge
Audrey Fung 5k Wokingham
Blake Shamoon 6k London
Aidan Fung 6k Wokingham
Lukasz Kudla 7k Scotland
Emily Gan 10 kyu Nottingham
TEACHING/TRAINING
EGF Academy (for stronger players, above 9 kyu)
This online league and training scheme starts its next monthly cycle at the end of October. The BGA offers to pay half of the cost of joining. Details of EGF Academy
DDK Teaching (for weaker players, below 9 kyu)
We run bi-monthly teaching events (there is no charge). The next one will be on 22 October at 14:30. If you wish to attend please email ynews AT britgo.org before 20 October .
DIARY SUMMARY
2023
Sun 8 October - OGS Youth Club 16:00-18:00
Sun 15 October - UK Go Challenge Finals on OGS
Sun 22 October - DDK Teaching 14:30 - 16:30
Sat 11 November - BYGC in Leicester
2024
March - European Youth Go Championships Hamburg, Germany.
USEFUL RESOURCES
Here are some useful resources/links:
BGA Youth Go Twitter account (kept fairly active, 216 followers)
BGA Youth Go OGS (closed group, 205 members including adult organisers). If you are a new member, please complete this form.
BGA Youth Go Discord Channel
BGA Website: Junior Pages
PROBLEMS
Black to play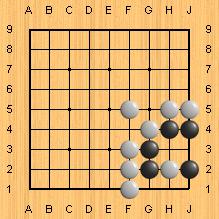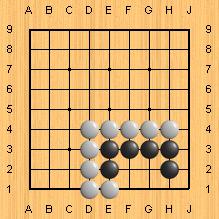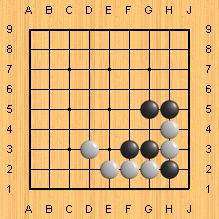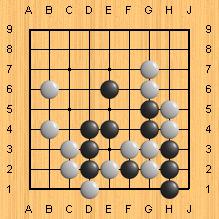 Last updated Tue Dec 05 2023.
If you have any comments, please email the webmaster on web-master AT britgo DOT org.