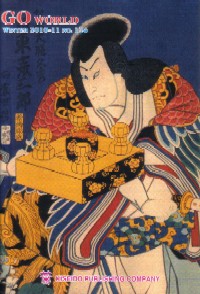 Go World was a quarterly magazine published in English, first by Ishi Press and then by Kiseido, both based in Japan. It replaced Go Review, which was monthly and later quarterly.
Publication stopped at the end of 2012.
You can see some of the other covers illustrated at the Kiseido Go World page. Other Go prints can be seen in their book Japanese Prints and the World of Go".
For details of all contents see the Go World Contents. For location of other articles see the Go World Index.
Last updated Fri May 26 2023.
If you have any comments, please email the webmaster on web-master AT britgo DOT org.