Cambridge Dominate British Small Board
Mon, 14/10/2019 - 19:54

—

Tony Atkins
British Small Board
Cambridge
Sun, 13 Oct 2019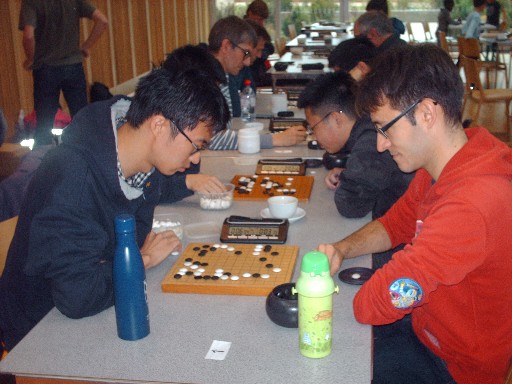 Twenty five years ago Paul Smith and some others started the Cambridge Junior Chess and Go Club. In order to celebrate their first quarter century it was decided to run an event that would be attractive to both children and adults. After a five year gap, the British Small Board Championship was brought back. It was suspected the main reason for this was that Paul Smith was fed up of having the trophy for so long!
The venue was the modern lofty hall in Storey's Field Centre, in the newly constructed district of Eddington, with a separate room for relaxing and eating some of the large variety and numbers of cakes kindly provided by Andrea Smith and others in the family.
As it is also played on small boards and had not been held in the summer as usual, the UK Go Challenge Finals were put on alongside, with some juniors able to play games against the adults in the British, with the top juniors having the chance of beating some of the top adults, if not the very best.
However it was the strong players from the local university and city clubs that dominated the championship, and because of the double elimination format it took three games between the top two players to determine the winner. Those of the 20 adult players that won four or more out of seven also won a prize.
Overall place winners:

1st - Tunyang Xie 4d
2nd - Zherui Xu 4d
3rd - Bruno Poltronieri 3d

Last updated Tue Oct 15 2019. If you have any comments, please email the webmaster on web-master AT britgo DOT org.