126 players assembled for the first day of the 35th London Open (132 over all days). It was held again at ISH, Great Portland Street. Special guest was the teaching professional from Amsterdam, Guo Juan. Also Kobayashi Chizu popped in for a visit. Last year's winner has returned from London to China, so there would be a new winner. Favourites included some Chinese and Korean players, Csaba Mero and Merlijn Kuin. The top board games were being broadcast live on Pandanet as the event was a Pandanet Major in the Pandanet Go European Cup. After two rounds 6 players at the top were unbeaten.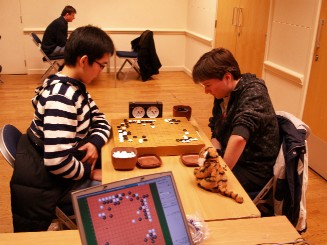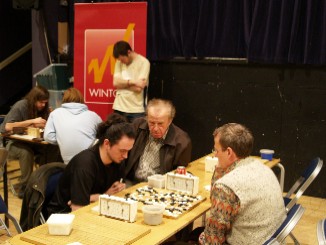 On day 2 Chi-Min Oh remained unbeaten to top the field after an exciting game v Qing Du. Qing headed the list of 3 wins players: Lluis Oh, Viktor Lin, Arnoud Rutgers van der Loeff, Merlijn Kuin, Csaba Mero, Tumo Salo and Antti Holappa were the others.
Day 2 evening was the Pair Go with 10 pairs. The winners were Guo Juan and Ian Davis. Scoring 3/4 were Martha McGill and Matt Crosby, and Annika Piiroinen and Antti Holappa.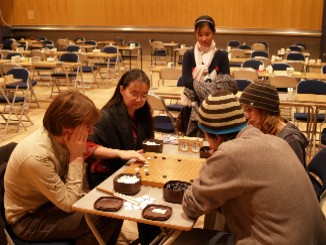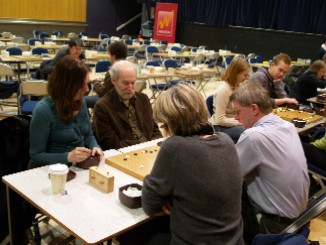 On day 3, Chi-Min Oh won his 5th game against Csaba Mero. Qing Du beat Lluis Oh and there were wins for van der Loeff, Lin, Kuin and Danek (who missed the first day). Oh also won in round 6 against Viktor Lin to give an seemingly uncatchable lead.
During the evening Guo Juan gave a lecture on common mistakes, whilst another group of 45 took part in the Lightning Tournament. 8 players entered the knockout stage as shown below:
Paul Bivas 1d beat Yohei Negi 1d
Franck Pierron 1d beat Nils Timm 2d
Qing Du 6d beat Julio Martinez 2k
Simo Eerola 3d beat Baron Allday 1k

The semis saw Paul Bivas beat Franck Pierron and Qing Du beat Simo Eerola. In the final Qing Du beat Paul Bivas.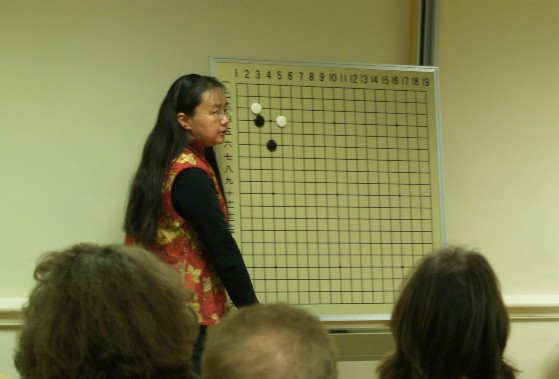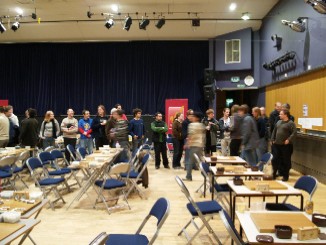 The final round on day 4 saw Chi-Min Oh beat van der Loeff to end on a perfect 7 and first place. Qing Du beat Merlijn Kuin to come second with 6. There were wins for Lluis Oh, Csaba Mero and Viktor Lin. These three ended on 5 wins like Kuin. Vladimir Danek who missed the first day got 4/5. Aurelien Cluzen (4 kyu Paris) won all 7 games and Eric Lebert (13k Rouen) won 6/7 and got the special merit prize. All players with 5 wins got a paperweight prize and those with 4 wins a certificate. Prizes were presented by Gemma Cochrane of Winton Capital who were sponsors on the event.
So the final order was 1. Chi-Min Oh, 2 Qing Du, 3 Lluis Oh, 4 Csaba Mero (equal on SOS), 5 Merlijn Kuin. Viktor Lin was equal 5th, but due to an organisers error would be sent his prize money later.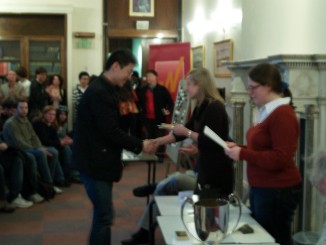 Game Records (sgf) of Games Broadcast on Pandanet
Round 1 Merlijn Kuin v Chi-Min Oh
Round 2 Tuomo Salo v Viktor Lin
Round 4 A Rutgers vd Loeff v Lluis Oh
Round 5 Chi-Min Oh v Csaba Mero
Round 6 Viktor Lin v Chi-Min Oh
Round 6 Chi-Min Oh v A Rutgers vd Loeff
35 players made it to the Quaker Meeting House in Edinburgh. Proceedings kicked off with the belated presentation of May's Scottish Open trophy to Yohei Negi (1 dan St Andrews). Yohei was the favourite for this event too and indeed he ended up joint winner with Alex Kent (2 kyu Durham). Unfortunately due to an organiser's error Alex was not announced as such and didn't get a prize. Yohei had lost in the last round to Adam Heslop (3 kyu Edinburgh), who won all 4 games and, as the four-wins players got their prizes first, won the malt whisky. Two others on 4 wins were Jan Korthmann (6k Aberdeen) and Jenny Radcliffe (7 kyu Durham). On 3 wins were: Robbie Miller (1 kyu Dundee), Sandy Taylor (3 kyu Durham), Ron Bell (4 kyu Borders), John Shafer (9 kyu Durham), Andrew Thurman (10 kyu Durham), Colin Maclennan (11 kyu Twickenham) and Andre Mazanke (20 kyu Edinburgh) who had only taken up Go three weeks ago.
Robbie Miller, Adam Heslop and Edwin Brady join 2008 champion Piotr Wisthal in the semifinals of the 2009 Scottish Championship.
24 players took part this year. Alan Thornton (1 dan St Albans) won the tournament for the second time in five years. Also winning all 4 was Hugo Wainwright (20 kyu Farnborough Village). Mike Charles (2 dan St Albans), Philippe Bourrez (3 kyu West Surrey), Ken Dackombe (9 kyu Farnborough Village), Max Bourget (10 kyu West Surrey) and Adrian Howarth (11 kyu CLGC) all won 3. The prize in the 13x13 competition went again to Xinyi Lu (5 kyu Maidenhead), with 7/9. The cat quiz was won by Sue Paterson and the numberplate word game by Tony Atkins. On the previous day some 11 students were taught various subjects by teachers Sam Aitken, Nick Krempel, Tony Atkins and Paul Barnard.
The National Space Centre in Leicester was again the venue for the third East Midlands Tournament and had 54 players like last year. Winner was David Ward (4 dan) from Cambridge; he beat Toby Manning in the last round. As last year, Hamzah Reta (10 kyu) and Mazhar Warraich (5 kyu) from Aston won all three. Also on three were Taka Obita (1 kyu Cambridge), Dylan Carter (1 kyu Cardiff), Laurence Ogden (8 kyu Nottingham) and Stephen Bashforth (12 kyu Leicester). The 13x13 prizes were awarded to Ocean Ho Phuong and Hamzah Reta, both from Aston.
Matthew Cocke (5 dan York) finally stopped Tony Goddard's run at the Three Peaks by winning all 5 games. Tony was second. The tournament was held at a new venue of the Old Station Inn in Giggleswick, near Settle, but still in the beautiful North Yorkshire country. Again it proved popular with 52 players taking part. Those winning 4 games were: Danielle Ward (15 kyu Cambridge), Eric Hall (7 kyu Swindon), Jenny Radcliffe (7 kyu Durham).
32 players gathered at Wanstead Go Club's venue on a very wet Saturday in November for four rounds of Go. Susumu Yoshimura (2 dan London) won the tournament, and was the only player on four victories. Kiyohiko Tanaka (4 dan Nippon) was runner up with three wins. Also on three wins were Michael Charles (2 dan St Albans), Alan Thornton (2 dan St Albans), Peter Collins (3 kyu Bristol), Michael Webster (5 kyu London), Peter Harold-Barry (6 kyu St Albans) and Gary Gibson (8 kyu Wanstead). Michael Webster also won the prize for most improved on the year, having risen an impressive nine grades since Wanstead 2007.
The Wessex Tournament moved to a new venue near to the centre of Bath. St Mark's Community Centre, a Victorian former church, proved a good venue. Also much appreciated were the doughnuts and real coffee that greeted the 32 players. Winner was Chi Fung Cheung (4 dan Bournemouth), who is from Hong Kong. He beat Paul Christie (3 dan Bath) in the last round. Players winning the 3/3 lower down were Alejandro Juanes (8 kyu Bath) and Jack Drury (9 kyu Aston).
London International Teams 19/10/08
The autumn team event was held at the Nippon Club, home of their Igo Kai and the Central London Go Club. As expected a strong Chinese team was the winner with 15 points. Second was Wanstead with 12, third Nippon Club with 6 and Cambridge scored 3. Winning 3 for China were Qing Du, Shi Tang, Yangran Zhang, Felix Wang and Stuart Barthropp. Takuya Ogino was the only player winning 3 not on the Chinese team.
40 players attended the Open University for the 20th Milton Keynes Tournament. David Ward (4 dan Cambridge) won the final this year against Sam Aitken (4 dan Warwick). Also winning all three were David Buckley (1 kyu Warwick), Graham Philips (3 kyu) and Andre Cockburn (7 kyu Nottingham). Unfortunately the MK Go Boards were too small for the stones and so the side event was cancelled. However there were still Concrete Cow Biscuits to give all a taste of the local culture.
Gerry Mills restarted the Shrewsbury Tournament after an 8 year gap at the same venue, The Gateway. 28 players took part and winner was Bill Brakes (2 dan Milton Keynes). Also winning 3 were Ian Price (9 kyu Cardiff) and Reg Sayer (15 kyu Stafford). The three prizes in the 13x13 komi-handicap tournament went to Aston boys: Jack Drury (most wins), Stewart Smith (best percentage) and Calum Healey (for effort).
This year the Belfast Open was played by 14 players over 5 rounds. Only one player from Britain who discovered it was on and travelled to take part. That was Yohei Negi (1 kyu St Andrews) and he was the joint winner with Daniel Paraschiv (1 kyu Galway), both on 4 wins. Equal third were Claas Roever (1 kyu Galway) and Tiberiu Gociu (1 kyu Belfast). Also winning 4 was James Donnelly (10 kyu Belfast).
The first ever Arundel Tournament was held in the historic Norfolk Arms in the shadow of the castle. 20 players took part and the winner was Jaeup Kim, the Korean 5 dan living in Reading, his second win in eight days. Runner up was Francis Roads and prizes were awarded for 3 wins to Mark Nubbert (2 kyu West Surrey) and for 2.5 to Jil Segerman (10 kyu Brighton). The South Coast team won the team prize.
The 12th edition of the Swindon tournament was held, like last time, at the Even Swindon Community Centre. 36 players entered and the winner for a second year was Jaeup Kim, the Korean 5 dan living in Reading. Prizes for 3 wins went to Andrew Smith (2 kyu Cheltenham), Mark Nubbert (4 kyu West Surrey), Fred Holroyd (5 kyu Milton Keynes) and Emma Benjamin (formerly Marchant, 12 kyu Neath).
15 players took part in the Cornish Handicap Tournament on the Saturday in Penzance. Winner for a second year was Swindon's Eric Hall (6 kyu). He beat Cornwall's Robert Churchill (12 kyu) in the final. 21 players took part in the Cornwall Tournament on the Sunday. Winner of the tournament was Yaeko Takano (2 dan) from Japan. She beat Toby Manning in the final. Also winning the usual wooden stones were Eric Hall for 3 wins and Phil Willoughby (8 kyu Winchester), the lowest graded player on 2 wins.
The Northern Tournament took place like last year at the Masonic Guildhall in Stockport. 28 players took part. Overall winner was Bob Bagot (1 dan Lancaster). Other prize winners on 3/3 were Robin Dews (9 kyu Nottingham), David Szotten (9 kyu Manchester), Brent Cutts (11 kyu Nottingham) and Patrick Ridley (15 kyu Chester).
The main Open Go event at the MSO took place on the Bank Holiday Monday. 11 players took part. Three players ended on 3/4 and were split by mutual game and mutual opponents tie-breaks. Gold went to Paul Tabor, silver to Yangrang Zhang and bronze to Natasha Regan.
This year the Small Board Championship was held at the Mind Sports Olympiad (MSO) in London. Paul Smith (Cambridge) was winner of the national title on 13x13 boards. He beat Paul Tabor in the final; third was Nick Krempel. Also Tony Atkins did well but could not win as arbiter. Winner of the Handicap prize was Xinyi Lu (5 kyu Maidenhead). 11 took part.
49 players enjoyed the Go, music, quiz, games, teaching by Matthew Macfadyen, sandcastles, scenery and fun that was the Isle of Man Go Week. It was held again at the Cherry Orchard in Port Erin. Winner of the carved 9x9 Goban for the Open was Matthew Cocke (5 dan York). Joint runners up were Matthew Macfadyen and Piers Shepperson. Also on 4/5 were Natasha Regan (1 kyu Epsom), Geoff Kaniuk (3 kyu Cambridge), Wim Verstegen (5 kyu Netherlands) and David Wildgoose (14 kyu Sheffield). On 3.5 wins were Edmund Stephen-Smith (5 kyu Epsom) and Jil Segerman (10 kyu Brighton) and on 3/4 were David Phillips (1 dan IOM) and Pita Udo (15 kyu Netherlands).
The winner of the afternoon tournament was Richard Hunter (4 dan IOM). Runner up was Simon Bexfield (1 dan Letchworth) also on 3/3, as were Edwina Lee (5 kyu Maidenhead), Kathleen Timmins (12 kyu Shrewsbury) and Pita Udo (15 kyu Netherlands).
The winner of the Handicap Tournament was Ian Marsh (1 kyu Bracknell) with 5/5 and on 4/5 were Paul Margetts (2 kyu Epsom), Jenny Radcliffe (8 kyu Durham), Jil Segerman (10 kyu Brighton) and Celia Marshall (11 kyu IOM).
Jenny Radcliffe won both the Continuous Lightning and the 13x13 Tournament and, in addition, won the Rengo with Edmund Stephen-Smith. The Diehard Tournament was won by Paul Barnard (1 dan Swindon) and second was Gerry Mills (1 dan West Wales). The Quiz was won by the Manx Kippers team and the Sandcastle competition was won yet again by Charlotte Bexfield and family.
The first Go event at the 12th MSO in London was the Rapid. Five players played a round robin. Winner from Reading was Tony Atkins (2 dan), who was unbeaten. Taking the silver place was Paul Smith (2 dan Cambridge) and bronze place Xinyi Lu (5 kyu Maidenhead).
The seventh and possibly last Epsom Tournament was held at the usual venue and was supported by Vicky and Stephen Streater, so all 51 players won something. Winner again after a year gap was Li Shen (6 dan); he beat Alistair Wall in the last round. Those with three wins were: Graham Philips (5 kyu), Michael Webster (7 kyu London), Gary Gibson (8 kyu Wanstead), Karsten Starke (10 kyu Epsom) and Jonathan Green (9 kyu Leamington). The 13x13 was won by Xinyi Lu. The 9x9 was won by Oscar Selby. The Team tournament was won by "OGS Team", comprising Graham Philips, Jonathan Green and Andrew Cohen. The booby prize was won by a delighted Pauline Bailey.
The finals were in Cambridge again, at Milton Community Centre. 42 of the best players from 10 school heats and other youngsters tookpart. Winners were:

U18 Boys  - Matthew Hathrell (Finham Park School, Coventry)
U16 Boys  - Hai Xia (King Edward VI, Aston)
U14 Boys  - Ismail Mustafa (King Edward VI, Aston)
U12 Boys  - Stewart Smith (King Edward VI, Aston)
U10 Boys  - Thomas Danes (Cambridge)
U16 Girls - Cher Bachar (Ruislip)
U12 Girls - Danielle Ward (Cambridge)
U10 Girls - Sijia Yao (Milton, Cambridge)
U8  Girls - Roella Smith (Milton, Cambridge)
Overall place winners:
1st - Matthew Hathrell
2nd - Hai Xia
3rd - Stewart Smith
Top Boy: Matthew Hathrell
Top Girl: Cher Bachar 
On 5/6: Tung Nguyen, Jun Hoe Ahn, Renzhi Zhou.
Champion School - Aston
Champion Primary School - Milton (beat London Meed, Burgess Hill 2-1)

All section winners also got a framed certificate showing their achievement and some nice prizes. Owen Walker got the puzzle-solving prize and Ellie Ripley-Duggan got the fighting spirit prize. Cambridge beat Aston in a friendly match.
The Nippon Club, in Piccadilly London, was the venue for the long weekend of the Challengers' League. 8 top players from the Candidates' played to decide who will play this year's title match. After 4 rounds Matthew Macfadyen and Hui Wang were unbeaten, but on day 3 Hui lost to TMark. As Hui then beat Matthew both ended on 6 wins and will play the title match.
The 16th Welsh Open at Barmouth was won as always by Matthew Macfadyen (6 dan Leamington) putting him on 78 wins unbeaten at that event. Matthew Cocke (5 dan York) was again second with 4 wins. Third place was Simon Goss (1 dan Bracknell), topping the group on 3 wins. Prize winners with four wins were Sheffield's Kester Sandbach (12 kyu), Shrewsbury's Brian Timmins (8 kyu) and Bangor's Vaughan Hughes (7 kyu). 39 players took part and enjoyed the venue of the Min-Y-Mor Hotel and the seaside setting.
This time the Durham Tournament had 34 players. Andrew Jones (3 dan Wanstead) was the winner with 5 out of 6. Second placed Alistair Wall (3 dan Wanstead) and third placed Mathieu Flinders (1 kyu York) both got 4.5, after a triple ko in the last round. Winning 5 games was Keith Chapman (19 kyu) from Norwich.
This year the Pair Go Championships, the 18th, were held again at the Foxcombe Lodge Hotel, Boars Hill near Oxford. Last year's winners Kirsty Healey and Matthew Macfadyen beat Natasha Regan and Matthew Cocke again in the final (by 3.5), to take the championship for the twelfth time. In the 8-pair handicap group the winners were Saint Albans' Sam McCarthy and John Collins. Best dressed pair was Pauline and Steve Bailey and Tony Atkins won the Engineering quiz with 14 points. Furthest travel prize went to Sinikka and Matti Siivola from Finland. Everyone who took part enjoyed the hot sunshine, the very tasty buffet lunch and a choice of pairs of prizes. Gallery
The Scottish Open stayed at the Masons' Hall in the centre of Dundee and had the two more players than last at 40. With the strong Chinese players having moved south, it was quite an open contest. In fact two 2 kyu players ended on five out of six. First by sos tie break was Yohei Negi from St Andrews from Robbie Miller from Edinburgh. They won £45 and £25 from the bookshop. Winning four wins and a £15 prize from the bookshop were Gerry Mills (1 dan Barmouth), Andrew Smith (2kyu Cheltenham), Ron Bell (4 kyu Borders), Pawel Skrabania (5 kyu Poland), Stig Petersen (8 kyu Dundee), Colin Maclennan (10 kyu Twickenham), Donald Spy (10 kyu Dundee), Kestutis Tauckela (10k), Paul McKenzie (12 kyu Kinglassie) and Adam Prescott (13 kyu Durham). And as for the last two years, everyone received a participation prize of a pot of Dundee marmalade. On the Friday evening in small board lightning the top scorers (winning Cairn O'Mohr fruit wine) were Jenny Radcliffe (Durham, 7 wins from 8 games), Yohei Negi (St. Andrews, 6 wins from 7) and Greg Cox (Dundee, Endurance Prize with 11 games played).
Out of the 45 players five players won all 3 games: winner Jaeup Kim (5 dan Reading), Peter Fisher (6 kyu Leicester), Andre Cockburn (7 kyu Nottingham), Robin Dews (10 kyu Nottingham) and John Collins (16 kyu St Albans). In the new Novices Tournament, that was the local UK Go Challenge heat, the winner was Oscar Selby (aged 5); there were 4 novices and 4 ghost adults. Tony Atkins won the caption contest and Stephen Bashforth won the Go Puzzle competition as Jil Segerman had gone home. Nicola Hurden (10 kyu Bracknell) won the 13x13 and the team prize was won by Leicester by a small amount from Reading.
The Candidates' Tournament was again on the May Bank Holiday weekend and in the Diamond at Selwyn College in Cambridge. There were 26 players from 6 dan to 2 kyu taking part. At the half way point the players on three wins were Matthew Macfadyen, Matthew Cocke and Hui Wang. In round 5 the two Matthews played and Cocke won and also won his last to come first. Macfadyen came second with 5 and, having lost just his first game, Nick Krempel came third. Hui Wang lead the group on 4 wins. Equal fifth were Des Cann, T Mark Hall and David Ward. First reserve to join the above seven and Bei Ge in the Challengers' League was Alex Selby, also on 4 wins.
28 students from 3 dan to 30 kyu (and two ghosts) took part in the BGA Student Tournament, which was played online over 4 weeks. Winner with 4 wins was William Brooks (Trinity Cambridge). Runners up were Dave Buckley (University fo Warwick) and Mark Nubbert (St Annes Oxford). Adam Prescott (Durham) won 4/4. There were also good results (3/4) for Maria Tabor, Jonny Kiehlmann, Sandy Taylor, Colin Simpson, David Szotten and James Hadfield.
23 players attended the Bar-Low kyu-players only tournament in Cambridge. This year, part a smaller mind sports weekend, it was held in the Junior Parlour of Trinity, apart from the other events. Ed Wormington (4 kyu St Albans) and Natasha Regan (1 kyu Epsom) both won 4 out of 5; Ed was declared the winner based on SOS and received a box of chocolates as a prize. Other notable results were Hugo Wainwright (25 kyu St Olave's) with 5 wins and David Carter-Hitchin (17 kyu London) and Danielle Ward (19 kyu Cambridge) on 4 wins.
46 players took part in the Coventry Tournament at the University of Warwick. Winner was Matthew Macfadyen (6 dan Leamington). Ewart Shaw (5 kyu Leamington) and Jun Ahn (14 kyu Aston) also won 3/3. Leamington won the team prize and two Aston boys won the 9x9 and 13x13: Sam Muxlow and Callum Healey.
London International Teams 12/04/08
Four teams attended the Nippon Club in Piccadilly for the spring International Teams match. The joint China and Central London Club team was the victor, with 13 wins out of 20. Cambridge, Nippon and Wanstead all won 9/20. Unbeaten in all three games were Ben He (6 dan), Felix Wang (3 dan), Shi Tang (3 dan), David Ward (4 dan) and Jiri Keller (2 kyu).
William Streeten from Hastings Go Club and Steve Bailey and Geoff Kaniuk from the BGA ran the 41st British Go Congress at Horntye Park Sports Complex in Hastings. The very modern building allowed a distant view of the sea or a chance to watch sports such as judo, archery and hockey being played. The British Lightning took place on the Friday evening in the octagonal room. It started with 18 and ended with 22 players. It was played on the Swiss system using player numbers. The winner by tie-break was a reluctant to enter T Mark Hall (4 dan).
The British Open attracted 50 players. Both the octagon and another room were used for the boards. At the end of the first day the leaders were Toby Manning and T Mark Hall, with Paul Barnard not far behind.
The BGA AGM was held on the Saturday evening from 18:35 to 19:55, after which tables had been reserved in the Cosmo, a Chinese buffet on the seafront.



Day two started bright, though inland had had snow, and snow arrived in Hastings mid-afternoon. The winner of the Open was T Mark Hall with 5/6 and runner up with 4/6 was judged to be Toby Manning, though placed fourth on sos. Prizes for 5/6 went to Paul William Smith (8 kyu Hastings), Milos Podbera (11 kyu Prague), and for 4/4 Jiang Beck (14 kyu Cambridge). Jil Segerman (9 kyu Brighton) won the 13x13 with 3/4 and the Brighton Belles won the Nippon Club Trophy for best team. Toby Manning won the quiz and Pauline Bailey won the spot the stone contest.
Eight teams competed for the Broken Go Stone Trophy and the handmade chocolate egg by Annie Hall. Steve Bailey, of last year's winners Guildford, hosted the event at Burpham Village Hall, Guildford. The team from Maidenhead won the event (Xinyi Lu, David Denholm and Jonathan Englefield). Second equal were Swindon Eric's Idlers. Players on 3/3 were Francis Roads and Pauline Bailey. Winners in the 10x10 event were Shawn Hearn and Mark Nubbert.

The 2008 Youth Championships had 37 competitors aged from 7 to 18, with strengths from 4 kyu to 30 kyu, at King Edward VI School. Maria Tabor became the first girl youth champion with 5 straight wins including beating Chinese player Tom Zhai (4 kyu Stowe). Prizes and places went to:
Overall winner: Maria Tabor (Epsom) 2nd: Mazhar Warraich (Aston)
U18: Maria Tabor (Epsom) 2nd: Matthew Hathrell (Coventry)
U16: Steven Donlon (Burton) 2nd: Costas Televantos (Aston)
U14: Mazhar Warraich (Aston) 2nd: Ken Dackombe (Farnborough Village)
U12: John Perkins (Aston) 2nd: Jack Drury (Aston)
U10: Thomas Meehan (Solihull) 2nd: Hannah Sanders (Cardiff)
U8: Roella Smith (Milton) 2nd: Charlotte Bexfield (Letchworth)
Winners novice's section: Jack Merrill (Stowe) and Peran Truscott (Cambridge)
Four wins: Ravinder Hayer (Aston), Joshua Dolman (Aston) and Owen Walker (Cambridge)
Fighting Spirit Prize: Joshua Zolna (Aston)
Castledine Trophy: King Edward VI School, Aston
Team with most wins: Penguin Patrol (Cambridge) with 9/13
13x13 knockout event, 1st: Jun Hoe Ahn (Aston) 2nd: Matthew Hathrell (Coventry)
Puzzle competition: Danielle Ward (Cambridge)
Liar Dice: Joshua Dolman (Aston)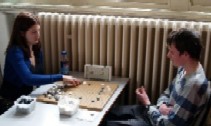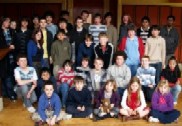 73 players attended this year's Trigantius, plus another 16 in the Novices event, held again at the University Centre but on a Saturday. Shaoyou Ouyang (6 dan London) was the new winner of the event. Players that won all three games were Suzanne Low (1 dan Cambridge), Carin Trygg Monvall (5 kyu West Surrey), Richard Mullens (6 kyu St. Albans) and Owen Walker (19 kyu Cambridge Juniors). Those on two wins had the next choice of prize, but nobody was left out. The best team was TGF from West Surrey. The 13x13 was won by Danielle Ward. The Best Kyu Player cash prize was won by Taka Obita. Pauline Bailey won the spot the errors picture competition.
In the small board Cambridge Novices' tournament the winner was Arnold Chui with 5 wins. Second was Elliot Solomon with 4 and again nobody went home without a prize.
62 players attended the Oxford Tournament at St. Edmund Hall. Winner was Matthew Macfadyen (6 dan Leamington) making a welcome return to one day events. Players on 3/3 were Jim Chim (2 dan Cardiff), David Buckley (1 kyu Leamington), Sue Paterson (4 kyu Brighton), Fred Holroyd (5 kyu Milton Keynes), Gary Gibson (9 kyu Wanstead) and Pauline Bailey (16 kyu West Surrey). Prizes again were sponsored by Hoyles Games Shop. After the event many of the players attended a meal in memory of Simon Eve who instigated the post-tournament meal last year, but sadly died suddenly in May.
On a beautiful sunny day, 24 players attended the 11th Cheshire Tournament. It was held again alongside the Chess Congress at Frodsham Community Centre. Winner of the Open section was organiser Tony Atkins (2 dan); second was George Leach (2 kyu Liverpool). Worthy mention goes to Martin Harvey, who at 5 kyu was the lowest ever player in the Open, yet only missed out from fourth place by half a point in his last game. The winner of the Handicap section had to be decided on tie-break between Andy Price (12 kyu) from Leamington and three of the group of boys from Aston. Huw Talliss came out top, followed by Andy equal with Jack Drury and Calum Healey was fourth. The 10x10 was cancelled for technical reasons.
65 players attended the HQ of HITACHI Europe Ltd for the 17th Maidenhead Tournament. Jaeup Kim won 3/3 in the top group to win his fourth concurrent title. Other players winning 3/3 were Baron Allday (1 kyu West Wales), France Ellul (6 kyu High Wycombe) and Robin Dews (11 kyu Nottingham). In addition all on 2/3 won a prize thanks to generous sponsorship from HITACHI. Team winner was Bracknell.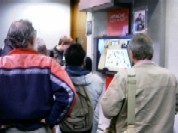 ---
Next
Top
Previous
Archive
Last updated Mon May 08 2017.
If you have any comments, please email the webmaster on web-master AT britgo DOT org.