5th Annual World Collegiate Championships
Here are details of the 5th Annual World Collegiate Championship (AWCC), organised by the International University WEICHI Federation (IUWF), the Shanghai Ing Chang-Ki Wei Chi Educational Foundation, the British Go Association and Cambridge University Go Society.
It is being held in 2018 in the United Kingdom in the city of Cambridge from July 9th to 15th.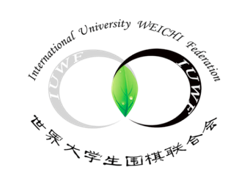 Previous events have been held in Hong Kong, Beijing, Toronto and Bangkok.
Timetable
Here is a detailed timetable (in Chinese and English).
Accommodation will be provided at Robinson College in Cambridge, by courtesy of the Shanghai Ing Chang-Ki Wei Chi Educational Foundation. Play takes place in the University Centre in the middle of the city.
Time Limits
We are using Ing rule for the championship. The basic time for each player is an hour and one additional time request is allowed (10 minutes additional time with 2 points penalty).
Entries
Entry, which may be limited, is open to all University Students. Here are the detailed Regulations. Please note that we have been informed that women entrants can opt to play in the women's section (Group E) or the Open sections (Groups A to D). Entries are now closed.
Here is the List of Entries. If you wish to remain anonymous, and do NOT want to be included in this list, please email us and we will remove your name form the publicly available list.
Chang Qi Cup
The semi-finals of the Chang Qi Cup for professional players will be played alongside the AWCC, at the Doubletree Hotel in Cambridge. The two semi-final matches each consist of up to three games. The first game has already been played: Tuo Jiaxi 9D beat Lian Xiao 9D, and Mi Yuting 9D beat Shi Yue 9D. The second game will be played on Wednesday July 11th and the third game (if necessary) on Thursday July 12th.
The group will be accompanied by 3 Chinese professionals: Chang Hao 9D, Hua Xueming 7D, Yu Bin 9D
Travel
We are providing free travel from Heathrow Airport, but we appreciate that this may not be the most convenient airport for all participants. Here are details of how to get to Cambridge from the other London airports, and from the Eurostar Terminal for those coming through the Channel Tunnel by train. Please note that if you arrive at any London airport other than Heathrow, you should go direct to Cambridge as it will be an easier (and much faster) journey than to get to Heathrow to pick up a shuttle bus.
Visas
Please note that this represents our best knowledge, but does not represent legal advice.
In summary, members of the EU or Iceland, Liechtenstein, Norway and Switzerland do not need a visa for the UK; neither do visitors from the following:- Australia, Canada, Hong Kong (SAR), Japan, Malaysia, New Zealand, Singapore, South Africa, South Korea and the USA. Visitors from China do need a visa. You may check here to find out if you need a visa to visit the UK.
If you do need to apply for a Visa, you should apply for a tourist visa. If you need a letter of support, please contact us as soon as possible.
Last updated Tue Nov 20 2018.
If you have any comments, please email the webmaster on web-master AT britgo DOT org.