The 36th London Open was held again at ISH, Great Portland Street. Special guest was again the teaching professional from Amsterdam, Guo Juan. The top one or two games were being broadcast live on Pandanet each round, but unfortunately the planned webcam was not in operation. 106 players took part in round 1; 115 took part in all.
The top board clash between the young British star from Hong Kong, Vanessa Wong, and Kana Nagao, who lives in Oxford, was won by Vanessa by half a point. After two rounds she was still unbeaten, as was Matthew Macfadyen. Also on 2 wins were Zi Wang, Xi Gao, Wei Wang, Yangran Zhang and Matthew Crosby.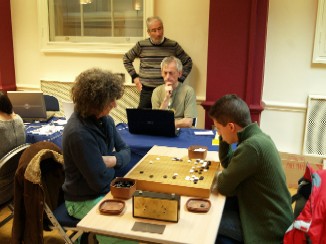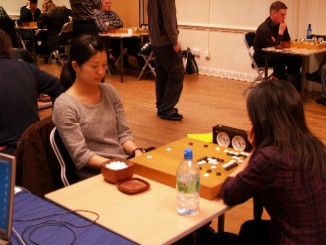 On day 2, after round 3 there were four players unbeaten. Zi Wang (who beat Matthew Macfadyen), Wei Wang, Xi Gao and remarkably Matthew Crosby, who got the lucky down float in the draw. In round 4, Zi Wang beat Matthew Crosby on board 1, whilst in a tough game on board 2 Wei Wang beat Xi Gao by 8.5. Other top players winning were Matthew Macfadyen, Yanqi Zhang and Vanessa Wong.
In the evening Pair Go Tournament, the best of the 16 pairs was the pair of Yanqi Zhang and Wei Wang. Second in the final were Alice Bradley and Andrew Simons. Also on 3 wins were: Jenny Radcliffe and Yohei Negi, Guo Juan and Geoff Kaniuk, Kirsty Healey and Matthew Macfadyen. Gallery.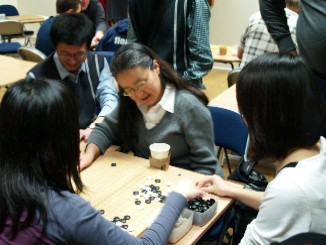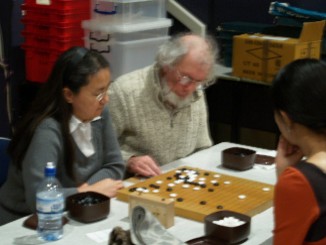 On day 3, the top board clash was between Zi Wang and Wei Wang, both Chinese 6d. In an exciting overtime shoot out, Zi Wang killed a corner group to win. Also winning were Vanessa Wong, Andrew Kay and Matthew Macfadyen. In round 6, Zi Wang won his 6th game by beating Vanessa Wong. There were wins too for Macfadyen, Wei Wang and Xi Gao.
In the evening was a lecture by Guo Juan and the Lightning Tournament. The best 4 of the 32 or so players entered survived to the knockout stage. In it Yanqi Zhang beat Zi Wang, and Emeric Lemaire (3 dan Lille) beat Harald Kroll (3 dan Essen). In the final Emeric beat Yanqi to take the title.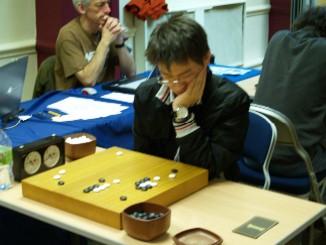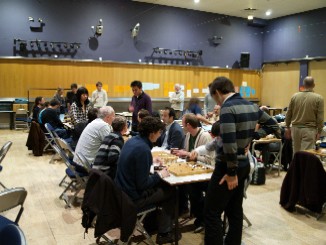 The seventh and final round of the Open was held on the Friday morning. Zi had played all the very strong players so had to play Andrew Kay. Andrew lost, so Zi Wang won the tournament, as expected. The battle for second place was on board 2 between Macfadyen and Wei Wang, won by Wang. The group on 5 and in the sos break for third was: Vanessa Wong, Matthew Macfadyen, Yanqi Zhang and Xi Gao. Vanessa and Matthew tied, but were given the plaques in that order. Yanqi got the one for 5th and Xi Gao had to settle for 6th. Alavaro Parra (2 kyu) from Spain won his first 6, but lost the last round to a 3 dan. Also winning 6 was Hichem Aktouche (3 kyu) from France.
Guo Juan gave a public game analysis and then the prizes were presented by Christopher Read from sponsors Winton Capital Management. All players on 5 or more wins won a paperweight and those on 4 got a certificate. This was followed by an informal Rengo event before the New Year evening meal.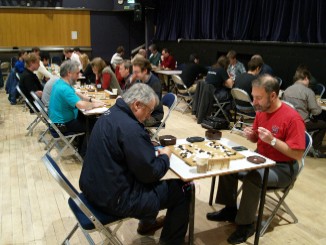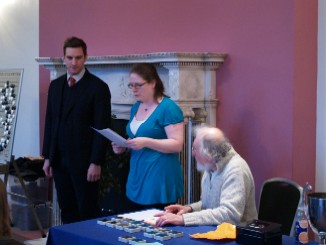 Game Records (sgf) of Games Broadcast on Pandanet
Round 1 Vanessa Wong v Kana Nagao
Round 1 Matthew Macfadyen v Antonio Egea
Round 2 Samuel Ritakallio v Matthew Macfadyen
Round 2 Yanqi Zhang v Wei Wang
Round 3 Matthew Macfadyen v Zi Wang
Round 4 Zi Wang v Matthew Crosby
Round 6 Vanessa Wong v Zi Wang
Round 6 Matthew Macfadyen v Matthew Crosby
39 players, ranging from Brighton to Skye, made their way through the icy fog to the Meeting House for the first Edinburgh Christmas Open, the emergence of several Scottish-resident dan players having killed off the Barlow. Top of the heap, and the only player on 4 wins was Alex Kent (1 dan Durham). On 3 wins were Yohei Negi (3 dan St Andrews), Matt Crosby (3 dan Edinburgh), Glynn Forsythe (2 kyu Glasgow), Rab Fulton (2 kyu Glasgow), Ron Bell (4 kyu Borders), Eugene Hung-Chik Wong (4 kyu Aberdeen), Andrew Thurman (7 kyu Durham), David Cantrell (10 kyu London) and Gregor Welsh (14 kyu Durham).
The 2010 Scottish Championship semifinals will be: David Lee versus 2009 Champion (Piotr Wisthal or Robbie Miller); Yohei Negi versus Matt Crosby. Subsequently Piotr Wisthal beat Robbie 2-1 to retain the Scottish title and qualify for 2010.
22 players took part this year. Peter Collins (2 kyu Bristol) was the new tournament winner. Matthew Cocke (5 dan Epsom), Mike Webster (1 kyu Central London), Malcolm Hagan (5 kyu Winchester), Ken Kneller (6 kyu Wanstead), Neil Cleverly (7 kyu Bournemouth) and Colin Maclennan (10 kyu Twickenham) all won 3. The prize in the 13x13 competition went to Bill Streeten (7 kyu Hastings), with 2/5. The quiz was won by Tony Atkins. On the previous day some 16 students were taught various subjects by teachers Matthew Macfadyen, Francis Roads, Tony Atkins and Paul Barnard.
The National Space Centre in Leicester was again the venue for the fourth East Midlands Tournament; it attracted 48 players. New winner was Summer Tian Xia (5 dan) from Sheffield. Also on three wins were Edwin Brady (2 kyu St Andrews), Laurence Ogden (6 kyu Nottingham University), Ben Ellis (6 kyu Nottingham) and Stephen Bashforth (13 kyu Leicester). The 13x13 prizes were awarded to Bristol's Barney Shiu (12 kyu) for 5/5 and to his father Simon Shiu (4 dan) for 2 wins. At lunch time, a Special General Meeting approved the 2008 BGA accounts.
Matthew Cocke (5 dan) was the winner for the second year running and the only player to win 5 games. Surprisingly only one other player, Adam Watts (6 kyu Durham), won 4 out of 5. Tony Pitchford (10 kyu Chester) won 3 out of 4. Frank Visser won a prize as the first to enter. The new venue in Grange-over-Sands was favourably received by everyone and is likely to remain for future years, as will the name Three Peaks, despite the 30 mile distance from Ingleborough. 41 players attended.
The MK Tournament was held in the new Betty Boothroyd Library at the Open University. Best of the 35 players was Matthew Macfadyen (6 dan Leamington), who increased his current titles to 8. Players winning 3/3 lower down were Louise Bremner (1 kyu Isle of Man), Xinyi Lu (5 kyu Maidenhead), Jonathan Englefield (7 kyu Maidenhead) and Brent Cutts (9 kyu Nottingham). Best, and only, team was Barford winning 7/8. Steve Bailey won the MK Go Board tournament with 7/8 and Graham Philips won 3/3 at the same. Over £100 was collected for Willen Hospice in memory of Andrew Grant, who died earlier in the week.
The 40th Wessex Tournament stayed again near to the centre of Bath at St Mark's Community Centre, a Victorian former church. Best of the 43 players was Matthew Macfadyen (6 dan Leamington), who increased his current titles to 7. Players winning 3/3 lower down were Louise Bremner (1 kyu Isle of Man), Andy Price (11 kyu Leamington) and Mark Webb (13 kyu Exeter).
The autumn team event was held at the Nippon Club, home of their Igo Kai and the Central London Go Club. As expected a strong Chinese team was the winner with 10 points. Second was CLGC with 8, and third were Nippon Club and Cambridge, each with 6. Winning 3 for China were Qing Du and Felix Wang. Winning three for CLGC were Stuart Barthropp and Jonathan Turner. Photos
A new junior event was held in Cambridge at Milton Country Park; it was attended by 15 young players. Owen Walker was the winner. Jennifer Johnson won the younger age group and best of the new players was Jennifer Burgess.
The Shrewsbury Tournament was held again at The Gateway and 34 players took part. Adding to his clutch of tournament titles was Matthew Macfadyen (6 dan Leamington) who last won it in 1997. His wife Kirsty Healey (2 kyu Leamington) also won 3/3, as did Eric Hall (6 kyu Swindon) and David Horan (8 kyu Chester). Helen Harvey (3 kyu Manchester) won 2.5.
Matthew Crosby, now playing 3 dan, was never in serious trouble during the Belfast Tournament. He emerged as the winner with a perfect score of 4/4. In second place on 3 wins was Laurens Spijker (1 kyu), who travelled from the Netherlands. Local player James Hutchinson (2 kyu) took third on tiebreak ahead of Gerry Mills (1 dan), Colin MacSweeny (1 kyu) and Rory Wales (2 kyu). Other players with 3 wins were Jakub Flasz (6 kyu Poland), Chris Cohrs (6 kyu) the strongest Chess player in Ulster, Donagh Maguire (9 kyu Dublin) and Patrick O'Feich (9 kyu Dublin). 17 players took part in the event held at the Belfast Boat Club.
The 13th edition of the Swindon tournament was held, like the last few, at the Even Swindon Community Centre. 43 players played and the new winner was Matthew Macfadyen (6 dan Leamington). Second was Simon Shiu (4 dan Bristol). Prizes for 3 wins went to Christian Scarff (1 dan Swindon), Stephan Thober (1 dan Bath), Zaichen Lu (4 kyu Oxford), Edwina Lee (5 kyu Maidenhead), Andy Price (11 kyu Leamington) and Pauline Bailey (15 kyu West Surrey). Leamington won the team prize and young Barney Shiu (22 kyu Bristol) won the 13x13. Special prizes went to Casey Alexander for being from Oregon, and to Jim Clare and Toby Manning for sharing a jigo. The Special General Meeting of the BGA was postponed as correct copies of the accounts were not available.
20 players took part in the Cornish Handicap Tournament on the Saturday in Penzance. Winner was Ian Marsh (1 kyu) from Bracknell. He beat Swindon's Elinor Brooks (7 kyu) in the final. Earlier in the day a BGA teaching session had been held; it concentrated on analysing the British Championship which was being played in Derby. 21 players took part in the 10th Cornwall Tournament on the Sunday. Winner of the newly renamed Devon and Cornwall Go Stone trophy was Paul Massey (1 kyu). He became the first Cornish winner of the event by beating Tony Atkins (2 dan). Also winning the usual wooden stones were Jil Segerman (8 kyu Brighton) and Sam Foster (4 kyu West Cornwall) for winning five games over the two days.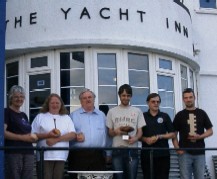 The Northern was held again at the Masonic Guildhall in Stockport and was attended by 22 players. Players came from as far north as the Scottish borders and from as far south as Bristol. Gerry Mills also brought the BGA bookstall. Overall winner, winning all three games and for the 2nd year running, was Bob Bagot (1 kyu). Also winning prizes were: Alberto Adriasola (4 kyu) for winning all three games, and Brian Timmins (8 kyu) for winning two and getting a Jigo in the other.
27 out of the 40 players who registered for this online event played one game or more. The winner with an impressive 9/9 was Alex Kent. Second with 12/15 was Andrew Kay and third was Andrew Simons with 3/3.
The main Open Go event at the MSO took place on the Bank Holiday Monday. 11 players took part. Gold went to Felix Wang (3 dan) who won 3/3. Second was Paul Tabor (2 dan), who beat third placed Alistair Wall (4 dan), both on 3/4. A Junior Gold went to Roella Smith (18 kyu Milton) with 2/4.
Again this year the Small Board Championship was held at the Mind Sports Olympiad (MSO) in London. Matthew Cocke (Epsom) was winner of the national title on 13x13 boards at his first attempt. Second equal, only losing twice to the winner, were Alex Selby and Nick Krempel. Winner of a Junior Gold was Oscar Selby with 3/6. 10 took part.
The first Go event at the 13th MSO in London was the Rapid, a handicap tournament. Seven players took part, including a visitor from Japan. Winner, as last year, was Tony Atkins (2 dan), who was unbeaten. Taking the silver place was Felix Wang (3 dan London), and bronze place Matthew Hathrell (3 kyu Leamington), after a play-off game.
The finals were in Cambridge again, at Milton Community Centre. 55 of the best players from 10 school heats and other youngsters took part in the finals and the new Challengers' section for beginners. £500 in cash prizes were provided thanks to Winton Capital Management. Winners were:

U18 Boys - Matthew Hathrell (Finham Park School, Coventry)
U16 Boys - Mazhar Warraich (King Edward VI, Aston)
U14 Boys - Tian Ren Chen (Loughborough)
U12 Boys - John Cremin (King Edward VI, Aston)
U10 Boys - Akito Oyama (Cambridge)
U08 Boys - Stefan Wiecek (St Mary's, London)
U18 & Top Girl - Crystal Zhang (Grantham)
U14 Girls - Danielle Ward (Cambridge)
U12 Girls - Sijia Yao (Milton, Cambridge)
U10 Girls - Roella Smith (Milton, Cambridge)
U08 Girls - Sophie Broad (Bookham, Surrey)
Overall place winners:
   1st - Tian Ren Chen
   2nd - Mazhar Warraich
   3rd - Matthew Hathrell
On 5/6: Jack Drury (Aston)
Challengers' Tournament - Annalise Nwaodor (St Mary's)
Champion School - Aston (beat Loughborough 2-1)
Champion Primary School - Milton (beat St. Mary's 3-0)

All section winners also got a framed certificate showing their achievement. Renzhi Zhou got the puzzle-solving prize and the lower aged players on 4/6 got a prize too.
The Nippon Club, in Piccadilly London, was the venue for the long weekend of the Challengers' League. 8 top players from the Candidates' played to decide who will play this year's title match. The standings after 4 rounds were:
Macfadyen beat Barthropp, Cocke, Fearnley; lost to Wang
Cocke beat Krempel, Fearnley, Crosby; lost to Macfadyen
Wang beat Barthropp, Macfadyen, Hall; lost to Crosby
Hall beat Fearnley, Crosby, Barthropp; lost to Wang
Crosby beat Wang, Krempel; lost to Hall, Cocke
Krempel beat Barthropp; lost to Cocke, Fearnley, Crosby
Fearnley beat Krempel; lost to Hall, Cocke, Macfadyen
Barthropp lost to Macfadyen, Wang, Hall, Krempel
In round 5: Crosby beat Fearnley, Hall beat Macfadyen, Wang beat Krempel, Cocke beat Barthropp. In round 6: Wang beat Cocke, Macfadyen beat Crosby, Hall beat Krempel and Barthropp beat Fearnley.
In round 7: Macfadyen beat Krempel, Cocke beat Hall, Wang beat Fearnley, and Barthropp beat Crosby.
So the ranking after qualifying order tie-break: 1. Wang 6; 2. Macfadyen 5; 3. Cocke 5; 4. Hall 5; 5. Crosby 3; 6. Barthropp 2; 7. Krempel 1; 8. Fearnley 1. Macfadyen beat Cocke in the play off, so Matthew Macfadyen will defend his title against Hui Wang.
Finally after 16 tournaments and 79 games Matthew Macfadyen (6 dan Leamington) lost a game at the Welsh Open. The 17th Welsh Open at Barmouth was won by Yohei Negi (2 dan St Andrews) who beat him in round 2 and went on to win all 5 games. Matthew was second with 4 wins. Third place for a second year was Simon Goss (2 dan Bracknell), topping the group on 3 wins. Local player Phil Ward-Ackland (4 kyu) was the only other of the 34 players to win 4 games.
The 6th Durham took part at the College of St Hild and St Bede alongside the Durham Regatta. 33 players took part, almost a half local. Winner from St Andrews was Yohei Negi (2 dan). Local Xuan Ma (9 kyu) won all 6. Yuhan Jin (1 dan Teesside) won 4/5 and John Shafer (9 kyu Durham) won 3/4. Prizes for 4/6 went to Pat Ridley (13 kyu Chester), Adam Prescott (12 kyu Durham), Ben Riddell (9 kyu Durham), Sandy Taylor (1 dan Durham) and David Lee (2 dan Dundee). The Lightning side event was won by Jamie Taylor (7 kyu), with a tenacity prize for Andrew Thurman (7 kyu Durham). The Small Board side event went to Adam Watts (6 kyu Durham). A special prize for Making The Tournament Director's Day went to 8-year-old David Taylor (27 kyu).
This year the Pair Go Championships, the 19th, were held again at the Foxcombe Lodge Hotel, Boars Hill near Oxford. Last year's winners Kirsty Healey and Matthew Macfadyen beat Natasha Regan and Matthew Cocke and then Jenny Radcliffe and Francis Roads in the final, to take the championship for the 13th time. In the 8-pair handicap group the winners were Kelda and Paul Smith from Cambridge. Best dressed pair was top-hatted Natasha Regan and Matthew Cocke. Sue Paterson and Granville Wright won the Art quiz with 26/40. Furthest travel prize went to Casey Alexander from Denver playing with Nicola Hurden from Bracknell. Photos
The Scottish Open stayed at the Masons' Hall in the centre of Dundee and had 27 players. First with six wins was Yohei Negi (2 dan) from St Andrews. Second with five wins was Sandy Taylor (1 dan Durham) and third with 4 was Paul Christie (3 dan Bath). Winning all six was Carel Goodheir (14 kyu) from Skye.
Out of the 32 players, four players won all 3 games: winner Jon Diamond (4 dan), Peter Collins (3 kyu Bristol), Neil Cleverly (8 kyu Bournemouth) and Harriss Cook (12 kyu Twickenham). Simon Goss won the caption contest and Jim Clare won the Go Puzzle competition on the toss of a coin from Felix Wang. Xinyi Lu (6 kyu Maidenhead) won the 13x13 and the team prize was won by Twickenham with 7/9.
22 people gathered in Cambridge for the 2009 Candidates' tournament. They enjoyed communal meals in Cambridge restaurants on Saturday and Sunday, and the excellent lunch fare at the Selwyn College cafeteria. The seven players going through to the Challengers' League are: Matthew Cocke 6 wins, Hui Wang 5 wins, and T Mark Hall, Desmond Cann, Stuart Barthropp, Alex Rix and Matthew Crosby on 4 wins. Matthew Crosby beat Nick Krempel on SoS by the narrowest possible margin so Nick is first reserve. Alex Kent deserves special mention as being the only 1 kyu to enter the tournament, coming all the way from Durham to play, and winning an impressive 3/6, beating a 1 dan, a 2 dan and a 3 dan. Photos: Day1 Day2 Day3
22 took part in the BGA Student Tournament, which was played online over 4 weeks. Winner with 4 wins was Shi Tang (4dan, Westminster) Runner up was Chi-Fung Cheung (Brockenhurst). Third on tie-break (only losing to the top two) was Andrew Kay (Cambridge).
28 players attended the Bar-Low kyu-players only tournament in Cambridge. This year, again part of the mind sports weekend, it was held in Whewell's Court of Trinity College. Edwin Brady (2 kyu St Andrews) was clear winner with 5/5. The only player winning 4 was Andrew Cohen (12 kyu).
37 players took part in the Coventry Tournament at the University of Warwick. Winner was Matthew Macfadyen (6 dan Leamington). Matthew Hathrell (4 kyu Leamington), Elinor Brooks (8 kyu Swindon) and Pauline Bailey (16 kyu West Surrey) also won 3/3. Leamington was the best club and Chester won the team prize.
Four teams attended the Nippon Club in Piccadilly for the spring International Teams match. The Cambridge won all their matches 4-1 to become champions. The China and Central London Club team was second with 8, Wanstead scored 7 and Nippon Club 3. Unbeaten in all three games were Felix Wang, David Ward, Lloyd Smith and Matt Reid. Photos.
Eight teams competed for the Broken Go Stone Trophy and the handmade chocolate egg by Annie Hall. The team from Maidenhead hosted the event and won the event for a second time running. They beat Wanstead in the final. Players on 3/3 were Francis Roads, Matthew Macfadyen, Ian Marsh and Xinyi Lu. The winner of a closely contested 10x10 event was Eric Hall.
Chester Go Club ran the 42nd British Go Congress in Chester. The British Lightning took place on the Friday evening in the Olde Custom House inn, with 36 players. The winner with 5 wins was Baron Allday (1 kyu West Wales). Winning 4 were Yohei Negi (1 dan St Andrews), Sandy Taylor (2 kyu Durham), Xinyi Lu (5 kyu Maidenhead), Piers Shepperson (4 dan Epsom), Andrew Kay (3 dan Cambridge) and Xi Gao (5 dan China).
There were 61 players in the Open held at the Westminster Hotel. The winner was Xi Gao, a Chinese 5 dan from Liverpool, with 6/6. Second on 5/6 was Andrew Kay (3 dan Cambridge). Also on 5 wins were Yohei Negi (1 dan St Andrews), Richard Bentley (4 kyu Durham) and James Brownrigg (12kyu Chester). On 4 wins were Piers Shepperson (4 dan Epsom), Alistair Wall (3 dan Wanstead), Louise Bremner (1 kyu Isle of Man), Sandy Taylor (2 kyu Durham), Edwin Brady (2 kyu St Andrews), Geoff Kaniuk (3 kyu Cambridge), Martin Harvey (3 kyu Manchester), Simon Mader (4 kyu Cambridge), Stephen Bailey (4 kyu West Surrey), Jenny Radcliffe (5 kyu Durham), Brian Timmins (8 kyu Shrewsbury) and Elinor Brooks (8 kyu Swindon).
The Cheshire Open trophy was awarded to Martin Harvey and the Cheshire Handicap to Stephen Bailey (on SoS tiebreak from Brian Timmins), on the basis of most wins by those who had played recent Cheshire Tournaments. The Nippon Club Team Trophy went to Cambridge (Kay, Kaniuk, Mader) on 78%.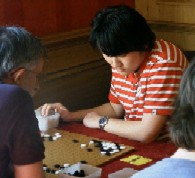 The 2009 Youth Championships had 39 competitors aged from 6 to 18, with strengths from 1 dan to 35 kyu, at King Edward VI School. Tian Ren Chen from Loughborough was the new youth champion with 5 straight wins including beating London's Michael Webster (4 kyu). Prizes and places went to:
Overall winner: Tian Ren Chen (Loughborough) 2nd: Michael Webster (London)
U18: Michael Webster (London) 2nd: Matthew Hathrell (Coventry)
U16: Mazhar Warraich (Aston) 2nd: Jamie Taylor (Leeds)
U14: Tian Ren Chen (Loughborough) 2nd: Jack Drury (Aston)
U12: John Cremin (Aston) 2nd: Thomas Meehan (Solihull)
U10: Roella Smith (Milton) 2nd: Marie-Clare Grant-Adamson (St. Albans)
U8: Sophie Broad (Surrey) 2nd: Kelda Smith (Milton)
Handicap Winner: Langdon Truscott (Cambridge)
Castledine Trophy: Loughborough (beat Aston 2-1)
Team with most wins: Weapon 'X' (Cambridge)
13x13 knockout event: U18 Jamie Taylor U16 Tian Ren Chen U12 Peran Truscott
Puzzle competition: Wenxuan Ouyang (China)
Liar Dice: Matthew Hathrell
As there was no Cheshire because of the British and no Oxford, Trigantius was the second tournament of 2009 in England. 53 players attend the event held at the Frank Lee Centre at Cambridge's Addenbrooke's Hospital. Winning his first open tournament and having played for only 3 years was local player Andrew Kay (4 dan). He beat Jon Diamond in the last round. Players that won all three games were Matthew Hathrell (4 kyu Leamington), Atta Chui (5 kyu Cambridge), Danielle Ward (11 kyu Cambridge) and Pauline Bailey (17 kyu West Surrey). The 13x13 was won again by Danielle Ward. The Best Kyu Player prize was jointly won by Helen Harvey and James Murray. Steve and Pauline Bailey won the difficult competition of word puzzles.
In addition, 21 more took part in the teaching and novices' tournament run by Paul Smith in another room. Winner of the 17-player small board Cambridge Novices' tournament was Ricardo Couso, best older junior was Roella Smith and best smaller junior was Oscar Selby. Oliver Gerlach won 4/5 and all with 3 wins got a prize too. All the entry fees went to Comic Relief.
There was a record turnout of 29 players for the 2009 Fife Tournament, held again at Age Concern Hall in Cupar. The favourite going into the tournament was Michael Marz (3 dan) from Leipzig in Germany and indeed he won the tournament with four wins from four games. He was awarded a pair of Go bowls which were kindly donated by Aidan Karley. The joint runners-up were Yohei Negi (1 dan St Andrews) and Robert Miller (1 kyu Dundee), both on three wins. Other players on three wins were Eugene Kee-Onn Wong (5 kyu Aberdeen), Stig Peterson (8 kyu Dundee), Will W Taylor (9 kyu Durham), Andrew Thurman (10 kyu Durham), Matthew W Taylor (20 kyu Durham) and Alan Stewart (23 kyu Glenrothes). After the tournament, a group of players went for a well-deserved curry.
67 players attended the HQ of HITACHI Europe Ltd for the 18th Maidenhead Tournament. Du Qing won the tournament, following his second place in London, by beating Jon Diamond in the last round. Other players winning 3/3 were Matt Crosby (2 dan Epsom), Christian Scarff (1 dan Swindon) and Neil Cleverly (8 kyu Bournemouth). In addition all on 1.5 or 2/3 won a prize thanks to generous sponsorship from HITACHI. Team winner was the Cardiff Killers on tie break from Dani's Team. Andrew Boughton won the 9x9 with 6/7 ahead of Xinyi Lu on 7/10.
---
Top
Previous
Archive
Last updated Mon May 08 2017. If you have any comments, please email the webmaster on web-master AT britgo DOT org.